"The Stack" 1-7-19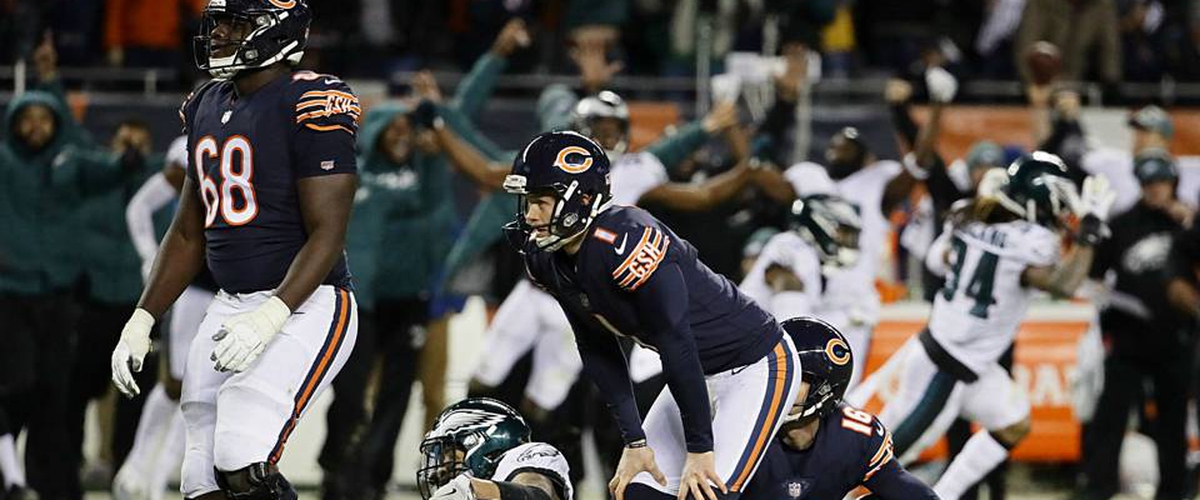 Cody Parkey had a chance at a game-winning field goal against the Philadelphia Eagles. It went off the left upright and then the crossbar and left Bears fans everywhere stunned in disbelief. Upon further review it looks like the ball was tipped, but that will do little to quiet Bears fans' disdain for Parkey.
The Stack is back on this Monday where their hearts are broken and they are angry in Chicago. What a wild weekend of wild card football we saw in the NFL Playoffs. I put up a big donut in my NFL picks. It is donut day at work today so maybe it was divine intervention that that happened. Either way, we saw three of the four road teams win and it was a weekend where there were surprising things that happened, but we shouldn't necessarily be surprised that the teams that won, won. We'll react to it all plus a pick for the national championship game in college football tonight and a firing in Minnesota so let's get right to "the stack" for today, Monday, January 7th:
Colts 21 Texans 7
The Houston Texans defense did not have an answer early on for Andrew Luck and the Indianapolis Colts. Luck and company were able to drive down the field almost at will. T.Y. Hilton was big early on. They ran and threw against the Texans. The Texans offense didn't help their defense out at all between drives that stalled and poor red zone offense. One touchdown is all they could muster. I expected better of Deshaun Watson. Unfortunately for Watson and the Texans, Luck and company were just too good on this day. They more on now to take on the Kansas City Chiefs.
Seahawks 22 Cowboys 24
I said on Friday that I thought the Seattle Seahawks would be able to slow down Ezekiel Elliott. They didn't. Elliott had 137 yards rushing and a rushing touchdown and another 32 receiving. I said that the game may come down to Cowboys quarterback Dak Prescott and he wouldn't be able to do it. Wrong again, because he did with a big run on third and 3rd and 14 that got the Cowboys down to the one (he would score on a QB sneak one play later). The Seahawks didn't have much offense at all. They couldn't establish a running game and Russell Wilson's big plays came too late as the Cowboys won only their third playoff game in what a decade? Big time win for them.
Chargers 23 Ravens 17
The Los Angeles Chargers defense made the necessary adjustments and defended the running game of the Baltimore Ravens incredibly well. Fifteen days after they got largely outplayed and lost 22-10 to the Ravens, the Chargers forced Lamar Jackson to beat them with his arm and he was unable to do anything until the final few drives of the game. Multiple fumbles were an issue for the Jackson and the Ravens. The Chargers offense did just enough to get them in field goal range where Michael Badgley made five of his six field goal attempts. The great Justin Tucker missed a 50-yard field goal for the Ravens if that indicates just how this day went for Baltimore. They rallied late, but the rally came up short when Jackson was strip sacked and the Chargers recovered. Quite the game.
Eagles 16 Bears 15
Game of the weekend happened to be the final game of NFL Wild Card Weekend in Chicago. The Philadelphia Eagles and Chicago Bears went back and forth. Eagles quarterback Nick Foles threw two first half interceptions and it looked like the magic may be gone. He threw the first touchdown of the game in the second half to rookie tight end Dallas Goedert only to see Mitchell Trubisky and the Bears respond a couple of drives later when Trubisky found Allen Robinson III who had himself a game. Ten catches for 135 yards and a touchdown. Foles and the Eagles drove down though and on fourth and goal after three failed plays, Foles found Golden Tate III for a touchdown on a perfectly throw ball. The Bears had a chance though after Trubisky hit Robinson for a big play. It all came down to kicker Cody Parkey. He lined up for the field goal and kicked it through the uprights. Only problem? Eagles coach Doug Pederson called timeout before the kick. On the second attempt Parkey hit the upright (the sixth upright he has hit this football season) and went off the crossbar and was no good. Upon review, it does look like an Eagle tipped it ever so slightly, but that won't stop Bears fans from roasting Parkey. They already are on social media. They shouldn't based on the video. Either way, it was an incredible ending and such a disappointing one for the Bears and their fans (Vikings fans know all about missed kicks). The Foles Magic continues and will do so again next week in New Orleans.
College Football National Championship (Santa Clara, CA)
#2 Clemson VS #1 Alabama 8 PM ET ESPN
For the fourth straight year it will be Clemson against Alabama in the College Football Playoff. Three times they have met in the championship game. After Clemson's dismantling of Notre Dame, I have to admit that they are closer to Alabama then I think many people thought throughout the season. Freshman quarterback Trevor Lawrence is going to need to have a big game. Defensive lineman Dexter Lawrence and a couple of other Tigers won't be playing in this one as they have been suspended. The Clemson defense is going to have to play stellar against Tua and the Bama offense. Their offense can beat the Bama defense, but not consistently on every drive. I'd love to see Clemson win, but I can't pick against Alabama. Alabama will win. Hopefully, at the very least it is a good game. Better than last year, anyway.
Confidence points: Mid 30s
Tom Thibodeau fired
The Minnesota Timberwolves throttled the Los Angeles Lakers 108-86 on Sunday. Sure the Lakers were without LeBron James for a sixth straight game, but the Wolves had a 19 point lead six minutes in. It was an awfully impressive win. So impressive that the team fired head coach Tom Thibodeau shortly after the win. Thibodeau getting fired isn't a huge surprise. It would been very surprising if he was back on the bench next season. The timing of it the firing is definitely surprising. ESPN's Adrian Wojnarowski reported, the Wolves are looking at pursuing Fred Hoiberg who was recently fired by the Chicago Bulls. UCLA is possibly looking at Hoiberg to be their head coach too so the Timberwolves maybe want to make sure that they get him before he goes back to college. Hoiberg played for the Timberwolves and he was in the front office for a time. ESPN analyst Chauncey Billups is also a candidate. The Timberwolves like to put the world "fun" in dysfunctional. We'll see if this latest saga will help put them on the right path. Like any Minnesota sports fan, especially a Timberwolves fan, I have my doubts.
Coming up Tuesday: National championship reaction plus college basketball weekend thoughts and other headlines