"The Stack" 10-11-18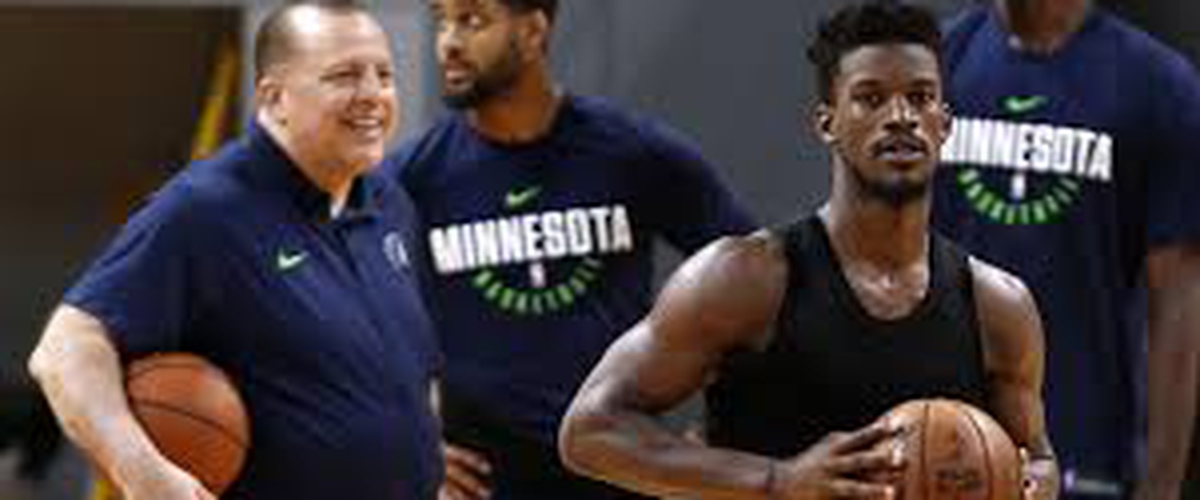 Jimmy Butler made a surprise appearance at Minnesota Timberwolves practice Wednesday and he was kind of disruptive, yelling at players, coaching and the front office.
The Stack is back on this Thursday and we have a few different topics to get to today. No baseball playoffs last night, but we'll have an update on where we're at plus football talk and more so let's get right to "the stack" for today, Thursday, October 11th:
Jimmy Butler attends Timberwolves practice, yells at a lot of people
Minnesota Timberwolves guard Jimmy Butler wants to be traded. He's wanted to be traded and has expressed that over the last month. The mere fact that there have been daily Jimmy Butler updates is enough to drive one crazy. Seriously, PTI has done a story or mentioned Jimmy Butler in their "Big Finish" all but a handful of days the last month it feels like. Well there no doubt will be more stories to come after Butler was a surprise show at Timberwolves practice on Wednesday and promptly called out/challenged players (like Karl Anthony Towns and Andrew Wiggins) and had some choice words for head coach Tom Thibodeau and general manager Scott Layden at one point yelling at Layden, "You effing need me, Scott. You can't win without me." Later Butler sat down for an exclusive interview with ESPN's Rachel Nichols and she asked him about the report and didn't deny it. He says he was honest. Is there any way for this relationship to be repaired? I certainly wish there was especially since Butler makes a valid point that the Timberwolves can't win without him. It's going to take a miracle to change that and I don't think it will happen. The Miami Heat want to get back into trade talks with the Wolves so Butler's days in Minnesota are numbered…unless they aren't. Once again, a Minnesota sports, and it isn't surprising at all that it's the Timberwolves are putting the "fun" in dysfunctional.
Baseball playoff update
The New York Yankees failed to force a game five that would have been tonight after losing 4-3 to the Boston Red Sox on Tuesday. C.C. Sabathia gave up four runs and that would be all she wrote for the Yankees. How do you look at this season if you are a Yankees fan? It seemed like it was going to be World Series or bust, but the Red Sox exploded this year. Don't know if the Yankees quite expected that. So the ALCS is set for Saturday at 8:09 PM ET on TBS from Fenway Park between the Houston Astros and Boston Red Sox. This is going to be a great series. Hope it goes at least six games. I will take the Astros to win it.
The NLCS will start on Friday with first pitch at 8:09 PM ET on FS1 in Milwaukee as the Brewers host the Los Angeles Dodgers. Pitching is going to be good for both teams, but I will take the Brewers in five or seven. Here's hoping we get a couple of great series, because the divisional playoffs were not very exciting.
College football weekend forecast
We have not one, not two, but three matchups this week with ranked teams playing against one another. 3:30 PM ET (2:30 PM CT) is going to be a good time to have two TVs. On CBS, #2 Georgia visits Death Valley to take on #13 LSU. This game has lost a little bit of its luster after LSU lost to Florida last week. Hopefully Georgia can pull it out. On ABC or ESPN2 (depending on where you live) #7 Washington visits #17 Oregon. It is unlikely that Oregon will make it to the College Football Playoff, but Washington still has a very real shot. They can ill-afford a loss. It isn't going to be easy though. They will have to play their best game to leave Eugene with a win. The final matchup is where College Gameday will be, in Ann Arbor, Michigan, where #15 Wisconsin visits #12 Michigan. I picked Wisconsin as a playoff team at the beginning of the season. That loss to BYU has all but doomed them unless they can beat Michigan. I doubt that will happen. The Wolverines defense is too good. Shea Patterson will do enough to lead Michigan to victory.
A number of ranked teams are on the road this week. #23 South Florida is at Tulsa on Friday (7 PM ET ESPN). South Florida is only a seven point favorite. Maybe Vegas knows something that we don't. #14 Florida is at Vanderbilt (Noon ET, ESPN). Florida isn't going to have a letdown after beating LSU last week are they? I don't see it happening, but with Georgia on the horizon, maybe this is indeed a trap game. #10 UCF is at Memphis (3:30 PM ET ABC/ESPN2). Memphis has been better in previous years than they are this year. I don't think UCF will trip up here. #22 Texas A&M is at South Carolina (3:30 PM ET SEC Network). A&M looked so bad last week against Kentucky at home. Jake Bentley is going to come back at quarterback for South Carolina so that may mean they have the edge in this one. A virtual toss up in my opinion. The biggest potential for an upset is in Ames, Iowa, where #6 West Virginia visits Iowa State (7 PM ET FS1). West Virginia's offense is so good, but Iowa State is coming off of an upset win at Oklahoma State and Ames is a difficult place to play for ranked teams for some reason. Watch out West Virginia. #16 Miami (FL) is at Virginia (7 PM ET ESPN2). Don't see the Hurricanes falling to Virginia, but stranger things have happened. And finally, #19 Colorado is at USC (10:30 PM ET FS1). The Buffs are undefeated. Don't be shocked if they go into the Coliseum and beat the Trojans, but the safe money is on USC to win.
Forgot to mention this last week, but there are a number of teams who are already bowl eligible. Six weeks done and six wins. Those teams are:
· Cincinnati Bearcats (American)
· Clemson Tigers (ACC)
· Ohio State Buckeyes (Big Ten)
· Notre Dame Fighting Irish (Independent)
· Hawai'i Rainbow Warriors (Mountain West)
· Georgia Bulldogs (SEC)
· Alabama Crimson Tide (SEC)
More teams will be clinching. We'll try to keep track each week. It should hopefully be a good weekend. We can only hope.
2-3 Philadelphia Eagles @ 1-4 New York Giants 8:20 PM ET FOX and NFL Network
The NFC East is a terrible division and the two teams playing tonight have been disappointing thus far. The Eagles aren't the same team we saw last year that won the Super Bowl. The Giants appear to be on the verge of dysfunction, but they did play well last week scoring over 30 points (31) for the first time in 36 games. Can OBJ, Saquon Barkley and company take down Carson Wentz and company. On a short week, I'll take the home team…narrowly and with very little confidence.
Prediction: Giants 27 Eagles 24
Coming up Friday: Week 6 NFL previews and predictions
Stay safe Gulf Coast. It's not good down there. Hurricane Michael is the strongest storm to hit the U.S. in close to a quarter century. Not good. Let's fight global warming, because it's real. Thoughts are with those in the Gulf Coast.
Listen to this week's "The Sports Block" podcast here.
---