"The Stack" 10-16-18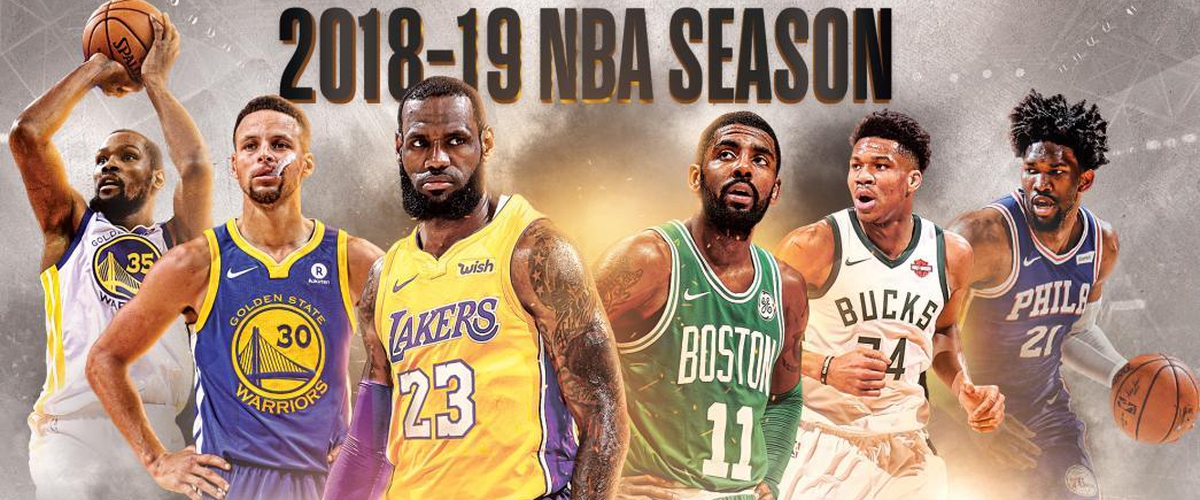 The NBA season tips off tonight. Will the Warriors win another title? Yes!
The Stack is back on this Tuesday and first, happy third anniversary to my wife, Kelsey. Love ya. Thanks for letting me continue this blog. Today is our 2018-19 NBA season preview and why do we even have this? Aren't the Golden State Warriors just going to steamroll everyone, especially once Boogie Cousins is healthy? Either way, we'll preview both the eastern and western conferences and pick our playoff teams and more so let's get right to the NBA season preview that hopefully you demand in "the stack" for today, Tuesday, October 16th:
2018-19 NBA season preview
In case you haven't heard and live in a pineapple under the sea (Spongebob Squarepants), you know that LeBron James is now in Los Angeles, a member of the Lakers organization. He's moved from the east to the west so that means that the east is a) more boring and b) a little more wide open. It also means that barring a minor miracle, we won't see James in the NBA Finals this year. Demarcus Cousins, as previously mentioned, is with Golden State. Kawhi Leonard was traded by the San Antonio Spurs to the Toronto Raptors for DeMar DeRozan and a few other players. Jimmy Butler wants to get traded from Minnesota, but who knows if that will happen. Putting "fun" in the word dysfunctional. That is the Minnesota Timberwolves way. Carmelo Anthony is with the Houston Rockets now so even less defense will be played. Let's get to the conference previews now.
Eastern Conference
With LeBron James out, the eastern conference is wide open. Unless it isn't. You'd be hardpress to find anyone out there who doesn't think the eastern conference representative in the Eastern Conference will be anyone other than the Boston Celtics, Philadelphia 76ers or Toronto Raptors. Seriously, the Southeast Division stinks and the Central Division is significantly weakened by James leaving Cleveland. If it isn't the Celtics, Raptors or 76ers I'd be shocked.
Atlantic Division
How do you determine who wins this division? It's tough. Out of the three teams, the Celtics have the most complete roster. Kyrie Irving, Al Horford, Jaylen Brown, Jayson Tatum, Marcus Morris and let us not forget Gordon Hayward who lasted less than half a quarter last year before blowing out his knee. However, the Toronto Raptors have the best player out of the three teams in Kawhi Leonard. They don't have to exercise the demons of beating LeBron James in the playoffs unless they make the NBA Finals and LeBron and the Lakers are somehow there. Then again, how do you pick against the 76ers with Joel Embiid? If Markelle Fultz and Ben Simmons can develop a jump shot, this team is going to be really dangerous. It's going to be a long year in New York for both the Knicks and the Nets. Perhaps better times are ahead. They just won't be this year.
Predicted Atlantic Division standings
1. Boston Celtics
2. Toronto Raptors
3. Philadelphia 76ers
4. New York Knicks
5. Brooklyn Nets
Central Division
Maybe I haven't mentioned it yet, but LeBron James is not with the Cleveland Cavaliers anymore. That is going to make this division pretty wide open. Then again, the Milwaukee Bucks have the Greek Freak and that is more than enough for me to take them in this division. I think the Bucks can take another step this year. The Indiana Pacers surprised a lot of people last year. Can Victor Oladipo and company play that well again? The Chicago Bulls may indeed surprise a lot of people this year. Zach Lavine can stay healthy and Lauri Markkanen is good. They have Jabari Parker. Can he be a big difference maker? Plus rookie Wendell Carter Jr. is there. Things are looking up for the Bulls. I think Blake Griffin will have a good year for the Detroit Pistons and they definitely got an upgrade at head coach with Dewayne Casey. Not sure if they are perhaps a year away from the playoffs, but I wouldn't put it past them. And then don't forget about the Cleveland Cavaliers. They still have Kevin Love and J.R. Smith (really, did I just say that?) plus rookie Collin Sexton should make a big splash in the league this year. Honestly, this division is very difficult to pick. You can make an argument that every one of these teams is a legit playoff team. This is tough and I don't like leaving any of these teams out.
Predicted Central Division standings
1. Milwaukee Bucks
2. Indiana Pacers
3. Cleveland Cavaliers
4. Chicago Bulls
5. Detroit Pistons
Southeast Division
This division is kind of garbage. Washington should be better than they are with John Wall and Bradley Beal, but they constantly underachieve. Hopefully head coach Scott Brooks can keep this team from sinking. The Miami Heat have Dwyane Wade on his farewell tour, but with guys like Goran Dragic, Hassan Whiteside and Justice Winslow, the Heat will be a competitive team. I hope the Charlotte Hornets can make it back to the playoffs with Kemba Walker, but I have my doubts. Please prove me wrong Charlotte. I hope they can get in, but I think they will be the first team out. Atlanta has Trae Young, but they will be the worst team in the NBA this year. Orlando has size, but they won't be making it to the playoffs unfortunately either.
Predicted Southeast Division standings
1. Washington Wizards
2. Miami Heat
3. Charlotte Hornets
4. Orlando Magic
5. Atlanta Hawks
Predicted eastern conference playoff teams
1. Boston Celtics
2. Toronto Raptors
3. Milwaukee Bucks
4. Philadelphia 76ers
5. Washington Wizards
6. Indiana Pacers
7. Miami Heat
8. Cleveland Cavaliers
Predicted Eastern Conference Finals
Boston Celtics vs. Toronto Raptors
Western Conference
I know things are cyclical, but the NBA western conference has been the better conference for far too long. It makes it difficult for teams like the Sacramento Kings and Minnesota Timberwolves to not be awful for so many years. Now, the Timberwolves did make the playoffs last year, but with the whole Jimmy Butler drama this year, the drama is going to be too much. Houston is going to be great and the Los Angeles Lakers are once again interesting because of LeBron James. Duh!
Northwest Division
This is the best division in basketball no question. All of these teams are good. The Oklahoma City Thunder obviously have Russell Westbrook and PG-13 (Paul George). Cutting bait with Carmelo Anthony may turn out to be a good move by them. The Utah Jazz are a fun team. Donovan Mitchell was sensational as a rookie. Can he keep it up in year two? The Jazz are a defensive minded team. The Portland Trailblazers will be led by Damian Lillard and C.J. McCollum. The Nuggets are a deep team with Nikola Jokic, Jamal Murray, Paul Millsap and rookie Michael Porter Jr. Will he play though this year or will his back keep him out? And the Minnesota Timberwolves have Andrew Wiggins and Karl Anthony-Towns, but they don't play defense. You need to play at least some defense.
Predicted Northwest Division standings
1. Oklahoma City Thunder
2. Utah Jazz
3. Portland Trailblazers
4. Denver Nuggets
5. Minnesota Timberwolves
Pacific Division
Listen, it begins and ends with the Golden State Warriors. Steph Curry, Kevin Durant, Klay Thompson and you add Boogie Cousins? That's not fair. This team is so stacked, so loaded. Sorry Lakers. I don't see how you can compete with that despite having LeBron James. Lance Stephenson, Rajon Rondo and Michael Beasley aren't going to be able to stay with that team and the young guys like Brandon Ingram will play well, but the balance of minutes is perplexing to me. I have no idea what to make of the Clippers, but I suspect they won't be good. The Phoenix Suns have DeAndre Ayton so they will be better this year. The Sacramento Kings? I hope they're competent, but I don't have good feelings. Can you just make it to the playoffs one year Kings? Back to the Warriors for a second. They are playing their last season at Oracle Arena in Oakland before moving to the spiffy Chase Arena in San Francisco next year. They want to win it for Oakland. Spoiler alert, they will!
Predicted Pacific Division standings
1. Golden State Warriors
2. Los Angeles Lakers
3. Los Angeles Clippers
4. Phoenix Suns
5. Sacramento Kings
Southwest Division
How is any team in this division going to keep pace with the Houston Rockets? They are the team that can give the Warriors all they can handle, but that only matters in the postseason. James Harden, Chris Paul and Carmelo Anthony? There aren't enough basketballs to go around. That could prove to be a little problematic, but the Rockets will be just fine. Luka Doncic is worth the price of admission. What a great rookie he will be for the Dallas Mavericks. Can Anthony Davis stay healthy for the New Orleans Pelicans? A lot of chatter that he will be a Laker next season. The Memphis Grizzlies are old and the San Antonio Spurs, I'm not sure about them. DeMar DeRoan is very good, but there may just be a little bit more wear and tear on this team. I think they will struggle this season.
Predicted Southwest Division standings
1. Houston Rockets
2. San Antonio Spurs
3. New Orleans Pelicans
4. Dallas Mavericks
5. Memphis Grizzlies
Predicted western conference playoff teams
1. Golden State Warriors
2. Houston Rockets
3. Oklahoma City Thunder
4. Utah Jazz
5. Los Angeles Lakers
6. San Antonio Spurs
7. Portland Trailblazers
8. Denver Nuggets
Predicted western conference finals
Golden State Warriors vs. Houston Rockets
NBA Finals
Golden State Warriors vs. Boston Celtics
NBA Champion: Golden State Warriors
MVP: Kevin Durant with Joel Embiid finishing second
Rookie of the year: Luka Doncic
It should be a fun season. Enjoy it everyone. See you when the playoffs start in April.
Coming up Thursday: College football talk, TNF preview, Paul Allen and more.
---