"The Stack" 10-12-18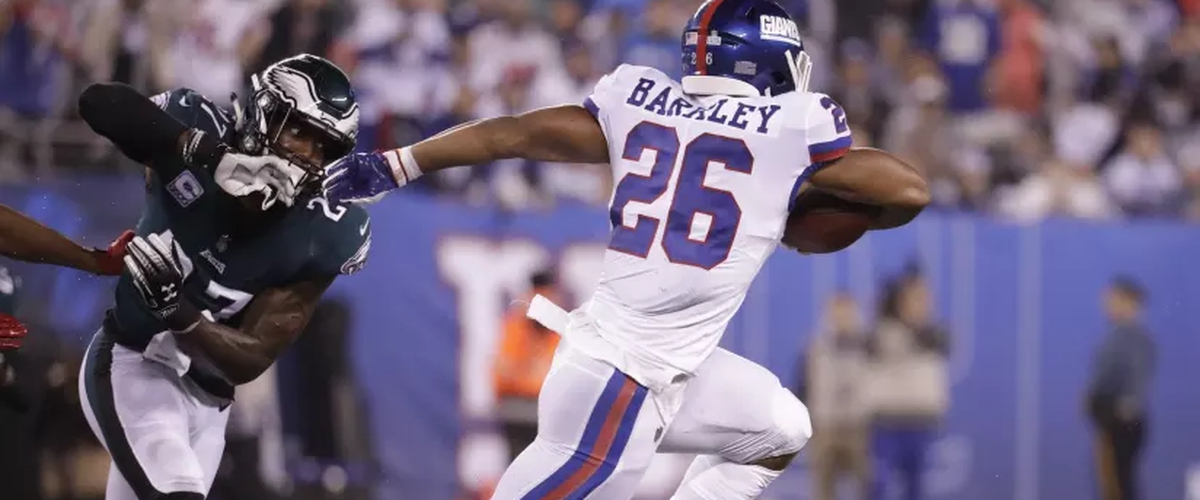 Saquon Barkley had 229 total yards from scrimmage (130 rushing, 99 receiving), but the Giants got blown out 34-13 by the Philadelphia Eagles Thursday night.
The Stack is back on this Football Friday and we had a good effort on picks last week and we'll try to do the same thing again this week. We'll put forth a much better effort than the New York Giants did last night as they got blown out 34-13 at home against the Philadelphia Eagles. Don't blame Saquon Barkley though. He had 229 yards from scrimmage (130 rushing, 99 receiving) and a touchdown. Odell Beckham Jr. had another bizarre incident and the team overall looks pathetic. And I picked them! What does that say about me?! Is it a sign of things to come for this week? I hope not. We're 47-30-2 on the season so let's keep it up and get to some previews and predictions in "the stack" for today, Friday, October 12th:
2-2 Tampa Bay Buccaneers @ 1-4 Atlanta Falcons 1 PM ET FOX
The Falcons looked like a broken team last week. Their defense I don't think can be fixed this year. Good thing they are going against a Buccaneers team who has their own defensive struggles. In a shootout at Mercedes-Benz Stadium, give me Matt Ryan and the home team over Jameis Winston and the visiting Bucs.
Prediction: Falcons 38 Buccaneers 34
2-2-1 Pittsburgh Steelers @ 4-1 Cincinnati Bengals 1 PM ET CBS
Huge divisional matchup. The Bengals still have their doubters out there and probably will all the way through the postseason (if they make it there). If the Steelers lose this game, they can all but kiss their division hopes goodbye. I like the Bengals a lot, but they struggle with the Steelers at home. I'll give the Steelers the edge. Prove me wrong, Bengals! Prove me wrong!
Prediction: Steelers 27 Bengals 20
3-2 Los Angeles Chargers @ 2-2-1 Cleveland Browns 1 PM ET CBS
The last time the Chargers were in Cleveland, it was Christmas Eve 2016 and the Chargers missed a field goal (I can't remember if Cleveland blocked it or not) to give the Browns their only win of the season. This is a much better Browns team than that one. Early kickoff against a good defense and a team that overall believes. I'll take Baker Mayfield and the Browns in an upset.
Prediction: Browns 24 Chargers 20
2-3 Buffalo Bills @ 2-3 Houston Texans 1 PM ET CBS
Could two 2-3 teams look any different than these two? The Bills are terrible yet somehow have two wins. The Texans have far more weapons and may have turned the corner the past couple of weeks. Their talent will overpower the Bills. J.J. Watt has to be licking his chops waiting to get after Josh Allen.
Prediction: Texans 27 Bills 13
3-1 Chicago Bears @ 3-2 Miami Dolphins 1 PM ET FOX
That undefeated 3-0 Dolphins team seems like a team of long ago and not just a couple of weeks. They have fallen back down to Earth. I don't believe a lot of people are still believers in Trubisky and the Bears yet. This is a game that you could see the Bears losing coming out of the bye. I'll give them the benefit of the doubt and watch Khalil Mack make Ryan Tannehill's life miserable.
Prediction: Bears 27 Dolphins 17
1-4 Arizona Cardinals @ 2-2-1 Minnesota Vikings 1 PM ET FOX
Remember the last time a bad team came into Minnesota and spanked the Vikings? It was just back in week three when no one on the planet gave the Bills a chance. The Vikings looked bad in that one. They won't overlook the overmatched Cardinals. The Vikings season is looking brighter after that win last week in Philadelphia. They aren't going to drop this one.
Prediction: Vikings 30 Cardinals 13
1-4 Indianapolis Colts @ 2-3 New York Jets 1 PM ET CBS
Andrew Luck and the Colts are playing better, but they are still being decimated by injuries. The Jets looked really good against the Broncos last week. Has Sam Darnold and company turned the corner? I'm not willing to go that far, but against the depleted Colts, I'll take the home team.
Prediction: Jets 24 Colts 16
2-3 Seattle Seahawks @ 1-4 Oakland Raiders 1 PM ET FOX (London)
Yes, the first of the three London games for this year and it promises to be lousy. The Seahawks stink. The Raiders stink. Everything about this game stinks. Skittles (Marshawn Lynch) gets to go against his former team so you know he will be running hard against the Seahawks. With that being said, I think I'll take the Seahawks, but it is a major toss up.
Prediction: Seahawks 24 Raiders 20
3-1 Carolina Panthers @ 2-2 Washington 1 PM ET FOX
Washington looked terrible Monday night. Will things get better? They could. The Panthers are beatable and not as good as their 3-1 records says…in my opinion. Until I see Alex Smith play incredibly well, with Adrian Peterson's shoulder injury and a host of other concerns for Washington, give me Cam Newton, Christian McCaffrey and the Panthers to come out of the D.C. area with a win.
Prediction: Panthers 27 Washington 23
5-0 Los Angeles Rams @ 2-3 Denver Broncos 4:05 PM ET FOX
Will the Greatest Show on Turf 2.0 be able to continue to roll in the snow? Yes, snow is in the forecast for Sunday and can a team from Sunday SoCal handle it? Against a desperate Broncos team it will be tough, but I will still take the Rams to win a close one.
Prediction: Rams 27 Broncos 24
3-2 Jacksonville Jaguars @ 2-3 Dallas Cowboys 4:25 PM ET CBS
The Jaguars, Blake Bortles in particular, looked terrible last week against the Chiefs. Jalen Ramsey might not play in this one which would not be good for their defense. The Cowboys defense has played really well this year. The Jaguars offensive line isn't playing well and they will once again be without Leonard Fournette. If the Jaguars want us to take them seriously, they need to win this game. I will take them and have faith in them.
Prediction: Jaguars 20 Cowboys 16
3-2 Baltimore Ravens @ 3-2 Tennessee Titans 4:25 PM ET CBS
Both teams are coming off tough losses last week. Neither offense was great, but the Ravens were better. The Titans play better at home and they should be embarrassed after losing to the Bills last week. In an ugly game, I'll take the home team.
Prediction: Titans 16 Ravens 12
5-0 Kansas City Chiefs @ 3-2 New England Patriots 8:20 PM ET NBC
Can Bill Belichick and the Patriots come up with a game plan to stop Pat Mahomes and the dynamic Chiefs offense? I think I heard this stat correctly, it's rather unbelievable: Belichick is 23-0 against quarterbacks under the age of 25. Is that right? That seems remarkable. Well everything must come to an end at some point. Give me the Chiefs to upset the Patriots.
Prediction: Chiefs 34 Patriots 31
Coming up Monday: Week 6 NFL reaction plus MNF preview and prediction
---