"The Stack" 10-18-18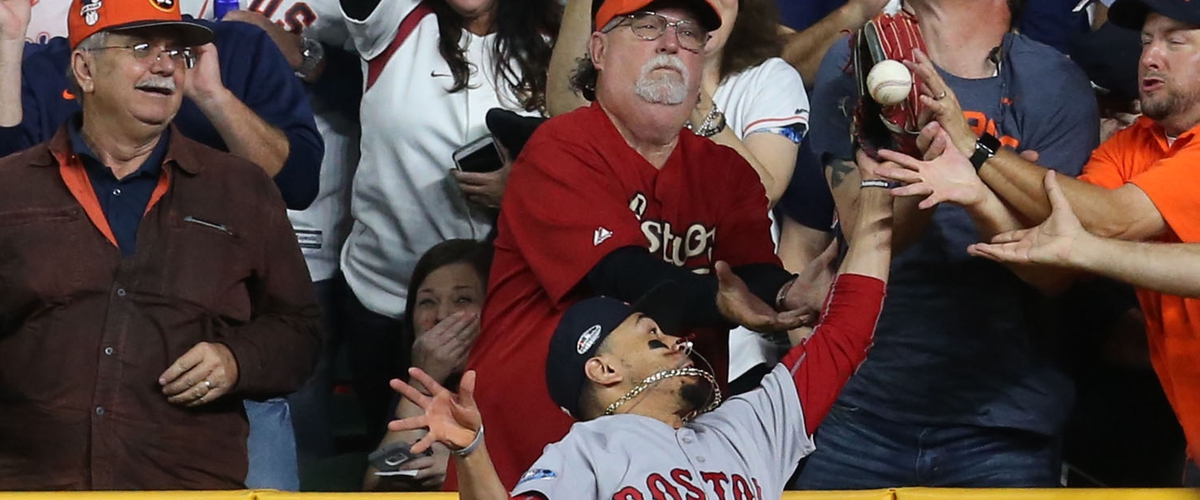 This first inning play involving Boston Red Sox outfielder Mookie Betts was ruled fan interference instead of a two-run homerun for Jose Altuve. That call loomed large as the Red Sox would beat the Astros 8-6. A controversial call to say the least.
The Stack is back on this Thursday and hopefully everyone enjoyed our NBA preview. It's a cool time right now to be a sports fan, because all four professional sports are going on right now. The NFL of course is a quarter-and-a-half of the way through the season. MLB (Major League Baseball) is in the playoffs and the NHL and NBA regular seasons are in their infant stages (NBA is a newborn). Add to that some college football and it is a great time to sit on your coach and have the remote in hand and flip to everything. Now let's get right to "the stack" for today, Thursday, October 18th:
Dodgers, Red Sox one win away from World Series
The Milwaukee Brewers were supposed to have the offense to put up the runs and the bullpen to shut down the Dodgers' bats. Over the last two games, the Brewers' bats have not awoken from their slumber and the Dodgers have done just enough. After winning game four in 13 innings 2-1, the Dodgers went to work in the sixth and seventh innings, scoring four runs on three singles and then adding another run on a groundout to third. That would be enough for Dodgers to take down the Brewers 5-2 and take a 3-2 series lead. The series shifts back to Milwaukee for games six and seven. Hopefully the Brewers can stage a comeback.
The Boston Red Sox have been outstanding with two outs. They got the majority of their runs Wednesday night against the Houston Astros with two outs whether we're talking about Jackie Bradley Jr.'s two-run homerun in the sixth inning that put the Red Sox up for good or the bases loaded walk in the seventh inning to J.D. Martinez's single in the eighth that allowed Mookie Betts to score, the Red Sox were clutch when they needed to. This game is marred in controversy though, because of a play in the first inning when Jose Altuve hit what looked to be a two-run homerun that would have tied the game up 2-2. Red Sox right fielder Mookie Betts made an incredible leap to make a play on the ball and he very well may have come down with it, but his glove hit a fan's hand and caused the glove to close before he could catch it. Joe West, everyone's favorite umpire, looked hesitant at first, but eventually made the "out" call, calling fan interference. After review, the call stood. It didn't look like, in my estimation, that the fans reached over the wall to grab this homerun. What Betts did was incredible. Don't get me wrong, but we don't know for sure if he would have come down with it. That call prevented the Astros from tying the game and getting momentum on their side. West robbed the Astros of this and yes, the Astros did take the lead later in this game, but those two runs loomed large as the Red Sox ended up winning 8-6. The Astros had a chance in the ninth inning with the bases loaded, Andrew Benintendi made a sensational diving catch to end the game. Had he missed it, likely all three runs would have scored and the Astros would have won the game. What an unreal game. It was great! They now have a 3-1 series lead. It is going to be difficult for the Astros to win this series. They had their chance in game two and let that lead slip away. That turned the series around. A lot of the calls seemed to go the Red Sox way Wednesday night. We'll see if the Astros can stave off elimination tonight when game five starts at 8:09 PM ET on TBS.
College football weekend forecast
Before we get to the forecast, can we just marvel at what happened last weekend? Four top ten teams went down. #2 Georgia got annihilated by LSU 36-16. #8 Penn State inexplicably lost at home to Michigan State 21-17. #7 Washington suffered a loss that all but dashes their playoff hopes away losing 27-24 to Oregon in overtime. And #6 West Virginia lost on the road to Iowa State 30-14. Ames, Iowa, is a dangerous place to play at night apparently. Add to that one point wins by South Florida and Central Florida on the road and last weekend was chaotic to say the least. College football tends to have these unexpected weeks once a year and last week was it.
This week, not so much, at least not that we anticipate. The four ranked matchups that we have on tap for the weekend don't provide a ton of intrigue. #6 Michigan is at #24 Michigan State (Noon ET FOX) has the potential for an upset, but Sparty hasn't looked that great this year despite the upset win at Penn State last weekend. I don't trust them against a Michigan team that is playing really right now. #16 NC State travels to Clemson to take on the #3 Tigers (3:30 PM ET ESPN). Can they pull off the upset? I don't think so. Not with Clemson having Trevor Lawrence at QB. I am a little worried about #5 LSU. They host #22 Mississippi State (7 PM ET ESPN) and after that emotional win last week against Georgia, might they be a little flat? Perhaps a little bit, but playing in Death Valley at night, they should be just fine. Oregon is in a similar situation, but they are playing at home. Oregon is in a similar situation though they are on the road this week unlike LSU. College Gameday is making their first ever appearance in Pulman, Washington, for #12 Oregon vs #25 Washington State (7:30 PM ET FOX). After that emotional win over Washington last week, will the Ducks be ready for what is sure to be a raucous scene. I'm a little hesitant in taking them.
Undefeated Cincinnati heads to Philly to take on Temple (Noon ET ESPNU) and the #20 ranked Bearcats are actually underdogs in this game. I don't think that is going to happen. Other than that, there just aren't a lot of other great games this weekend. Inevitably, something will happen that will shake up the college football landscape. And will Nebraska finally get their first win of the year? They host Minnesota (3:30 PM ET BTN) so yeah, it will probably happen. Why wouldn't a Minnesota sports team be the team to stop a bad streak? Enjoy the weekend of college football everyone.
2-4 Denver Broncos @ 1-5 Arizona Cardinals 8:20 PM ET FOX and the NFL Network (Streaming on Amazon Prime)
I've gone back and forth on this game all week. I deem it to be a true toss-up. The Broncos have lost four games in a row. The Cardinals are just flat out not very good. The Broncos played well last week, but will Case Keenum throw an interception or two in this one? Josh Rosen looks like he will be great for the Cardinals, but he is still learning. Against my better judgement, I'll take the Broncos in a close one.
Prediction: Broncos 23 Cardinals 20
Before we go, it was rather stunning to hear of the passing of Seattle Seahawks and Portland Trailblazers owner (but more importantly the co-founder of Microsoft) Paul Allen on Monday night. Allen had just announced a couple of weeks ago that he was battling non-Hodgkins Lymphoma and to all of a sudden hear that he is gone is very sad. He changed the world of technology as we know it. From all accounts, he was a good owner. Thoughts to his family, friends and to everyone in the Seahawks and Trailblazer organizations. We lost a good one.
Coming up Friday: Week 7 NFL preview and predictions
Listen to this week's "The Sports Block" podcast here.
---