"The Stack" 10-17-17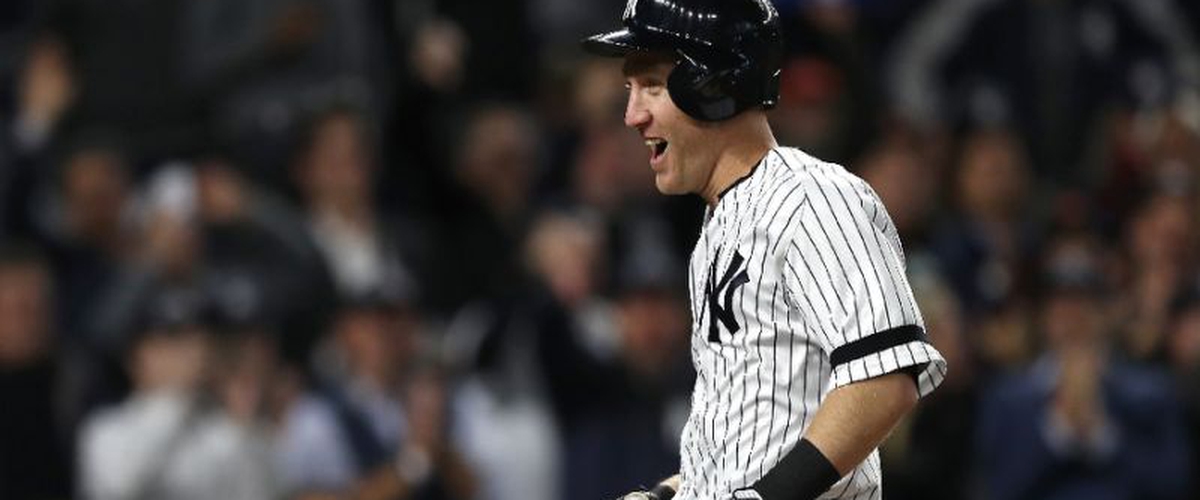 Todd Frazier's three-run homerun in the second inning was the catalyst for the Yankees to take down the Astros 8-1 in game three of the ALCS.
The Stack is back on this Tuesday and we have a few things to talk about today. There will be an NBA season preview coming out later this week. For now though, let's get to the football and baseball and whatever else we have in "the stack" for today, Tuesday, October 17th:
Titans take care of Colts on MNF
It wasn't always pretty, but the Tennessee Titans snapped an eleven game losing streak to the Indianapolis Colts with a 36-22 win. The Titans in the first half looked like they were just going through the motions in the first half. The offense couldn't finish drives and the defense was getting destroyed by Jacoby Brissett. The defense played much better in the second half allowing just three points. The touchdown the Colts scored came on a pick-six on the Titans first offensive possession of the second half. Marcus Mariota was not 100 percent on that left hamstring, but he played well with over 300 yards passing. Hopefully he'll have a chance to heal up fully with the Browns on the docket this week followed by a bye week. They also ran the ball fairly effectively with Derrick Henry and DeMarco Murray with each scoring a touchdown. For the Colts, they are playing tough, especially on defense. They just don't have enough playmakers overall. Yet they find themselves only one game back of the division leaders. At least both field goal kickers were great. Both Adam Vinatieri (Colts) and Ryan Succop (Titans) made all of their field goals. Vinatieri did miss an extra point, but these guys helped keep their teams in the game.
Yankees crush Astros in ALCS game 3
The New York Yankees were in a familiar position playing at home in game three of a playoff series down 2-0. They delivered with a win in the ALDS. They did it again Monday night with an 8-1 win over the Houston Astros to cut the Astros lead in the series 2-1. Todd Frazier somehow got a three run homerun out of the park in the second inning. If you saw the swing it looked like just a bloop single and yet Frazier's hit went out of the park. That would be more than enough for C.C. Sabathia who was brilliant on the mound going six strong innings giving up no runs and striking out five. Aaron Judge would tack on a three-run homerun and that would be all she wrote. Big win for the Yankees. The Astros need their bats to wake up and fast. Game four is 5:08 PM ET today on FS1. Game three of the NLCS between the Los Angeles Dodgers and Chicago Cubs is in Chicago at 9 PM ET on TBS.
College football weekend reaction and an early forecast
Last week, we didn't think that we were going to see anything too significant happening. By the end of Friday night, we should have known that Saturday was going to be have something significant happen. Friday night saw #2 Clemson lose in Syracuse 27-24. Right after that, #8 Washington State didn't even bother to show up in Berkley against Cal, losing 37-3. Two other top ten teams would drop on Saturday as LSU rallied to take down #10 Auburn 27-23 and #5 Washington inexplicably failed to score a touchdown against one of the worst defensive secondaries in college football until the fourth quarter and lost to Arizona State 13-7. What?! WTH?!
Washington no doubt had one of the worst losses in college football last week, but the worst loss in my opinion belongs to Louisville. They didn't just lose to Boston College at home. They gave up 45 points to the offensively challenged Boston College Golden Eagles and lost 45-42. Inexcusable! A.J. Dillon ran it all over Louisville. Tennessee rivaled Louisville's loss, failing to score a touchdown at home (again) in a 15-9 loss to South Carolina. But Louisville takes the cake.
There were great finishes though and close games throughout. #12 Oklahoma got out to a big lead and then had to hold off a fierce Texas rally to win 29-24 in the Red River Rivalry. #13 USC had to rally from being down 21-7 at half at home to Utah to beat the Utes 28-27. Utah scored a touchdown late and went for two, but couldn't get in. And Miami (FL) got a sick fourth down catch to set themselves up for a game-winning field goal and beat Georgia Tech 25-24. The Yellow Jackets must be sick.
As far as the early forecast goes for this week, there are two games featuring ranked teams and they are both dandies. Both of them happen to be going head-to-head against one another. #11 USC visits South Bend to take on #13 Notre Dame (7:30 PM ET NBC) This is a great test for Notre Dame as I think that some people (i.e. me) aren't quite sure what to make of them. USC still has injuries, but I think Sam Darnold and company will keep this game close into the fourth quarter though I am not quite sure they will be able to win it. I will go with them at this point. College Gameday is going to be in Happy Valley and the Penn State faithful are ready. #2 Penn State hosts #19 Michigan (7:30 PM ET ABC). Can Michigan's defense slow down sensational running back Saquon Barkley? I say no. Penn State wins this one fairly easily.
There is one other game that is incredibly intriguing to me mainly for all the wrong reasons. 0-5 Georgia Southern is at 0-6 UMass (3:30 PM ET). UMass is a seven point favorite. One team has to get their first win of the season. Perhaps that will springboard them towards another win or two. I'm leaning towards UMass and the Minutemen. It should be another great week of college football action. Enjoy it everyone.
Before we go, the University of Louisville Athletic Association unanimously voted to terminate Louisville men's basketball coach Rick Pitino's contract. It's a "for cause" firing. Pitino no doubt will fight this, but between the college basketball scandal and the escort service scandal that Louisville has had to deal with over the past couple of years, Pitino has to go. If he truly did not know, then his program is out of control and he is not capable of running it.
Coming up Thursday: 2017-18 NBA season preview