"The Stack" 10-13-20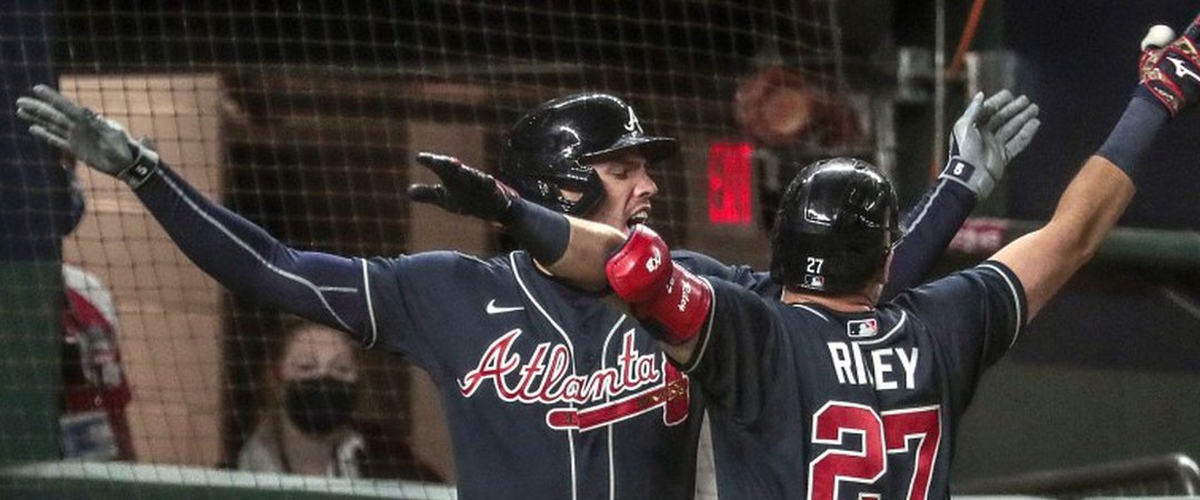 The Stack is back on this Tuesday and we have a lot to talk about today. From the NFL to college football to baseball, we discuss it all so let's not waste any more time and get right to "the stack" for today, Tuesday, October 13th:
Saints come back to beat Chargers on MNF
Stop me if you have heard this one before: the Los Angeles Chargers lost a heartbreaking game by one score. Up 20-3 at one point in the first half, the New Orleans Saints battled back and the two teams went back and forth in the fourth quarter only to see the game go to overtime. The Saints got the ball first in overtime and got a field goal. Their defense came up with a big stand and the Saints emerged victorious 30-27.
The game probably never should gotten to overtime. After the Saints had tied the game up 27-27, the Chargers had a chance to win it after Justin Herbert found Mike Williams for a big gain down to the New Orleans 32-yard line. Kicker Michael Badgley had a 50-yard field goal go off of the right upright and not cross over. At that point, if you were a Chargers fan, you felt like you had lost the game and it's a shame because Herbert played great in this game, throwing four touchdowns. That is a record for a rookie quarterback on MNF. The 17 point comeback by the Saints tied for the the biggest comeback for Drew Brees in his career. The Chargers played a great game, but just couldn't quite get the job done and the Saints took advantage of it despite several mistakes including a Brees interception and a roughing the kicker penalty that led to 14 Chargers points. The Saints saved their season arguably with this win. For the Chargers, like the Vikings, wins become losses in heartbreaking fashion.
MLB Postseason update
How great was it to see the Tampa Bay Rays beat the New York Yankees in game 5 last Friday night? What a game! What a series! The Rays are so good and right now they are up 2-0 on the Houston Astros following their 4-2 win in game two of the ALCS. The pitching has been great for the Rays. The Astros did get plenty of hits in game 2, 10 as a matter of fact, but left far too many guys on base. Can't do that against this Rays team. Not this year.
On the NL side, the Atlanta Braves remain undefeated in the postseason following their 5-1 win over the Los Angeles Dodgers in game one of the NLCS. The Braves' strong pitching continued once again giving up just four hits to the great offense of the Dodgers. Tied 1-1 in the 9th, Austin Riley hit a solo shot and the Braves would tack on three more runs including a two run homerun by Ozzie Albies. It's only one game, but this pitching performance by the Braves has been so impressive during their postseason run. I think it can keep up, but the Dodgers will respond.
Lakers win NBA Championship
For the 17th time in franchise history, the Los Angeles Lakers are kings of the court. They won the NBA Finals 4-2 over the Miami Heat thanks to a 106-93 victory in game six. Jimmy Butler gave it his all for the Heat in game five to keep his team alive, but he was gassed after the game and it looked like he was tired in game six. The Lakers led the entire game. Speaking of kings, the King, LeBron James, won NBA Finals MVP for the fourth time in his career. He's won it with three different teams. To do what he is doing at his age is simply remarkable. We all need to enjoy what he is doing. Comparisons to MJ can wait for another day. James was great in this series and was great all season long. He is so good! The best player in the NBA. He proved that in this series. Congrats to the Lakers and congrats to the NBA for pulling off the bubble the way they did for the playoffs. They did a great job. The NBA season is complete.
NFL schedule change thoughts
Yesterday I mentioned that the NFL rearranged schedules for several teams, 9 as a matter of fact, due to positive COVID tests. To go over those again, they are:
· Denver Broncos at New England Patriots is now scheduled for week 6, Sunday, October 18th at 1 PM ET on CBS.
· Kansas City Chiefs at Buffalo Bills Week 6 game moves from Thursday, Oct.15 to Monday, Oct. 19 at 5:00 p.m. ET on FOX/NFL Network/Amazon.
· New York Jets at Miami Dolphins game moves from Week 10 to Week 6 at 4:05 p.m. ET on CBS.
· Jets at Los Angeles Chargers game moves from Week 6 to Week 11 on Sunday, Nov. 22 at 4:05 p.m. ET on CBS.
· Jacksonville Jaguars at Chargers game moves from Week 8 to Week 7 on Sunday, Oct. 25 at 4:25 p.m. ET on CBS.
· Chargers at Broncos game moves from Week 11 to Week 8 on Sunday, Nov. 1 at 4:05 p.m. ET on CBS.
· The Chargers at Dolphins game moves from Week 7 to Week 10 on Sunday, Nov. 15 at 4:05 p.m. ET on CBS.
· The Dolphins at Broncos game moves from Week 6 to Week 11 at 4:05 p.m. ET on CBS.
The byes now look like this:
· Denver's bye week moves from Week 8 to Week 5
· New England's bye week moves from Week 6 to Week 5
· LAC's bye week moves from Week 10 to Week 6
· Miami's bye week moves from Week 11 to Week 7
· Jacksonville's bye week moves from Week 7 to Week 8
· NYJ's bye week moves from Week 11 to Week 10.
Obviously, Tennessee and Pittsburgh have been affected as well and Tennessee plays host to Buffalo tonight therefore I did not include them above.
So how does the schedule look now for each to versus how it was originally scheduled? Let's look at the Jets, Dolphins, Broncos, Chargers & Jaguars looking only at weeks 6-11:
New York Jets Original Schedule (listed first) Updated New York Jets Schedule (listed second)
@ LA Chargers @ Miami
BUFFALO BUFFALO
@ Kansas City @ Kansas City
NEW ENGLAND NEW ENGLAND
@ Miami BYE
BYE @ LA Chargers
Miami Dolphins Original Schedule (listed first) Updated Miami Dolphins Schedule (listed second)
@ Denver NEW YORK JETS
LA CHARGERS BYE
LA RAMS LA RAMS
@ Arizona @ Arizona
NY JETS LA CHARGERS
BYE @ Denver
Denver Broncos Original Schedule (listed first) Updated Denver Broncos Schedule (listed second)
MIAMI @ New England
KANSAS CITY KANSAS CITY
BYE LA CHARGERS
@ Atlanta @ Atlanta
@ Las Vegas @ Las Vegas
LA CHARGERS MIAMI
Los Angeles Chargers Original Schedule (listed first) Updated Los Angeles Chargers Schedule (listed second)
NEW YORK JETS BYE
@ Miami JACKSONVILLE
JACKSONVILLE @ Denver
LAS VEGAS LAS VEGAS
BYE @ Miami
@Denver NEW YORK JETS
Jacksonville Jaguars Original Schedule (listed first) Updated Jacksonville Jaguars Schedule (listed second)
DETROIT DETROIT
BYE @ LA Chargers
@ LA Chargers BYE
HOUSTON HOUSTON
@ Green Bay @ Green Bay
PITTSBURGH PITTSBURGH
So who benefits the most and who kind of got screwed over? Well with four games changing, it's fair to say that the Chargers are most negatively impacted. Not only is their bye four weeks earlier now, but instead of three of their next four games at home, it now alternates between home and away. Denver has also lost their bye week so they could say that they were negatively impacted which they were. Miami's bye is also earlier. Overall though, the games don't put any team on the road for three consecutive weeks between weeks 6-11. So overall I think the NFL did what they had to to keep the games scheduled and not have to add an 18th week. It seems inevitable at this point that it will happen. The NFL can't go through a massive restructuring of the schedule like what they did with the above teams. If more teams have COVID outbreaks, the NFL will need to get an 18th week and possibly, even a 19th week.
College Football weekend recap
Can anyone play defense in the SEC this year? Alabama scored touchdowns on nine of their eleven possessions and they didn't do much to stop Ole Miss's offense, but still won 63-48. 63-48! Yikes! #4 Florida didn't play much defense either in their 41-38 loss to #21 Texas A&M. This was a big win for Jimbo Fisher and A&M. This will take some of the heat off, but A&M needs to keep winning. I was surprised that Florida lost the way they did. Speaking of no defense, LSU's defense is terrible this year though that is understandable when you are replacing so many players on both sides of the ball. Maybe it was that they were playing in Missouri with the game switching from Baton Rouge due to Hurricane Delta. That must have been tough for the players and if their minds weren't completely focused on the game, but losing 45-41 is not good. Now they are unranked. Heck of a goal line stand by the Mizzou defense. #14 Tennessee forgot to play defense in the second half against #3 Georgia. Leading 21-17 at halftime on the road, the Vols got destroyed in the second half, outscored 27-0 and lost 44-21. They had three turnovers in the second half and -1 yards rushing for the game. Yowza! #13 Auburn probably should have lost to Arkansas. No way was that a clean spike. It looked like a fumble and time would have ran off the clock. As such, Auburn kicked a field goal and won 30-28. And what has happened to Mike Leach, the Pirate, and Mississippi State? Terrible offensive performance against Kentucky. They got only a safety. Kentucky won 24-2. Wild week in the SEC.
We're not solely focused on just the SEC though. The Red River Rivalry may have had one of their most entertaining games ever with Oklahoma outlasting #22 Texas 53-45 in 4 OTs. As entertaining a game as it was, Gus Johnson announcing the game on FOX may have been just as if not more entertaining. FOX Sports! Big 12! Gus, I love listening to you call games. Both Texas and Oklahoma now have two losses. I don't see either of them being playoff contending teams.
I don't know if UNC is the fifth best team in the country as the AP has them, but I do know that they are awfully impressive led by quarterback Sam Howell Jr. They showed it on Saturday with a trouncing of #19 Virginia Tech 56-45. The Hokies have been significantly impacted by COVID-19. It showed on Saturday. They'll bounce back though.
Oh and Clemson is still really good. The #1 team in the country had no issues dismantling #7 Miami (FL) 42-17. Granted the weather conditions weren't great, at least early on, but Clemson is by far the superior team. Just another win for Dabbo Swinney and Trevor Lawrence.
4-0 Buffalo Bills @ 3-0 Tennessee Titans 7 PM ET CBS
Finally the Titans are playing after not playing since September 27th against the Minnesota Vikings. They haven't had much time to practice with their facility shut down. I think conditioning is going to play a vital part in this game. The Titans are good enough to beat the Bills, but considering the circumstances, I think the Bills are more prepared and are going to emerge with a win.
Prediction: Bills 27 Titans 17
Coming up Wednesday: Bills-Titans reaction, MLB postseason thoughts and a college football weekend forecast
---