"The Stack" 10-29-20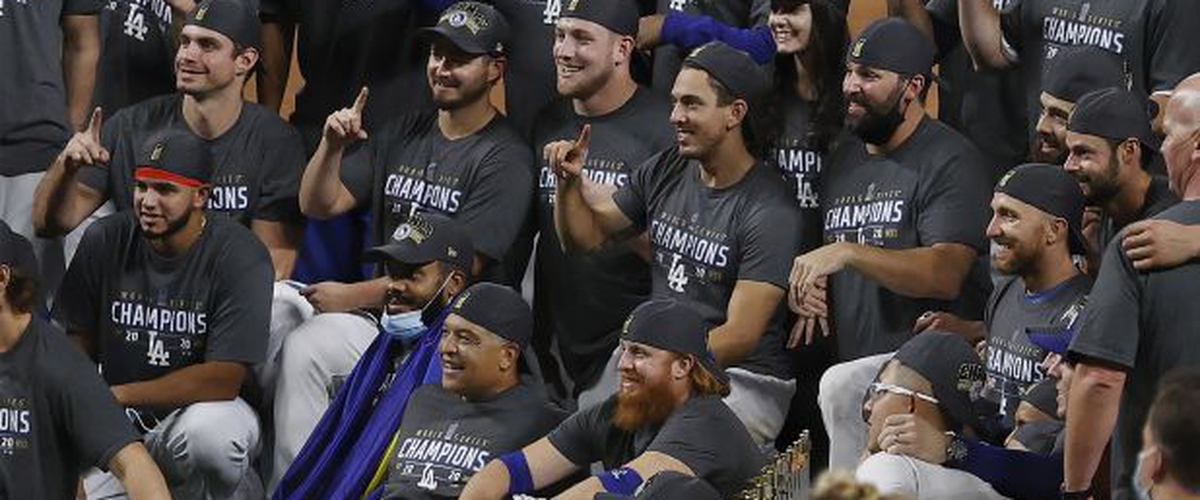 The Los Angeles Dodgers are your World Series Champions beating the Tampa Bay Rays in six games. They were the best team all year long and they proved it in the postseason.
The Stack is back on this Thursday and the Los Angeles Dodgers have won the World Series meaning the city of Los Angeles has a leg up on Tampa for pro championships this year. The Buccaneers can even it up if they win, but we'll see about that. We'll react to the World Series plus some football talk so let's get right to "the stack" for today, Thursday, October 29th:
Dodgers win World Series thanks to Rays' inexplicable decision
The Los Angeles Dodgers are your World Series champions. Good for them. After having come so close in recent years to cheating teams like the Houston Astros and Boston Red Sox, the Dodgers finally broke through with an assist from Tampa Bay Rays manager Kevin Cash Rays pitcher Blake Snell was absolutely sizzling in game six. The Dodgers couldn't hit him. He had nine strikeouts through five innings. Snell entered the sixth inning having only given up one hit. He got through the first out. Then he gave up a hit to the number nine batter. Rather than try and get Mookie Betts and Cory Seager out a third time, Cash yanked him. Snell was unhappy with the decision and rightfully so. He was pitching outstanding. Now I know that his ERA in the sixth inning and beyond in the postseason hasn't been great, but with the way he was pitching, why not try and see if you can get Betts and or Seager out. If you give up another hit, you're done. Cash elected not to do that and put in Nick Anderson who promptly gave up two runs and the Rays were done at that point. It was a deflating moment. Analytics may tell you to pull Snell after that hit he allowed, but watch the game. Get a feel for it. I think at that moment, the Dodgers smelled blood in the water like a shark would and the Rays' energy just gave way. The Dodgers won 3-1 and won the World Series 4-2. The Dodgers were the best team in all of baseball this year. They were the favorites at the start of the season. They were the best team all season. Tampa Bay was largely overmatched in the World Series overall despite the heroics of Randy Arozarena. And Tampa Bay absolutely deserved to be in the World Series, but they were simply overmatched by the Dodgers and ultimately assisted them in winning game six and subsequently the World Series.
As for the Justin Turner situation, we'll look to tackle that another day...perhaps next week. It's a sensitive subject, what with COVID-19 and all, but this situation bears a little more thought and we'll do that here soon.
College Football weekend forecast
Not going to lie, it doesn't appear to be a great weekend on the college football front. It is Halloween on Saturday so maybe some teams will be in for more of a scare than they otherwise would be expecting. A lot of BOO-hooing and who knows how many ghosts show up. Enough of the Halloween puns, please. Okay. There is only one game pitting ranked teams against one another and that is the game College Gameday will be at, #3 Ohio State @ #18 Penn State (7:30 PM ET ABC). Penn State is probably overrated. Not a full stadium at Happy Valley. Have to go with the Buckeyes.
There are a few games that interest me. Can #20 Coastal Carolina stay unbeaten when they go to Atlanta to take on Georgia State (Noon ET ESPNU)? I say yes. Is #17 Indiana going to beat Rutgers (3:30 PM ET BTN)? I don't think so, not after seeing what Rutgers did last week forcing seven turnovers against Michigan State. I think we are all still waiting to see if Texas can ever figure it out and put it together. Can they do it against #6 Oklahoma State (4 PM ET FOX)? Unlikely, but a win by the Cowboys would do more to quiet those that don't think the Cowboys are really all that good. Maybe they are, maybe they aren't. And there are very few teams that have been more surprising in a good way this season than Arkansas. They travel to College Station to take on #8 Texas A&M (7:30 PM ET SEC Network). I don't think A&M is as good as their #8 ranking is. What the hell, I'll go with the upset. I'm taking the Hogs.
Because there isn't a whole lot of appetizing games this weekend, that means we are in for a crazy weekend in all likelihood. Regardless, enjoy it everyone and Happy Halloween. Celebrate responsibly and no, I am not talking about alcohol.
1-6 Atlanta Falcons @ 3-4 Carolina Panthers 8:20 PM ET FOX & NFL Network (Streaming on Amazon Prime)
Oh boy. Another Thursday Night Football game that is less than appealing. I think the Falcons have more talent than the Panthers, but they continue to find ways to lose and fail to live up to their potential. For that reason and that reason alone, I have to go with Teddy Bridgewater and the home team, the Panthers.
Prediction: Panthers 27 Falcons 20
Coming up Friday: Week 8 NFL previews & predictions
---