"The Stack" 10-14-19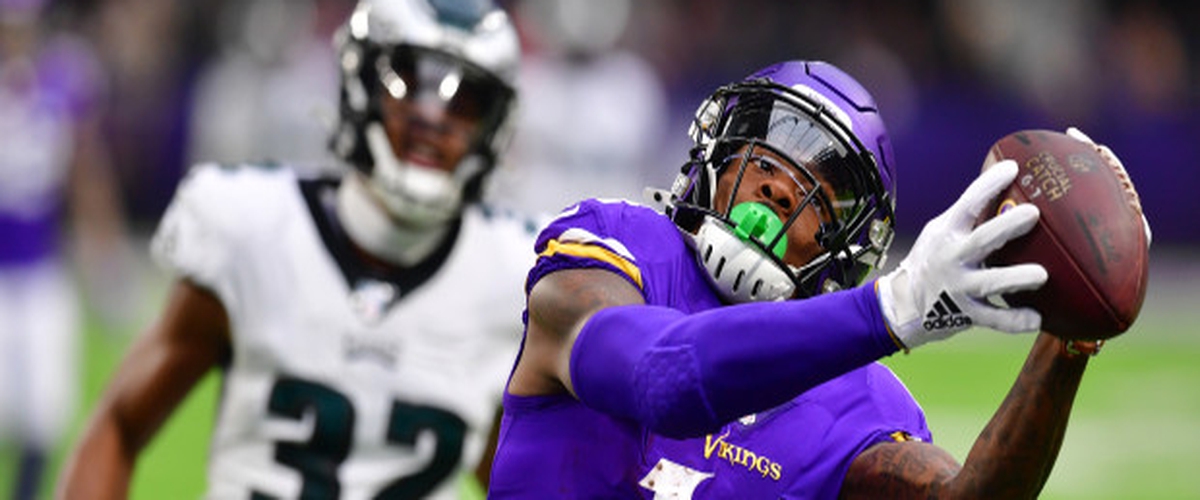 Minnesota Vikings wide receiver Stefon Diggs caught three touchdowns, including two of over 50 yards as the Vikings torched the Philadelphia Eagles secondary in route to a 38-20 victory.
The Stack is back on this Monday and it was another crazy week in the NFL. The Atlanta Falcons continue their disappointing season. The Los Angeles Chargers are a disappointment. The Kansas City Chiefs may be in some trouble, and Philadelphia Eagles linebacker Zach Brown, do you like that? Let's react to it all right now in "the stack" for today, Monday, October 14th:
Panthers 37 Buccaneers 26
The Carolina Panthers continue to roll. Their defense frustrated Tampa Bay quarterback Jameis Winston threw five interceptions (what else is new) and the offense couldn't get going until it was too late. The Bucs defense was able to contain Christian McCaffrey, especially running the ball, but Kyle Allen played pretty good and the Panthers won their fourth straight.
Eagles 20 Vikings 38
With the Philadelphia Eagles missing two members in their secondary, you wondered if the Minnesota Vikings would take advantage of that. In a word, yes. Vikings quarterback Kirk Cousins hooked up with Stefon Diggs three times, including one of 61 yards and one of 52 yards, the first Vikings wide receiver to do that since Randy Moss. Cousins was nearly flawless throwing for over 300 yards and four touchdowns on the day and may have played with a bit of an edge after Eagles linebacker and former teammate Zach Brown said earlier in the week he was the weakest part of the offense. After the game Brown refused to talk about. Man up, ladybug.
Washington 17 Dolphins 16
The Tank for Tua or Toilet Bowl game ended up having one of the more exciting finishes of the day. Washington had 17-3 lead when the Miami Dolphins benched quarterback Josh Rosen for Ryan Fitzpatrick. Fitzpatrick led two touchdown drives, but the Dolphins went for two on their last touchdown with six seconds left and the Dolphins lost. Typical Dolphins fashion.
Texans 31 Chiefs 24
There is real concern in Kansas City this morning after the Houston Texans came into Arrowhead and handled the Chiefs. It was nearly a two-to-one time of possession in favor of the Texans. The Chiefs didn't sack Deshaun Watson once which is terrible considering the Texans offensive line has been much maligned. Hall-of-famer Patrick Mahomes wasn't his normal mobile self and it showed. The Chiefs did welcome back Tyreek Hill who had two touchdowns, but this game was about Watson who threw for a touchdown and ran for two more. He was great and the Texans were also great.
Saints 13 Jaguars 6
Pretty boring game. The two teams exchanged field goals all game long until New Orleans Saints quarterback Teddy Bridgewater found tight end Jared Cook for a touchdown. Otherwise, this was a defensive struggle, but the Saints improve to 4-0 with Bridgewater starting.
Seahawks 32 Browns 28
I still don't believe that the Seattle Seahawks are as good as their 5-1 record shows, but give them this…they know how to win the close games. Russell Wilson ran for one touchdown and threw for two more, but this is really more about the Cleveland Browns. They had a 20-6 lead before questionable playcalling, especially in the redzone. Baker Mayfield threw three interceptions and took a beating. Combine that with some awful officiating a fourth down goal line call that didn't go well only after they had a touchdown wiped off the board, and the Browns lost the game as only the Browns can do.
Bengals 17 Ravens 23
The Cincinnati Bengals returned the opening kickoff for a touchdown. After that, it was the Lamar Jackson show. The Baltimore Ravens quarterback ran for over 100 yards and a touchdown and controlled the game as the Ravens had no problems beating the winless Bengals. The Ravens now have a two game lead in the AFC North.
49ers 20 Rams 7
It's time to take the San Francisco 49ers seriously. Their defense was absolutely incredible, shutting down the Los Angeles Rams offense. They may be the best defense in the league. The Rams need to fix whatever issues ail them and fast or they will not make the playoffs. This was a bad game by them.
Falcons 33 Cardinals 34
This was quite a game. The Arizona Cardinals jumped out to a large lead as quarterback Kyler Murray and company were able to do pretty much anything at will against an atrocious Atlanta Falcons defense. Falcons quarterback Matt Ryan, though, led a furious comeback throwing for over 300 yards and four touchdowns. The Falcons thought they had tied the game, but Matt Bryant missed the extra point late and the Falcons lost 34-33. Ouch. Ouch, ouch, ouch. Where is the confidence level in that locker room?
Cowboys 22 Jets 24
Goodness gracious, what has happened to the Dallas Cowboys? Yes, wide receiver Amari Cooper left in the first quarter with a quad injury, but the offense was largely ineffective and the defense let regular-sized spleen Sam Darnold torch them, including a 92-yard touchdown to wide receiver Robby Anderson. The Cowboys went for it on fourth down in the second quarter inside the Jets 10-yard line and didn't score. They scored a touchdown late, but couldn't get the two-point conversion to tie the game. Things are getting ugly in Big D.
Titans 0 Broncos 16
Yuck. This game was not a fun to watch, especially if you are a Tennessee Titans fan. Quarterback Marcus Mariota got pulled and his time in Tennessee is coming to an end. Denver's defense was good, but the offense lost wide receiver Emmanuel Sanders. We'll have to see where his health is at.
Steelers 24 Chargers 17
Okay, there is something wrong with the Los Angeles Chargers. I think their season is all but over. They have looked abysmal on offense in each of the last two first halves (both home games) and their tackling was atrocious against Pittsburgh Steelers running back James Conner. The Steelers started a rookie quarterback who is a two-time duck calling champion in the state of Alabama, Devlin Hodges, and jumped out to a 24-0 lead on the Chargers before the Chargers tried to mount a comeback. This is not a good Chargers team right now. One win does not make their season, but at least the Steelers can go into the bye week with a little momentum.
2-1-1 Detroit Lions @ 4-1 Green Bay Packers 8:15 PM ET ESPN MNF
The Detroit Lions have played really well so far this season, much better than many of us thought. Are they better though than Aaron Rodgers and Green Bay Packers who have a fantastic defense and are starting to get better on offense? We're going to find out. No wide receiver Devante Adams for the Packers, but they should be just fine.
Prediction: Packers 24 Lions 16
Coming up Tuesday: MNF reaction, college football weekend thoughts, MLB Playoffs update and maybe some thoughts on the NBA-China situation
---