"The Stack" 10-20-17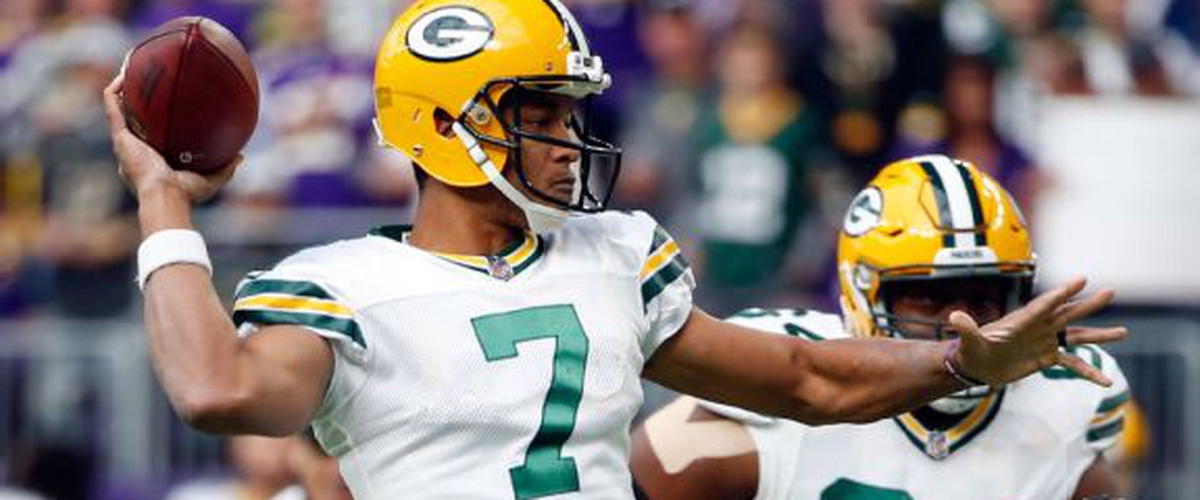 Can Brett Hundley keep the ship under control and lead the Packers to a victory in week 7 against the Saints? We'll find out if he is ready for this time or not.
The Stack is back on this Football Friday and ready for the weekend. Hopefully you enjoyed the NBA season preview post yesterday. You can find it here. I've been terrible with picks so far this season. Feel like I don't know anything. Then again I think a lot of other people feel the same way. It was the same last night in a wild finish between the Kansas City Chiefs and Oakland Raiders. The Raiders won in a walk-off 31-30 when Derek Carr hit Michael Crabtree for the touchdown. Multiple penalties against the Chiefs kept the game alive for the Raiders. What a game! Let's get right to it then and make some picks for week 7 in the NFL for today, Friday, October 20th:
Tampa Bay Buccaneers @ Buffalo Bills 1 PM ET FOX
The health of Jameis Winston's shoulder is the big storyline in this one. He says he expects to play. Even so, the Bills defense will be ready and I think Tyrod Taylor and the Bills offense will be able to move the ball against that Buccaneers defense. Home team wins.
Prediction: Bills 23 Bucs 17
Carolina Panthers @ Chicago Bears 1 PM ET CBS
The Bears were awfully impressive in that win last week on the road in Baltimore. Carolina has had a little more time to prepare, but if Kelvin Benjamin doesn't play I'm not sure if I like their chances a whole lot. Cam Newton hasn't done any press conferences this week. Maybe he is trying to focus on not throwing three interceptions again.
Prediction: Panthers 23 Bears 13
Tennessee Titans @ Cleveland Browns 1 PM ET CBS
I certainly thought the Browns would show progress this year. That has not been the case. We'll see what DeShone Kizer can do in his second stint. I don't think he'll be able to outduel Marcus Mariota and company.
Prediction: Titans 26 Browns 14
New Orleans Saints @ Green Bay Packers 1 PM ET FOX
Everyone appears to be on the Saints this week with the Packers having to start Brett Hundley at quarterback for the injured Aaron Rodgers. He's had a full week to practice. But Rodgers does stuff that no other quarterback can do. The Saints have been playing much better football as of late. I think they do enough to take down the Packers.
Prediction: Saints 31 Packers 27
Jacksonville Jaguars @ Indianapolis Colts 1 PM ET CBS
The Jaguars have won a game every other week so far this year. They've won on the odd weeks. This is an odd week as seven is an odd number. That's analysis you will only get from The Stack. Leonard Fournette's ankle is a concern, but I think the Jaguars defense will hold the Colts at bay and get the win.
Prediction: Jaguars 20 Colts 13
Arizona Cardinals @ Los Angeles Rams 1 PM ET FOX (London)
London actually gets a good game for once. Jared Goff, Todd Gurley and the Rams offense are doing well. We'll see if Adrian Peterson can continue to help the Cardinals offense be as efficient as they were last week. I would love to see them do it, but I think the Rams will sneak out of London with a victory.
Prediction: Rams 30 Cardinals 27
New York Jets @ Miami Dolphins 1 PM ET CBS
Have the Dolphins finally found their offense with that second half surge in Atlanta? We'll find out against a Jets team that has been much better than most of us thought. Show me something Miami. Show me something.
Prediction: Dolphins 20 Jets 13
Baltimore Ravens @ Minnesota Vikings 1 PM ET CBS
How did the Ravens lose to the Bears last week? The Vikings have a chance to put gain some momentum in the NFC North. They cannot play flat in this one. I think Case Keenum has another decent game and the Vikings win one that they should.
Prediction: Vikings 24 Ravens 13
Dallas Cowboys @ San Francisco 49ers 4:05 PM ET FOX
Ezekiel Elliott is allowed to play. That's good news for the Cowboys. The 49ers have been close the last five games. This will be another close one for a while, but the Cowboys will come away with the victory.
Prediction: Cowboys 30 49ers 20
Cincinnati Bengals @ Pittsburgh Steelers 4:25 PM ET CBS
The Bengals are playing better, but the Steelers appear to be hitting their stride, especially after going into Kansas City last weekend. Has Martavis Bryant been a distraction this week? If he has been, he'll have a big game in this one.
Prediction: Steelers 27 Bengals 17
Denver Broncos @ Los Angeles Chargers 4:25 PM ET CBS
Over/under 10,000 Chargers fans at this "home" game? Over/under 10,000 Broncos fans for this "road" game? I'll take the over on that one. I'll take the Broncos to play mad after that embarrassing loss last weekend and even though they won't have Emmanuel Sanders, they'll come away from the soccer stadium with a victory.
Prediction: Broncos 23 Chargers 17
Seattle Seahawks @ New York Giants 4:25 PM ET CBS
The Giants played great against a great defense last week. Can they do it for a second straight week? I don't think so. The Seahawks have had two weeks to prepare and I don't think the Giants defense can play as good as they did last week.
Prediction: Seahawks 23 Giants 10
Atlanta Falcons @ New England Patriots 8:30 PM ET NBC
A rematch of last year's Super Bowl. Too bad the Falcons haven't been able to hold onto leads in the second half this year. Reminiscent to last year's Super Bowl. I don't think the Patriots trail 28-3 at any point in this game, but I do think that the result will be the same and the Patriots come away with a victory. The Falcons just don't look very good right now.
Prediction: Patriots 34 Falcons 27
Coming up Monday: Week 7 NFL reaction plus MNF preview
---