"The Stack" 10-26-18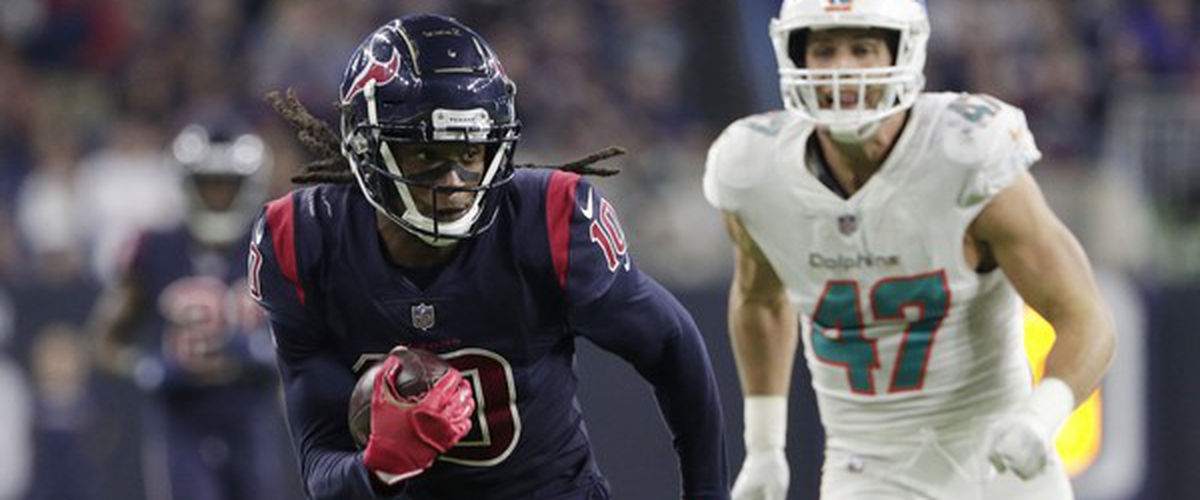 DeAndre Hopkins and Deshaun Watson hooked up for two touchdowns (Watson threw five overall) as the Houston Texans thumped the Miami Dolphins 42-23.
The Stack is back on this Football Friday and we are off to a good start for the week with the Houston Texans' win over the Miami Dolphins. Deshaun Watson looked awfully good with five touchdown passes (hope it doesn't cost me a win in fantasy football since I was going against him). Would be nice to see him go to Will Fuller V more often the rest of the season like he did last night. Hopefully Fuller V is okay after leaving the game with a knee injury. Lamar Miller also had a good night running the football. Picks headed into the week are 66-40-2. Let's continue to improve on that record with the previews and picks for week 8 in the NFL in "the stack" for today, Friday, October 26th:
3-4 Philadelphia Eagles @ 3-4 Jacksonville Jaguars 9:30 AM ET NFL Network (London)
The last of the London series games is this week and at the beginning of the season, many people thought this would be an outstanding game, but the Jaguars are freefalling and Blake Bortles' confidence has to be incredibly low. Eagles quarterback Carson Wentz is in a much better spot. The Jaguars defense hasn't played well lately and their secondary has a bunch of injuries in it so Wentz and the Eagles should have a nice day offensively. The Jaguars second home may be London, but they will be dealt a loss in this one to fall to 3-5.
Prediction: Eagles 27 Jaguars 14
4-3 Baltimore Ravens @ 4-2 Carolina Panthers 1 PM ET CBS
Both of these team endured incredible outcomes last week. The Ravens lose a game on a missed extra point by Justin Tucker and the Panthers come back from 17-0 down in the fourth quarter to stun the Eagles. Tucker and the Ravens are angry and their defense is going to make life difficult for Cam Newton. Give me the Ravens in a close one.
Prediction: Ravens 23 Panthers 20
3-4 New York Jets @ 4-3 Chicago Bears 1 PM ET CBS
Assuming Khalil Mack plays, he and the Bears defense are going to make life miserable for rookie quarterback Sam Darnold. I'm still not sold on Trubisky, but he is playing well so far this year. He'll have another good game as the Bears get back in the winning column.
Prediction: Bears 27 Jets 17
3-3 Tampa Bay Buccaneers @ 4-3 Cincinnati Bengals 1 PM ET FOX
Are the Bengals in freefall yet? Not quite. Lose to the Bucs though and they will. The Buccaneers offense is good, but their defense isn't. The Bengals had a players only meeting this week. I think that will do them some good. They'll re-group and take care of the Bucs to get off their two game losing streak.
Prediction: Bengals 27 Bucs 24
3-3 Seattle Seahawks @ 3-3 Detroit Lions 1 PM ET FOX
This will be the first game that the Seahawks have played since their late owner, Paul Allen, passed away so they will be motivated. The Lions played well last week, especially rookie running back Kerryon Johnson who had 158 yards rushing. I don't know who to trust in this game so I'll go with the home team, but I don't like it.
Prediction: Lions 23 Seahawks 19
3-4 Denver Broncos @ 6-1 Kansas City Chiefs 1 PM ET CBS
When these two teams met a few weeks back, the Broncos defense did a pretty good job at containing Chiefs quarterback Pat Mahomes…for three quarters. They won't be able to do that this week. The Chiefs are rolling right now on offense. That will continue in this one. Chiefs in a rout.
Prediction: Chiefs 38 Broncos 20
4-2 Washington @ 1-6 New York Giants 1 PM ET FOX
Washington leads the NFC East. I know, crazy right? Yet I still don't have a lot of confidence in them. The Giants started selling off pieces this week sending cornerback Eli Apple to the New Orleans Saints and defensive tackle Snacks Harrison to the Detroit Lions. Will the rest of the team throw in the towel? I don't think so, but they haven't given me anything I can be confident in. I'll take Washington, but I don't like it. Prove me wrong, Giants. I dare you.
Prediction: Washington 24 Giants 16
2-4-1 Cleveland Browns @ 3-2-1 Pittsburgh Steelers 1 PM ET CBS
The Browns offense appears to be a in a small state of dysfunction with reports this week that head coach Hue Jackson was going to help out the offense and play calling with offensive coordinator Todd Haley. Both say they are fine, but cracks in the armor may be starting to show. Against the rested Steelers they will need to be on their "A" game. The Steelers still don't have Le'Veon Bell. They won't need him in this one.
Prediction: Steelers 27 Browns 17
2-5 Indianapolis Colts @ 1-5 Oakland Raiders 4:05 PM ET CBS
I can't believe I am saying this, but the 2-5 Colts should win this game pretty easily. Look at the dysfunction in Oakland with the Raiders trading wide receiver Amari Cooper to Dallas for a first round pick and the report that quarterback Derek Carr cried in their London game a couple of weeks ago and has lost the locker room. There has been denial on that front, but still, the focus of this team is not where it needs to be. Should Colts kicker Adam Vinatieri not be able to play then I think it's a toss-up, but I think the Colts will still come out on top.
Prediction: Colts 28 Raiders 20
1-6 San Francisco 49ers @ 1-6 Arizona Cardinals 4:25 PM ET FOX
Do you smell that? There is an odor coming from the desert and it is foul. What a stinker of a game this is. After the Cardinals got embarrassed on national television, will they really be ready to play in this one? The 49ers just got embarrassed by the Rams, but who doesn't get embarrassed by the Rams? A coin toss and I'll take the home team. Yikes!
Prediction: Cardinals 20 49ers 16
3-2-1 Green Bay Packers @ 7-0 Los Angeles Rams 4:25 PM ET FOX
Packers quarterback Aaron Rodgers is hoping to shed his bulky knee brace sometime soon. If Aaron Donald and/or Ndamukong Suh get a hold of him, that may not happen when he would like it to. The Packers will put up points, but the Rams will put up more because they have a better team on both sides of the ball than the Packers. The Packers have had two weeks to prepare, but it won't matter.
Prediction: Rams 38 Packers 27
5-1 New Orleans Saints @ 4-2-1 Minnesota Vikings 8:20 PM ET NBC
Minneapolis Miracle. Minneapolis Miracle. Minneapolis Miracle. Tired of that yet Saints and Saints fans? (Oh yeah, well we have a Super Bowl after cheating against you in the NFC Championship game and going low and illegal on Brett Favre. Shut up Saints fans!) Don't know the status of Everson Griffen, Xavier Rhodes and Anthony Barr on defense for the Vikings. If they play, I love the Vikings chances, but if at least two of them don't, I think the Saints can exact revenge. I'll give the edge to the home team here, but I'm nervous about this one. Prove me right Vikings! Prove me right.
Prediction: Vikings 31 Saints 23
Coming up Monday: Week 8 NFL reaction plus MNF preview
---