"The Stack" 11-1-18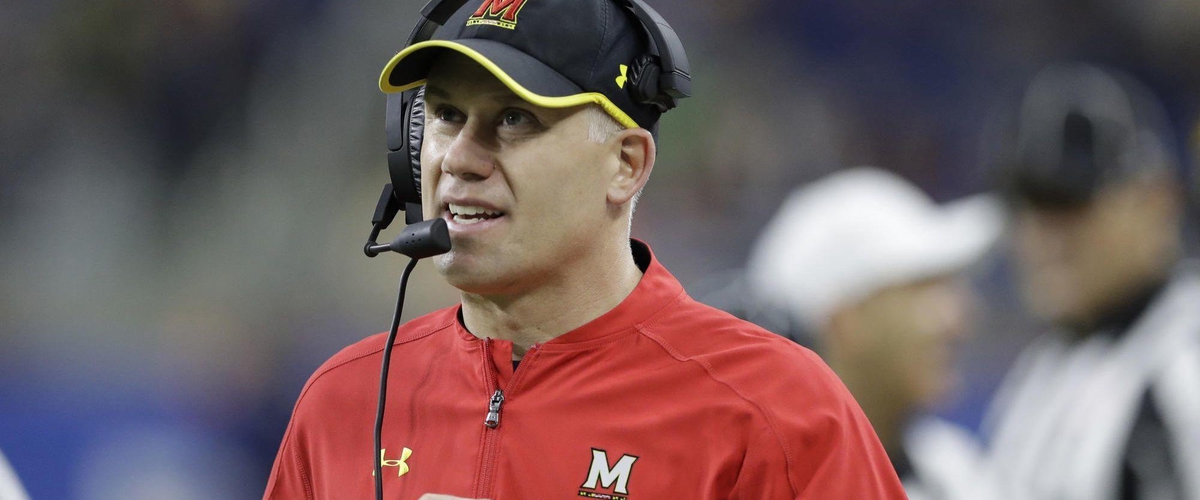 DJ Durkin is out as Maryland football head coach. Durkin was fired Wednesday a day after the Maryland Board of Regents recommended Durkin keep his job. Much backlash ensued and President Wallace Loh moved forward with firing Durkin on Wednesday.
The Stack is back on this Thursday and hopefully everyone had a good time celebrating Halloween yesterday. It's already November. Where has this year gone? We have a lot to talk about today from NFL trades to the Maryland firing to your college football weekend forecast to a TNF prediction so let's get right to "the stack" for today, Thursday, November 1st:
Maryland fires Durkin
A day after tremendous backlash and ridicule from media members, players and practically everyone else for re-instating Maryland head football coach DJ Durkin following the investigation into Jordan McNair's death, the university has reversed course. Maryland fired Durkin on Wednesday. Maryland President Wallace Loh, who is retiring in June of 2019, released a statement saying he met with many groups and people across the university and the reaction was overwhelming towards not keeping Durkin. Quite frankly, it never should have had to come to this. The Board of Regents for Maryland looks absolutely terrible in this one for deciding to keep Durkin in the first place. How could Durkin have ever walked into a recruit's house and look at his parents in the eye and say with a straight face that he would take care of their son, their student athlete, after what happened with McNair? It wouldn't have worked and it wouldn't have happened. I'm glad Loh came to his sense and fired Durkin. Maryland's Athletic Director, Damon Evans, informed Durkin that he was fired. Evans himself still has his job. Where Maryland goes from here, I do not know. Matt Canada will continue to be the interim head coach. Hopefully they just name him the head coach. For all of the turmoil that has taken place, I doubt you would be able to lure a familiar or big name to come take the job. Keep Canada and let's move on. I'm glad McNair's parents will get peace from this decision. They weren't happy on Tuesday and rightfully so. They are as of today, thanks to Loh for coming to his senses. Durkin is out at Maryland.
College football weekend forecast
Are we in for a fantastic weekend of college football or what?! Clear skies are heading our way. We have four absolutely tremendous matchups this weekend with playoff implications in all of them. Unfortunately, you are going to need three TVs to watch the matchups. At 3:30 PM ET on CBS #6 Georgia visits #9 Kentucky. Is there a team more over-ranked than Kentucky? No offense to the Wildcats, they've played great this year, but their offense isn't very good. Kentucky and their fans will be ready for Georgia and Georgia may start out a little slow after that physical game with rival Florida last week, but they remember the beatdown LSU gave them a few weeks ago and they are not going to let that happen again.
At the same time on FOX, #13 West Virginia visits Austin to take on #17 Texas. Texas is fresh off that loss to Oklahoma State and Austin can be a difficult place to play. We all remember the last time West Virginia was on the road and they got stomped by Iowa State. They'll be better prepared for this game and I hope their offense can somehow put up more points than Texas. If they can find a way to win this game, they'll continue to be in good position to have a shot at the playoffs. Lose though, and that won't happen. Come on West Virginia!
Just 15 minutes later on ESPN #14 Penn State visits the Big House to take on #5 Michigan. Can Trace McSorley and company find a way to beat the Wolverines? I'm hoping so, but I can't pick them, because Michigan is playing so well right now. That defense is great and Shea Patterson and company are starting to get the job done on offense. Prove me wrong Penn State!
The gargantuan matchup of the night, and where College Gameday will be, is in Baton Rouge, Louisiana, where #1 Alabama visits #3 LSU at 8 PM ET on CBS. Death Valley is always a difficult place to play and LSU is a 15 point home underdog. They are feeling the disrespect, but have you seen Alabama's offense? They're incredible and practically unstoppable. LSU is going to have to play great defense and their offense is going to have to put up some points and taken advantage of an Alabama defense that isn't as good as in years past. Unfortunately, LSU hasn't beaten Alabama since 2011 and that includes their last four games in Death Valley. Until it happens, give me Alabama. Prove me wrong LSU! I dare you.
Those are really the only games of note. A few ranked teams are on the road this week like #19 Syracuse at Wake Forest (Noon ET ACC Network) and #20 Texas A&M at Auburn (Noon ET ESPN). I don't see Syracuse losing, but Texas A&M very well could fall. By the way, Iowa State is ranked! The #24 team in the country visits Kansas, who is looking for a two game win streak. Not happening. #16 Iowa should watch out when they go to Purdue to take on the Boilermakers (3:30 PM ET ESPN2). #22 Boston College visits Virginia Tech (3:45 PM ET ACC Network). For the love that is all things holy, can you please win this game Hokies? #15 Utah visits Arizona State (4 PM ET Pac-12 Network??). Watch out for the Herman Edwards upset special Utes. #4 Notre Dame is at Northwestern (7:15 PM ET ESPN). Northwestern will be ready, but Notre Dame is going to win. It's Greeny vs. Golic. Finally, #7 Oklahoma is at Texas Tech (8 PM ET ABC) and #23 Fresno State is at UNLV (10:30 PM ET CBSSN). Don't see either team going down.
By the way, did you know Virginia, Iowa State and Fresno State (all in descending order) are ranked teams? How the heck does that happen? The College Football Playoff Rankings were unveiled Tuesday night and there wasn't much of a surprise. #1 Alabama, #2 Clemson, #3 LSU and #4 Notre Dame. Perhaps the only surprise was that LSU was ahead of Notre Dame, but that won't matter after this weekend. Should be a great weekend of college football. Enjoy it everyone!
NFL trade deadline thoughts
Over the past few years, since the NFL moved the trade deadline back a couple of weeks from week 6 to week 8, there have been more trades. Throw in the fact that you can now trade compensatory picks and the NFL teams are not shy to make some trades. Here are the deals that went down on Wednesday:
· Philadelphia Eagles acquire wide receiver Golden Tate from the Detroit Lions for a 2019 third round pick.
· Houston Texans acquire wide receiver Demaryius Thomas and a 2019 seventh round pick from the Denver Broncos for a 2019 fourth round pick and a 2019 seventh round pick.
· Baltimore Ravens acquire running back Ty Montgomery from the Green Bay Packers for a 2020 seventh round pick.
· Los Angeles Rams acquire defensive end Dante Fowler Jr. from the Jacksonville Jaguars for a 2019 third round pick and a 2020 fourth round pick.
· Washington acquires safety Ha Ha Clinton-Dix from the Green Bay Packers for a 2019 fourth round pick.
The biggest name out of the players dealt on October 30th is Golden Tate and it is surprising given that the Lions traded for New York Giants defensive tackle Damon Harrison last week. It's like they're giving up on the season in a way. Confusing to say the least. Tate is a great weapon in the passing game for Carson Wentz and the Eagles. I love the trade of Thomas to the Texans. With Will Fuller V going down for the year with a torn ACL, the Texans had a need and Thomas will do some very good work with Deshaun Watson and DeAndre Hopkins. Overall, it was an active couple of weeks on the trading block and I think that is exactly what the NFL wants.
Oakland Raiders @ San Francisco 49ers 8:20 PM ET FOX and NFL Network (Streaming on Amazon Prime)
Boy, when FOX saw this TNF matchup at the beginning of the season, they had to be thinking this would be a "WOW" game. Well it's WOW alright as in WOW, how bad are these two teams and for different reasons. The 49ers have been ravaged by injuries while the Raiders have been ravaged by Jon Gruden and his poor roster planning. With all that being said though, in this rivalry game and against my better judgement, I'll take the team with the better quarterback....which would be Oakland.
Prediction: Raiders 27 49ers 20
Coming up Friday: Week 9 NFL preview and predictions
Listen to this week's "The Sports Block" podcast here.
---