"The Stack" 10-30-18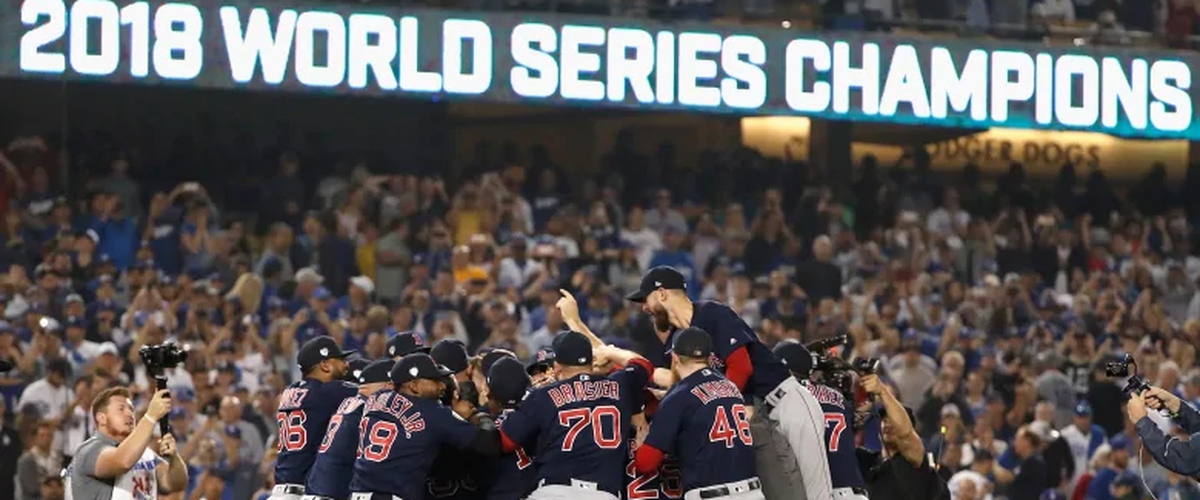 The Boston Red Sox are your 2018 World Series champions following their 5-1 win in game five Sunday night in L.A. David Price exercised his playoff demons and journeyman Steve Pearce was named MVP.
The Stack is back on this Tuesday and a week from today, college basketball begins. YES! It's also election night so no more political ads. YES! Before we get there though we have plenty of football and some baseball to talk about so let's get right to "the stack" for today, Tuesday, October 30th:
Patriots top Bills on MNF
It was a little more difficult than they probably thought it would have been, but the New England Patriots were able to take down the Buffalo Bills 25-6. The Bills defense was fantastic in this one. The Patriots could not find the endzone for the first three quarters. Rob Gronkowski was blanketed for much of the game. The Bills were getting pressure. They were only allowing field goals. The problem, though, is that their offense stinks. Derek Anderson could not push the ball down the field. They put together a couple of decent drives, but it wasn't enough. The Patriots would put the game away when they finally found the endzone after a long drive that was capped by a James White touchdown run, but it was officially put to bed when Jason McCourty picked Anderson off and took it back 84 yards to the house. This happened a play after the Bills had a touchdown overturned. Talk about a killer. Games aren't always easy and this one wasn't easy for the Patriots, but they did win and that's all that matters.
Hue Jackson fired as Browns head coach
It was bound to happen sooner or later (some would say it should have happened much earlier), but the Cleveland Browns have fired head coach Hue Jackson following the Browns 33-18 loss to the Pittsburgh Steelers on Sunday. The Browns have regressed the past couple of weeks and the dysfunctional relationship between Jackson and offensive coordinator Todd Haley was getting to be too much. Oh by the way, Haley was fired as well so the Browns are going back to ground zero to a degree. The relationship was like mixing water and oil, it just doesn't work. Now what does this do for Baker Mayfield? Well it won't help, but if there was plenty of dysfunction with the team, maybe it is better to get that dysfunction out of there and bring someone in who can help Mayfield. Jackson leaves with a 3-36-1 record as Browns head coach. GM John Dorsey will find his guy. It will work. Believe Browns fans. Believe!
Red Sox win World Series
For the fourth time this century, the Boston Red Sox have won the World Series. Following game three's epic seven hour, 20 minute marathon that the Los Angeles Dodgers won Friday night, the Red Sox took games four and five in Los Angeles to win the World Series 4-1. This marks I believe the fifth straight year that the World Series has been won on the road. Red Sox starting pitcher David Price exercised his postseason demons this postseason. He was great in game five against the Houston Astros in the ALCS and he was masterful in the World Series, especially game five while his opponent, Clayton Kershaw, once again struggled on the biggest stage. This has become nothing new. Kershaw is great in the regular season, but awful in the postseason. Price was great and so too was Steve Pearce in the World Series. The journeyman hit three homeruns and had eight RBIs in the series. He was named MVP. And there may be no more clutch team in the history of baseball in the postseason than these Boston Red Sox with the number of runs they scored with two outs. Every game, every series. They were clutch. That Astros series, especially. Congrats to the Red Sox. They won 119 games in the regular season and they were great in the postseason. It's not always that the best team wins the championship. It was this year in baseball.
College football weekend reaction
Another week, another week filled with plenty of upsets. #6 Texas went down to Oklahoma State 38-35. Should have seen it coming. Texas just isn't ready yet to make a legit run at the College Football Playoff. Maybe next year. Staying in Texas, #16 Texas A&M lost to offensively challenged (at least in the passing game) Mississippi State 28-13. Nick Fitzgerald threw for 241 yards. Maybe they can throw it down the field.
It wasn't rosy in the Pac-12. #15 Washington inexplicably lost 12-10 to California. How do you score only ten points against Cal?! #19 Oregon got blown out at Oregon 44-15. Yikes! Not good. Thanks goodness for #14 Washington State who went on the road to Stanford and beat the #24 ranked Cardinal 41-38. Gardner Minshew is tremendous. Get to know the Washington State quarterback. What a tremendous game. Mike Leach and Washington State is carrying the Pac-12.
They are the conference's only hope.
Oh and if you were ranked in the 20s, you were screwed this week. #20 Wisconsin lost at Northwestern 31-17 without quarterback Alex Hornibrook who didn't play due to a concussion. #21 USF got blown out by Houston 57-36. Not helping the AAC at all are they? #22 North Carolina State lost at Syracuse 51-41. NC State falling on some tough times. And #25 Appalachian State? Well, ranked for the first time ever, they promptly lost on the road at Georgia Southern 34-14.
Those were the upsets, but how about some of the other good games and eyebrow-raising scores? #7 Georgia won the World's Largest Outdoor Cocktail Party 36-17 over the #9 ranked Florida Gators. They'll face #12 Kentucky who escaped Missouri 15-14 thanks to an untimed down that resulted in a score. #2 Clemson destroyed Florida State 59-10, but the thing we'll all remember the most from the game is the shirtless guy reading a book in the empty stands in Tallahassee. A couple of other people eventually joined him. Probably should have kept a shirt on. Oh well. You do you, man!
Congrats to San Jose State on getting their first win of the season, 50-37 over UNLV. And two of the worst power five teams won amazingly enough. Kansas beat TCU 27-26 and Oregon State came back from trailing 31-3 to beat Colorado on the road 41-34 in overtime. Amazing! Simply astounding. Never a dull week in college football.
There are 38 teams that are bowl eligible right now. We'll continue to monitor, but here's the breakdown by conference so far:
AAC: UCF, Cincinnati, USF, Houston
ACC: Clemson, Boston College, Syracuse, Virginia
Big 12: Texas, Oklahoma, West Virginia
B1G Ten: Michigan, Ohio State, Penn State, Iowa
Conference USA: FIU, UAB, Louisiana Tech, North Texas
Independents: Notre Dame, Army
MAC: Buffalo, Western Michigan
MWC: Utah State, Boise State, Fresno State, San Diego State, Hawaii
Pac-12: Washington State, Washington, Utah
SEC: Georgia, Kentucky, Florida, Alabama, LSU
Sun Belt: Georgia Southern, Troy
No doubt we will see even more teams clinch a bowl berth. It's also going to be interesting to see the initial College Football Playoff rankings unveiled tonight. My prediction is that Alabama will be number one (no kidding? Damn you're smart Stacken), Clemson will be two, Notre Dame three and LSU four. That will change next week for sure.
Have a great Halloween tomorrow everywhere. Watch out for all of the little ghosts and goblins out there and give candy, not toothpaste or nasty stuff. Good candy too. Happy Halloween everyone!
Coming up Thursday: CFP ranking reaction, college football weekend forecast, TNF preview and more
---