"The Stack" 11-3-20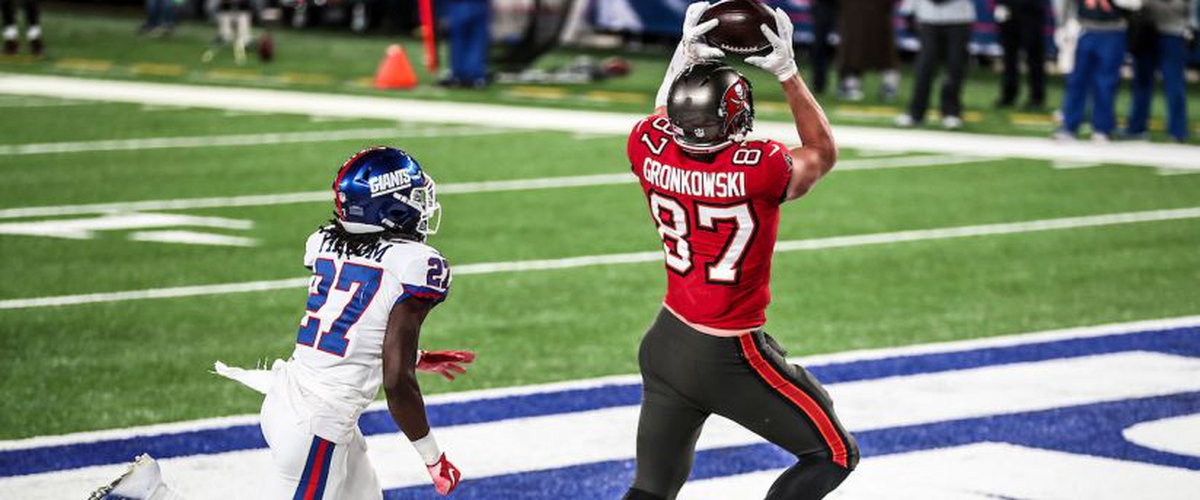 Rob Gronkowski caught a touchdown and helped the Tampa Bay Buccaneers escape with a 25-23 win over the New York Giants in a hard fought game, harder than what many people thought it would be.
The Stack is back on this Election Day and please go out and vote. Take this act as an American citizen responsibly. Vote for a candidate on the ballot. Don't put your cat in or a dead relative or Mickey Mouse or Kanye West. Take it seriously. This is a very important vote. Now then, let's get right to "the stack" for today, Tuesday, November 3rd:
Bucs eek out a victory against Giants on MNF
The Tampa Bay Buccaneers had a much more difficult time than most people, including myself, thought they would be in for an easy win over the New York Giants. That would not prove to be the case. The Bucs had a hard time getting their offense going and found themselves down 14-6 at the half. Fortunately for the Bucs, they were facing Daniel Jones and the Giants quarterback struggled on several throw and with several decisions. He threw two horrendous interceptions and missed on several deep throws that could have helped the Giants win the game. His delayed throw on the potential game-tying two point conversion (after he had made a beautiful throw for a touchdown to Golden Tate the play before) caused an incompletion and the Bucs survived 25-23. Tom Brady has so many weapons at his disposal. How do you stop Mike Evans and Gronk? It's going to be even more difficult next week when they get Chris Godwin back and insert Antonio Brown into the lineup in his first game of the season next week. This team is the real deal and it will not be shocking at all when the Bucs are playing the Super Bowl in their home stadium. The Giants played tough and they should have a few more wins. They will come. Just not on Monday night.
College football weekend reaction
It all begins and ends with Clemson quarterback Trevor Lawrence. Lawrence tested positive for COVID-19 last week and head coach Dabo Swinney said he was experiencing mild symptoms. Lawrence didn't play against Boston College and he won't play this weekend against #4 Notre Dame either. That's a significant loss for Clemson. They struggled with Boston College. It was 28-10 at one point in the first half. The Clemson defense really rose to the occasion in the second half though and stymied BC's offense. D.J. Uiagalelei picked it up for Clemson in place of Lawrence and ended up throwing for 342 yards and two scores as Clemson won 34-28. They will need to play better than that if they hope to beat the Fighting Irish.
Clemson's biggest challenger appears to be #3 Ohio State. They looked really good against #18 Penn State scoring a touchdown on their first drive of the game with relative ease and cruised to an easy 38-25 victory. I will take Ohio State over #2 Alabama who beat Mississippi State 41-0.
The Big 12 has no shot at the College Football Playoff….unless it expands. #6 Oklahoma State lost at home to Texas 41-34 in overtime. Texas is back?? #16 Kansas State lost, getting smoked by West Virginia 37-10. The last hope is Iowa State perhaps. The #23rd team in the country beat Kansas, for what it's worth 52-22.
There was a brawl/fight at halftime of the Missouri-Florida game. Gators head coach Dan Mullen didn't seem to mind. So he was fined $25 thousand by the SEC. He has no regard to COVID-19. #10 Florida won 41-17. They may start to brawl in Ann Arbor. #13 Michigan inexplicably lost to a Michigan State squad who a) isn't that good and b) they lost by eleven last week to Rutgers. Sparty beat Michigan 27-24. What is Harbaugh now, 1-3 against Michigan State at home and 0-5 against Ohio State? That isn't very good. His time at Michigan may be over soon. Speaking of Rutgers, what about that crazy lateral sequence late in the fourth quarter against #17 Indiana? It took over 30 seconds and there was roughly eleven laterals and Rutgers scored! But upon review, the officials said there was a forward pass. I didn't see it. Let the play stand! Rutgers lost to Indiana 37-21.
Oh and remember when UNC used to be ranked #5 in the country? Well that is hardly the case anymore as the #15th ranked Tar Heels lost 44-41 to Virginia. Oy vey. We should be in for another good weekend of college football. Pac-12 and the MAC returns. Looking forward to it!
Justin Turner thoughts
The Los Angeles Dodgers won the World Series last week. That seems like it was the third biggest headline of the night. Number one was Tampa Bay Rays manager Kevin Cash inexplicably pulled starting pitcher Blake Snell out after 5 1/3 innings and allowing just two hits and striking out nine. Terrible decision. Too much analytics in the game. Use your eyes. Get a feel for it. The second storyline is what we will be talking about here and that is Dodgers third baseman Justin Turner being pulled in the 8th inning after testing positive for COVID-19.
First, the fact that Major League Baseball didn't make sure that every player playing in the game had tested negative prior to them stepping onto the field is extremely problematic. With the testing that MLB had at their disposal, there is no reason why a positive test should have been found for Turner in the 8th inning. He was pulled from the game and after the end of the game when the Dodgers won, that is where the real story begins.
Turner should have been isolating himself away from everyone. Instead he wanted to go celebrate with his teammates. It's understandable. They had just won a championship after so much heartbreak, but given the severe nature of this virus, he should have stayed away. An MLB official told him he couldn't go on the field. Turner essentially told him to eff off and went out anyway to celebrate. He could be seen multiple times without his mask on. This guy had just tested positive less than an hour ago and he is out with all of his teammates potentially exposing them to the virus. Now to this point I have not heard that anyone tested positive, but the principle of the point remains. Turner was selfish and his selfishness put others in harm's way. The coronavirus is serious stuff folks. Turner was nonchalant and quite frankly dangerous with his actions. Hopefully no one gets sick and it's entirely possible that Turner's test result was a false positive. Still though, Turner's complete disregard for his teammates and for safety should not go unpunished. He is a free agent, but is likely to re-sign with the Dodgers. Major League Baseball needs to throw the book at him. As in a year suspension. It's warranted. If you're going to be reckless like that, you pay the price. Turner's actions deserve significant and serious consequence. Here's hoping Major League Baseball does that.
Again…go out and vote! Make your voice heard! Help make our democracy what it should all be about, voting in a free election. Please do it!
Coming up Thursday: TNF preview & prediction plus a college football weekend forecast
---