"The Stack" 10-31-17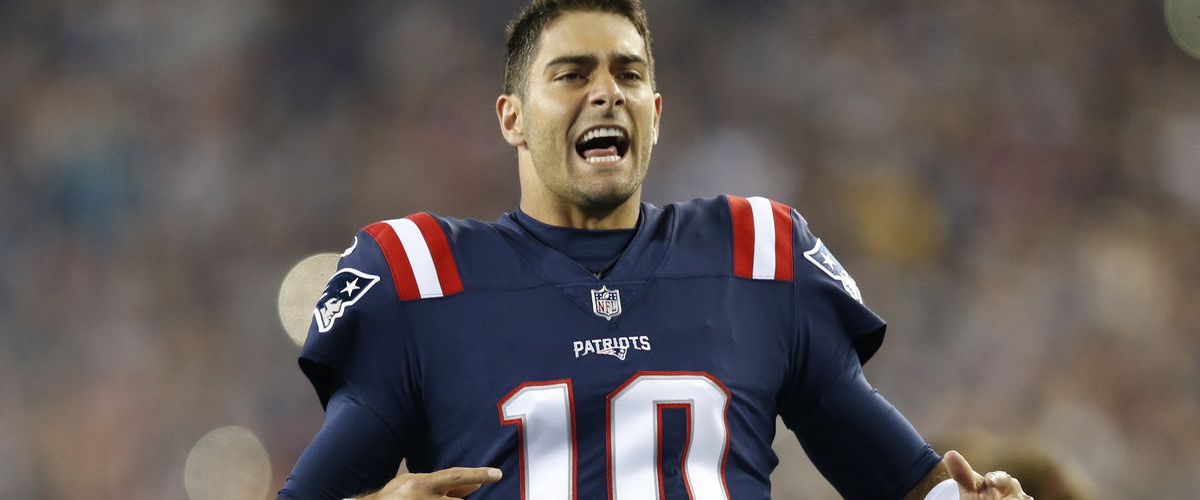 Jimmy Garoppolo is a San Francisco 49er. The Patriots traded their coveted backup quarterback Monday night for a 2018 second round draft pick.
The Stack is back on this Halloween Tuesday and we have plenty to talk about today, least of which is the football game from last night. Hopefully everyone is safe tonight with all of the little ghosts and goblins out. We will get to it all though so let's get right to spooktacular edition "the stack" for today, Tuesday, October 31st:
NFL trades and news
The NFL trade deadline ends today at 4 PM ET. Normally there aren't too many big deals that go down, but Monday night there were a couple of huge trades. One of the trades we saw coming. The other one blindsided just about everyone I have to imagine. First, Houston Texans offensive tackle Duane Brown, who held out for the first six weeks of the NFL season was traded to Seattle for cornerback Jeremy Lane and a couple of picks. Seattle had a big need to bolster the offensive line and they got it by getting Brown. He is a really good tackle. The Texans get secondary help and a couple of picks.
The other trade I don't think anyone saw coming. Jimmy Garoppolo is now a San Francisco 49er. The 49ers traded a 2018 second round pick to the New England Patriots for the quarterback that many saw as the heir apparent to Tom Brady. What changed? I really don't know. I don't think a lot of people know. The Patriots already traded Jacoby Brissett to Indianapolis. Now they trade Garoppolo? Who is backing up Brady. The 49ers didn't have to give up much for Garoppolo and the once likely landing spot for Washington quarterback Kirk Cousins appears to be no more. So why didn't the Cleveland Browns trade for Garoppolo if the asking price was just a second round pick? Don't know. Seems like a Browns-like move to me.
**More thoughts on Jay Ajayi, Kelvin Benjamin and other trades tomorrow**
In non-trade news, Dallas Cowboys running back Ezekiel Elliott is now suspended again. A federal judge denied Elliott's legal team from blocking the six game suspension. You have to imagine the Elliott will appeal this. If not, his six game suspension begins now and he won't be eligible to come back until December 17th. This is not good for Elliott or the Cowboys, but it wasn't a huge surprise. Based on how this whole situation has been going, the NFL is going to win. It's just a matter as to how long Elliott wants to keep fighting.
World Series thoughts
I'm still trying to process what took place Sunday in Houston in game five of the World Series between the Los Angeles Dodgers and Houston Astros. Clayton Kershaw has a 4-0 lead in the bottom of the 4th inning and the next thing you know it's 4-4. Then the Dodgers had a 7-4 lead thanks to Cody Bellinger's three run homerun only to see Jose Altuve hit a game-tying three run homerun in the bottom of the inning. 7-7 through five innings. Then in the seventh the Dodgers bring in Brandon Morrow from the bullpen. He had been in every game or just about every game in the World Series. He threw six pitches. Home run, single, strike (looking), wild pitch, double, homerun. I may have got the wild pitch and the double switched around. Regardless, it appears that the Dodgers left Morrow in the game too long. Those six pitches were costly to the Dodgers yet the Dodgers rallied in the ninth down 12-9 with Yasiel Puig hitting a two-run homerun and Chris Taylor driving in the game-tying run. What gives? The Astros would win in the bottom of the tenth when Austin Bregman singled in the game-tying run nearly five-and-a-half hours after the first pitch. The crowd in Houston went wild.
The game had a better rating than Sunday Night Football. It peaked between 11:30 and 11:45 PM ET. And all of the runs and homeruns. Something is going on. Kershaw normally with a 4-0 is spot on, but he has had struggles in the postseason. Still though, pitchers say the ball is slicker. They can't get as good of a grip on their pitches especially when trying to throw sliders. They say chicks dig the long ball. Well we have seen the most homeruns in a World Series ever! We're only five games in. Games two and five of the World Series have been great. This World Series has been great! The games have been exciting. Let's hope we get another good one tonight 8:20 PM ET FOX. It's game six of the World Series!
College football thoughts
What a week in college football. So many storylines and big games. Poor Penn State. They had Ohio State right where they wanted them. Saquon Barkley had a kickoff return for a touchdown and a rushing touchdown and Penn State had a 21-3 lead in the first half. They had a 35-20 lead in the fourth quarter. Yet J.T. Barrett and Ohio State would not be denied. Barrett was a perfect 13-for-13 in the fourth quarter with three touchdowns and Ohio State would beat Penn State 39-38. Why Penn State?! Why? Play to win! Whoa is Penn State.
Penn State was not the only undefeated team to lose over the weekend. #4 TCU went to Ames (a scary place) and promptly lost to Iowa State 14-7. By the way, how good has Iowa State been this year? Between them and Arizona with Khalil Tate, I don't know what team has been the biggest pleasant surprise. TCU probably should have won that game, but they squandered many opportunities. #17 South Florida gave up a touchdown in the final seconds and lost to 28-24 at home to Houston. Guess Charlie Strong and company will not be making it to a New Year's Six Bowl game this year. That distinction will go to UCF.
Speaking of disappointing and staying in the state of Florida, the nightmare on Seminole Street in Tallahassee continues. Florida State lost 35-3 to Boston College. Boston College! Florida State is not going to make a bowl game this year. They aren't. And it doesn't all stem back to the injury to Deondre Francois, but that certainly didn't help. Might Jimbo Fisher be done at the end of the year? Perhaps.
Jim McElwain is out at Florida following a 3-4 start including a 42-7 beatdown against rival Georgia on Saturday in Jacksonville. This will be a coveted job with Dan Mullen (Mississippi State), Scott Frost (UCF), Chip Kelly and others ready to jump on board.
Oh yeah, and Notre Dame beat North Carolina State 35-14. They should be a playoff team. The rankings come out tonight on ESPN. We'll have reaction to it tomorrow.
Chiefs top Broncos on MNF
The Denver Broncos appear to be in full freefall. They turned the ball over five times setting the Kansas City Chiefs up with short fields. While Denver's defense did their best to keep them in it, the Chiefs would ultimately prevail 29-19. The Chiefs weren't incredibly impressive, but they were good enough to win this game. They are the team to beat in the AFC West. The Broncos have a decision on their hands at the quarterback position. Will they stick with Trevor Siemian? It's a tough call.
Coming up Wednesday: World Series game 6, CFP rankings and other headlines from the world of sports