"The Stack" 11-2-17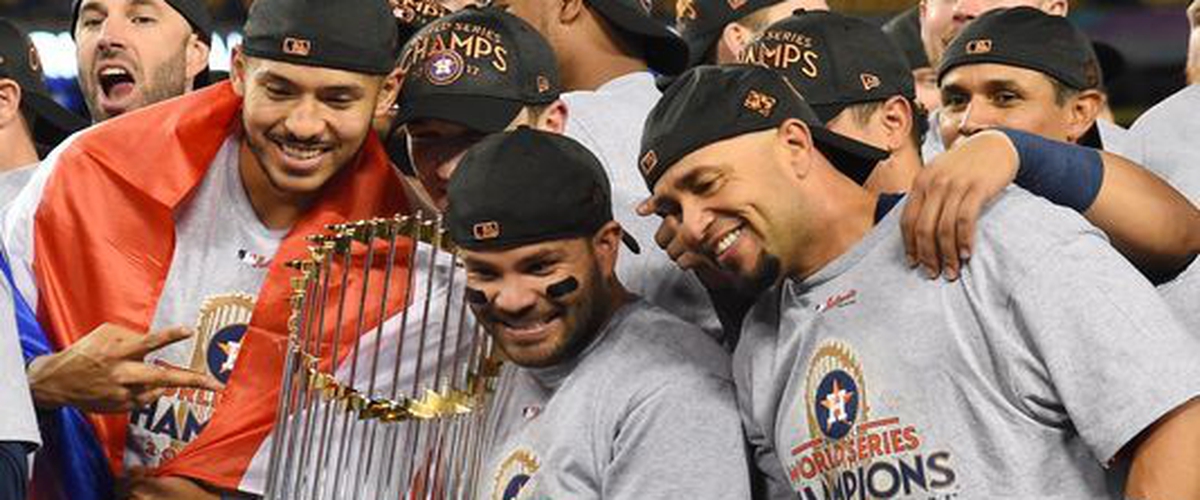 The Houston Astros are World Series champions! They won game seven 5-1. What a great series.
The Stack is back on this Thursday and the Houston Astros are World Series champions! The Sports Illustrated prophecy has come true. Three years ago Sports Illustrated had the Astros on the cover saying they would be the World Series champions. We should have all listened. We should have all taken note. Plenty of thoughts on game seven, the upcoming week in college football and more so let's get right to it and see what's in "the stack" for today, Thursday, November 2nd:
Astros win World Series
The Houston Astros, for the first time in franchise history, are World Series champions! The Astros got to Los Angeles Dodgers pitcher Yu Darvish early, scoring five runs in the first two games. George Springer started the game off with a double. He would later score. It was 2-0 in the top of the second when the Astros would again strike. With runners on second and third and only one out, Astros starting pitcher Lance McCullers Jr. had a tremendous at bat and hit a grounder that the slow Brian McCann read perfectly and got the right jump he needed as he scored from third. The aforementioned Springer would cap the inning off with a two-run homerun. He was also named the MVP of the World Series and rightfully so. That would be the end of Darvish's night. Both of his World Series starts, Darvish went under two innings. Not good.
Though the Astros scored five runs, McCullers Jr. couldn't get through three innings. It's game seven. To paraphrase Dan Fouts says in Waterboy, you can't hold anything back. The stable opened it up and from Brad Peacock to Charlie Morton, the Astros used four pitchers after McCullers Jr. and they were all impressive. They gave up just three hits and one run. Morton was especially impressive going five innings. Clayton Kershaw gave the Dodgers a chance. He came out of the bullpen and pitched four innings giving up just two hits and walking two batters. The Astros didn't score after the second inning. Credit should go to Dodgers bullpen for giving them a chance. The Dodgers at the end of the day will lament how many chances they had in this game with all of the runners they left on base. Have to imagine they feel like how the Astros did in a couple of the losses in this series. The Dodgers had the best record in baseball this season and yet couldn't win the winner-take-all game seven at home. They'll be back though. This is about the Astros. Might they be a dynasty in the making? Perhaps. Congratulations Houston. You're World Series champions! Enjoy every minute of it. And Carlos Correa, well done on the engagement proposal on the field after the game. I just have one question. Would you have still done this if you guys had lost or would you have waited a few days? Regardless, congratulations!
College football weekend forecast
I hope everyone enjoyed the Maction Action that started this week. Tuesday, Wednesday and today all with MAC games. Talk about the #Maction. That aside, the season is winding down, but with the first College Football Playoff rankings being unveiled, it feels like a different season now.
There are seven matchups this weekend featuring ranked teams against one another (sorry, #21 Stanford @ #25 Washington State, 3:30 PM ET FOX. Not going to talk about you). Some of these ranked versus ranked teams are a defacto elimination game for at least one of the teams involved. That certainly fits for #7 Penn State as they travel to East Lansing to take on #24 Michigan State (Noon ET on FOX). Penn State suffered a crushing defeat last week in Columbus to Ohio State. Can they recover and take down Sparty who had a disappointing loss themselves with a triple-overtime defeat at Northwestern? I think they can, but Saquon Barkley and company may come out a little flat.
Saturday is shaping up to be a great day of football. Following Penn State-Michigan State, at 3:30 PM ET on ABC, defending national champion #4 Clemson, the last team in the College Football Playoff (at least for now) travels to Raleigh to take on #20 North Carolina State who had a disappointing loss at #3 Notre Dame last week. I think Clemson will survive, but it isn't going to be easy. NC State is for real this year.
Not to be outdone, at 4 PM ET on FS1 is #5 Oklahoma @ #11 Oklahoma State. Both teams have one loss. In the Battle of Bedlam, whichever teams loses is not going to be going to the Playoff, but the winner is still very much alive. I like Oklahoma State I think to take down Baker Mayfield, but Oklahoma State needs to play a little better than they have the last couple of weeks.
I should mention that #19 LSU is visiting #2 Alabama at 8 PM ET on CBS. Don't think Coach O (Ed Orgeron) is going to lead the Tigers into a victory here. Nick Saban will have his team motivated being the number two seed. At the same time, my Hokies, #13 Virginia Tech travels to Miami to take on the #10 ranked Hurricanes (8 PM ET ABC). The Hurricanes have won a lot of close games this year. At some point that is going to come back to bite them. Virginia Tech was not good the first time they were in this primetime spotlight losing to Clemson, but I think they will be ready and will take down Miami. With one loss Miami will be out. Virginia Tech has an outside shot, but they have to win out to get into the Playoff.
The last game pitting ranked teams against one another is #23 Arizona @ #17 USC (10:45 PM ET ESPN). Arizona has been such a big surprise this year. Quarterback Khalil Tate is the real deal. USC has too much talent though. I think they win this one. Speaking of surprises, #15 Iowa State has been an awfully nice surprise this year. They travel to Morgantown to take on West Virginia. I do not see things going well for Iowa State in this one.
Quickly I want to sneak in the Dakota Marker game between North Dakota State and South Dakota (3 PM ET). Come on Jackrabbits! Keep the Dakota Marker in Brookings. I'm not confident that it will happen, but I will be cheering nonetheless. Okay, now that my bias is showing, I best be getting to another subject. This is going to be a great weekend of college football! Enjoy it everyone!
Buffalo Bills @ New York Jets 8:25 PM ET NFL Network (Streaming on Amazon)
I had the Bills pegged for five wins at the beginning of the year. They are already at five wins. I had the Jets down for two wins all year. They have three thus far. Clearly I don't know anything. I do know though that Bills running back LeSean McCoy is heating up, the team is excited about landing wide receiver Kelvin Benjamin from the Carolina Panthers at the trade deadline and their defense has forced the most turnovers in the NFL. And they are playing the Jets. Enough said for me.
Prediction: Bills 26 Jets 16
Coming up Friday: Week 9 NFL preview and predictions
---