"The Stack" 10-5-17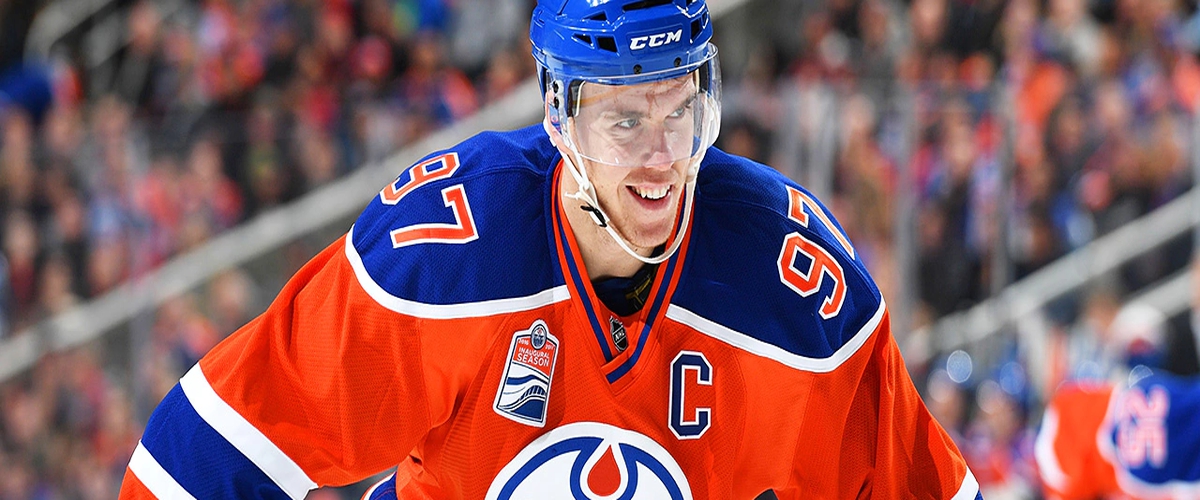 Connor McDavid is one of the great young stars in the NHL. Can he or anyone stop the defending Stanley Cup champion Pittsburgh Penguins? The puck has dropped on the NHL season.
The Stack is back on this Thursday with not the normal Thursday post. I do like the New England Patriots tonight, I think to beat the Tampa Bay Buccaneers tonight in a high scoring, close affair 30-27. I think. Maybe. I don't know. Today, we preview the NHL season which has abruptly come upon us so let's get right to it in "the stack" for today, Thursday, October 5th:
2017-18 NHL season preview
I don't know about any of you, but the NHL season sure snuck up on me. It's early October for crying out loud. And while I do love hockey (much more so than the NBA), I'll admit that I don't know quite as much of the players switching teams in free agency (though a list can be found here) or the players that teams draft in the top ten of the first round. Heck, we won't see most of them this year in all likelihood. So this preview isn't going to be as in depth as some of them are. For that I apologize.
Having said that, I still love the NHL and think this is going to be another incredible season. There are plenty of storylines. Can the Pittsburgh Penguins win their third straight Stanley Cup and become a dynasty? Some would say they already are. Another Stanley Cup win would firmly supplant them in the dynasty ranks. Can Alex Ovechkin and the Washington Capitals finally make it to the Stanley Cup Final? To do that they have to get by those pesky Penguins. Can the young stars continue to dominate and help transcend the sport? That would of course be Connor McDavid of Edmonton and Auston Mathews of Toronto. They are the new faces of hockey.
McDavid got paid this summer…$100 million or so if memory serves me correct. Heck, even another young star, Jack Eichel with the Buffalo Sabres just signed an eight-year $80 million deal. There is money for the good young players. On the opposite end of the spectrum, the ancient one, Jaromir Jagr just signed a one-year deal with Calgary. Jagr is still playing at a relatively high level. It's fun to watch him play.
It's unfortunate that we will not see the NHL is not going to send their players to the Winter Olympics in South Korea. I get that it is a logistical and scheduling nightmare for the league and teams have to worry about players getting injured, but it is great exposure for the league and it gets people to pay attention more to hockey. Don't think there is anything wrong with that. Hopefully they are back in Beijing in 2022. Given that the NHL did a couple of games in the China Series in the preseason this year, I have to think that it is probable that they do it.
And there is a new team in the NHL this year. That would be the Vegas Golden Knights. It gives the NHL 31 teams now. That is probably about 3, maybe 5 teams too many, but this is the first professional sports franchise in Las Vegas of the big four sports (sorry XFL, but you don't count). There will be bumps along the way and the Golden Knights won't be very good, but they do have some recognizable names like Marc Andre-Fleury and Erik Haula. Overall though, it will be a long year for them. Still cool though that Vegas has a team. We'll talk contraction or expansion another day. Now let's get to some predictions.
Eastern Conference
Atlantic
I reckon I'll get at most half of these teams right in this division in terms of how they finish and who makes the playoffs. The Tampa Bay Lightning disappointed last year, but injuries played a part in it. Guys like Tyler Johnson and Steven Stamkos are going to provide plenty of goals for the Lightning. Their goaltending situation is just fine. This is a really solid team. And how can you not like Toronto to take another step forward with all of their great players led by Auston Matthews and the other collection of young talent they have. They are going to be really good. I think Boston is going to be better as well. I'm discounting Ottawa which is probably a mistake after their run in the playoffs last year. They still have Craig Anderson in net. They don't really have any household names though Jean-Gabriel Pageau scored a ton of goals in the playoffs last year. I think they have a moderately decent chance of making the playoffs. Montreal? Well they should get in in large part because they have the best goalie in the sport in Carey Price, but I'm not digging them necessarily. Buffalo is really intriguing to me because of Jack Eichel and some of the other guys on that team. They could be the big surprise in this division. Florida? I'll believe it when I see it. Detroit? Still rebuilding though they are opening up a new arena so that will be fun. Little Caesars Arena should be a great place to watch hockey, but it isn't the Joe. Still, that will only mask the fact that this isn't a good team. Sorry Hockeytown USA.
Predicted standings
1. Tampa Bay Lightning
2. Toronto Maple Leafs
3. Boston Bruins
4. Ottawa Senators*
5. Montreal Canadiens
6. Buffalo Sabres
7. Florida Panthers
8. Detroit Red Wings
Metropolitan
Again, don't know if you knew this or not, but the Pittsburgh Penguins won the Stanley Cup last year. They lost some pieces like Matt Cullen (Minnesota) and Chris Kunitz (Tampa Bay), but the core remains the same with the likes of Sidney Crosby, Evgeni Malkin and Phil Kessel. Plus they have Matt Murray in net. This team is loaded. They have a solid four lines. It stunk that the Columbus Blue Jackets had to play them in the first round last year, because the Blue Jackets were the second best team in the conference. The NHL unfortunately is not changing their playoff format, but Columbus has tremendous talent and will be right back in the playoff mix. How can you not expect the Washington Capitals to be one of the best teams in the NHL in the regular season and then fail miserably in the playoffs? They will. They do have Alex Ovechkin, T.J. Oshie and Nicklas Backstrom. They will be fine. Philadelphia and New Jersey are intriguing teams as I think they are right on the cusp of making the playoffs, but might have to wait another year. Carolina, I really don't have any idea about them. They weren't good last year. The New York Islanders are leaving the Barclays Center at some point right? They lost a lot of guys in free agency. They need Jon Tavares to be healthy and good, but I don't think he will stay healthy all year. And the New York Rangers will be in it all year provided goaltender Henrik Lundqvist is as dominant as he has been in recent years.
Predicted standings
1. Pittsburgh Penguins
2. Washington Capitals
3. Columbus Blue Jackets
4. New York Rangers*
5. New Jersey Devils
6. Philadelphia Flyers
7. Carolina Hurricanes
8. New York Islanders
*= makes playoff as a wild card
Eastern Conference Finals
Tampa Bay Lightning vs. Pittsburgh Penguins
Western Conference
There is a new team in the western conference, but we'll get to the Vegas Golden Knights momentarily. The Central Division is once again the most difficult division in the sport. Think about the teams you have in this division. The Chicago Blackhawks with Patrick Kane and Jonathan Toews, the Nashville Predators with Pekka Rinne and P.K. Subban, the Minnesota Wild with Zach Parise, Ryan Suter and a host of young guys, the St. Louis Blues with Vladimir Tarasenko and Alexander Steen are all extremely good teams. They are loaded with good players across the board. The Dallas Stars perhaps have solved their goaltending woes with Ben Bishop. They already have a lot of guys who can score goals like Tyler Seguin. The Colorado Avalanche do have good players in Nathan MacKinnon and Gabriel Landeskog, but they were terrible last year. They are not taking that big of a leap and unfortunately for Winnipeg, they are stuck in a division with four or five extremely good teams. If they were in the Pacific or any other division, they might have a chance. They don't in this division.
Predicted Standings
1. Chicago Blackhawks
2. Nashville Predators
3. Minnesota Wild
4. Dallas Stars*
5. St. Louis Blues*
6. Winnipeg Jets
7. Colorado Avalanche
Pacific
Welcome to the NHL Vegas Golden Knights! You have players from every NHL team. Folks in Vegas are excited though that enthusiasm no doubt has been tempered with what happened Sunday night and again my thoughts and prayers are with everyone there. Seems like very little doubt that they along with the rest of the division will be chasing the Edmonton Oilers. Connor McDavid is amazing. They have plenty of other talent along with him. I like this team a lot. The Anaheim Ducks last I checked still have Corey Perry, Ryan Getzlaf and Ryan Kesler so they will score plenty of goals. San Jose seems like they are going to be in the mix along with the Los Angeles Kings. The Calgary Flames surprised a lot of people by making the playoffs last year. Jaromir Jagr will help make them an interesting team all year long, but I don't think they have enough to make a return trip to the playoffs. Arizona Coyotes? No Shane Doan? No thank you. And enjoy the inaugural season Las Vegas. The Golden Knights will play tough, but it will be a year of growing pains for them. I haven't even mentioned Vancouver. I don't think the Canucks do much this year.
Predicted Standings
1. Edmonton Oilers
2. Anaheim Ducks
3. San Jose Sharks
4. Los Angeles Kings
5. Calgary Flames
6. Vancouver Canucks
7. Arizona Coyotes
8. Vegas Golden Knights
*= Wild card teams
Western Conference Finals
Edmonton Oilers vs. Chicago Blackhawks
Stanley Cup Final
Edmonton Oilers vs. Pittsburgh Penguins
Stanley Cup Champions: Pittsburgh Penguins
Hart Trophy (MVP): Connor McDavid
It's going to be a fun year in the NHL. Enjoy the drop of the puck on the season. I'm certainly looking forward to it.
Coming up Friday: NFL week 5 preview and predictions
---