"The Stack" 10-9-18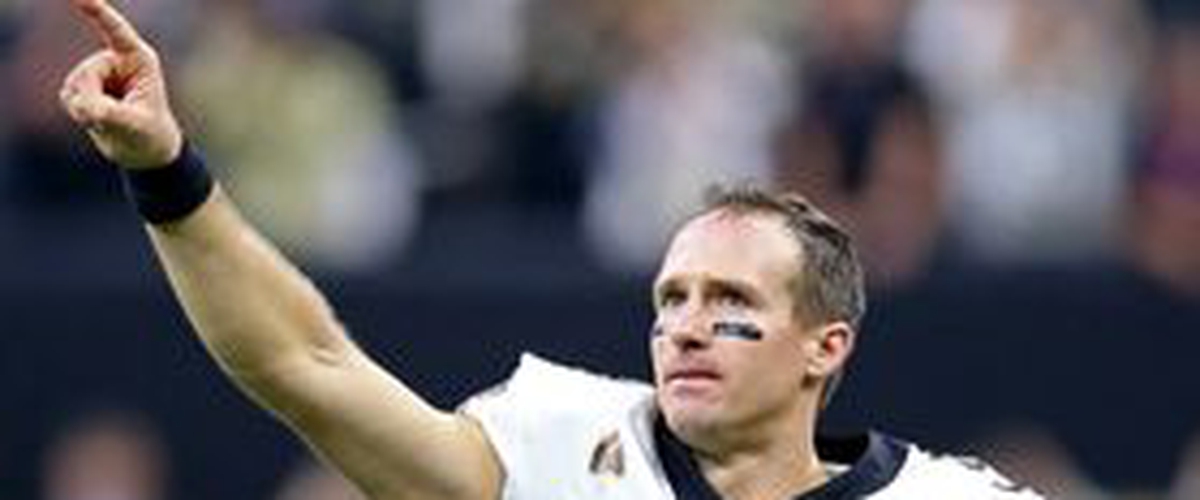 New Orleans Saints quarterback Drew Brees passed Peyton Manning Monday night for most passing yards in NFL history. Brees was tremendous and has been since he got to New Orleans. He is a class act. Well done Brees.
The Stack is back on this Tuesday with a late post, because life gets in the way sometimes. We're on very little sleep, but we do have a few things to get to so let's get right to "the stack" for today, Tuesday, October 9th:
Drew Brees becomes all-time passing yards leader in NFL history
The Monday Night Football contest between Washington and New Orleans wasn't much of a contest, but Saints quarterback Drew Brees gave us all a reason to watch as he passed Peyton Manning on a long 62-yard pass to rookie wide receiver Tre'Quan Smith in the second quarter. The game was stopped so fans could applaud and acknowledge the accomplishment Brees just achieved and rightfully so. He deserves to be celebrated. He is one of the best players in the game and an even better player off of it. Brees was magical all night long completed 26-of-29 passes for 363 yards and three touchdowns yet he still somehow didn't get a perfect passer rating. What the hell is up with that? Running back Mark Ingram returned and the Saints got him involved right away as he ran for the game's opening touchdown. For the game Ingram had two touchdowns and the team barely used Alvin Kamara which upset fantasy owners everywhere including yours truly. When the dust settled though, the Saints crushed Washington 43-19 on a night no Saints fan and Drew Brees especially, will soon forget.
Baseball playoff update
The baseball playoffs thus far have been a ZZZZZZZ, what sorry? As I was saying the baseball playoffs ZZZZZ. WAKE UP DAMNIT! The baseball playoffs have been fairly boring and disappointing and there is only one series that remains to determine who, the Yankees or the Red Sox, will advance to the ALCS to challenge the Houston Astros. The Astros swept the Cleveland Indians capping the series off with an 11-3 win on Monday afternoon. The Astros were clearly the better team in this series. The Boston Red Sox lead their best-of-five series with the New York Yankees 2-1 after embarrassing the Yankees 16-1 Monday night. Yikes. That odor you're smelling is coming directly from the Yankees clubhouse at Yankees Stadium. Red Sox utility man Brock Holt hit for the cycle, with his homerun coming in the ninth inning. The Red Sox used a seven-run fourth inning to put the game away. The ALCS should be great though with the Astros. I'm hoping for a seven game series with the Astros advancing.
The NLCS is set between the Los Angeles Dodgers and the Milwaukee Brewers. The Brewers pitching staff, especially their bullpen, was masterful in their series sweep of the Colorado Rockies allowing just two runs in the entire three game series with both of those runs coming in game one. This Brewers team is tough. The Dodgers disposed of the Atlanta Braves Monday to win their series 3-1. The Dodgers are good, but it's going to be an uphill climb against the Brewers. Expect a low-scoring series. More on the baseball playoffs coming later this week.
College football weekend review
Week 6 did not bring a whole lot of excitement in the college football world outside of that phenomenal game at the Cotton Bowl between the Oklahoma Sooners and Texas Longhorns. An offensive explosion took place in the Red River Rivalry with Oklahoma having to battle back in the fourth quarter from three touchdowns down to tie the game. Alas, their efforts fell short as freshman kicker Cameron Dicker booted the 40-yard field goal through to lift #19 Texas to a 48-45 upset win over #7 Oklahoma. Quite the game. Three Oklahoma turnovers kind of doomed them.
Texas over Oklahoma was not the only upset of the day. #20 Michigan State inexplicably lost to Northwestern 29-19. #14 Stanford got their doors blown off by Utah in Palo Alto 40-21. Utah on the road did that? Impressive. #25 Oklahoma State does not appear to have a defense (what Big 12 team though does Stacken?). They lost at home to a one-win Iowa State team 48-42. #17 Miami (FL) survived an upset scare against Florida State, coming back to win 28-27. Great response by the Seminoles. Perhaps the Hurricanes were looking past them. If you want to call Texas A&M beating #13 Kentucky 20-14 I guess you can purely by looking at the rankings. Stinks that Kentucky lost, because they had a very real shot of being undefeated when Kentucky faces Georgia at the beginning of November. #8 Auburn lost to Mississippi State 23-9. Go figure that one after Mississippi State looked so bad the past two weeks. And #22 Florida somehow scored enough points to beat #5 LSU 27-19. A pick-six in this one certainly helped the Gators. No undefeated LSU team will be facing #1 Alabama in Death Valley when the two teams meet in early November. And that about does it for the week as I refuse to talk about #6 Notre Dame destroying my #24 ranked Virginia Tech Hokies. Georgia Tech put up 66 points on Louisville which is kind of interesting. Man, Louisville is bad. Your college football weekend forecast will come up later this.
Khabib-Conor McGregor fight thoughts
It was the fight heard round the world and I'm not talking about the four round beatdown that Khabib Nurmagovedov handed to Conor McGregor in UFC 229. No, I'm talking about the melee after the match that saw Khabib jump over the cage to go after a couple of members of McGregor's party. A couple of member's in Khabib's party went into the octagon itself and took a few jabs at McGregor himself. It was mayhem. It was bad. And the UFC doesn't mind it at all though if you listened to UFC President Dana White afterwards, you would have thought Khabib killed an innocent man. Maybe White's just putting on a face, but his words are pretty disingenuous. After all, it was Conor McGregor that acted like a mad man throwing stuff at Khabib's bus earlier this summer and causing damage. He vandalized stuff and opened his trap ripping Khabib for his religion and taking jabs at his family. Do I condone Khabib's actions? No I do not. He should not have done it. But if there is anyone who deserves to get the snot beat out of them, it would be Conor McGregor and his entourage. Maybe they should have shut up after Khabib destroyed Conor. For Dana White to come out and withhold Khabib's purse (I have not heard if he has gotten it yet) and say he might never be allowed back in this country and the Nevada Athletic Commission will take a look at a possible ban or suspension is laughable and hypocritical for White to say when McGregor quite frankly has done the same sort of crap if not worse than what Khabib did. Maybe it's White just trying to be a tough guy (okay, he is president of the UFC so he is really tough) and try to save face so there isn't so much outrage, but it just sounds so dumb. There are a number of fans who like Conor McGregor, but in my opinion and I may be off on this and perhaps this whole spiel, that number is dwarfed by the number of people who despise him. Yes he's a great fighter, but he is a piece of human garbage. He's despicable. Yet, Conor is UFC's cash cow and they will do what they can to make sure he is able to keep fighting. Khabib though is right up there. I hope I speak for many when I say that Conor got what he deserved and again, while I don't condone Khabib's actions, considering what he has had to listen to from Conor for the last however many months, I don't have a big problem with him going after McGregor's posse after the fight if indeed he was slightly provoked. Give him the belt, give him the title and give him the purse Dana White. You're better than this.
Coming up Thursday: TNF preview, baseball playoffs, college football weekend forecast and more.
---