"The Stack" 11-10-20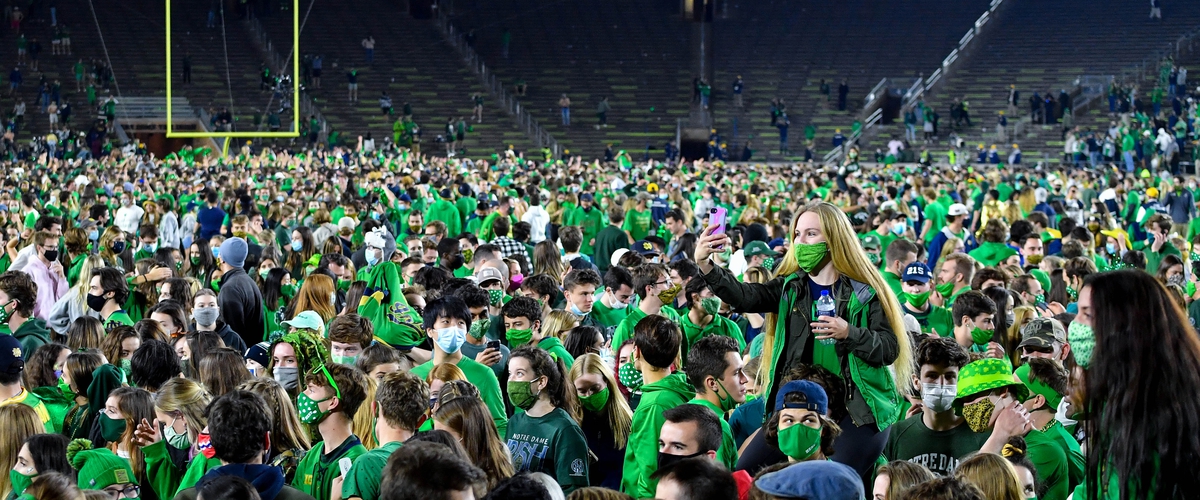 Notre Dame students (stupidly) rushed the field following the Fighting Irish's 47-40 win over #1 Clemson Saturday night. Considering the issues we are facing with COVID-19, this was not a good move by them.
The Stack is back on this Tuesday and I don't know if they are relieved in New England this morning or not after that close call with the Jets last night. We'll react to that plus take a look at what happened in college football so let's get right to "the stack" for today, Tuesday, November 10th:
Patriots rally to keep Jets winless
For much of Monday night's game, it looked like the New York Jets were going to get their first win of the season. Joe Flacco was playing well at quarterback and they were pushing the ball down the field. They had a 20-10 lead at half and a 27-17 at the end of the third quarter. The fourth quarter would ultimately be their demise. The Patriots went on a 17-play drive that resulted in a field goal and nearly nine-and-a-half minutes off of the clock. On the very first play of the Jets drive, Flacco threw an interception. Eleven plays later, the Patriots scored a touchdown to tie the game. The Jets went three and out on their next possession and the Jets defense, tired by playing practically the entire fourth quarter could not stop wide receiver Jakobi Meyers. Former Jets kicker Nick Folk kicked the game-winning field goal and the Patriots escaped with the victory, snapping their four game losing streak. It's a tough loss for the Jets who played their best game of the year. The Patriots are just happy they got the win, but they have a lot of issues they need to fix.
College football weekend reaction
What a wild weekend of college football that started off Friday night with the #11 Miami (FL) Hurricanes finding some way to beat NC State 44-41. D'Eriq King had 430 yards passing and 5 touchdowns along with 105 yards rushing. He willed the Hurricanes in winning this game.
Are #9 BYU and #6 Cincinnati for real? I would say yes and if they met on a neutral field I would have to take Cincinnati because of that defense, but it would sure be an interesting matchup. BYU thumped #21 Boise State 51-17 Friday night and Cincinnati breezed by Houston 38-10.
It's time to panic in Ann Arbor. Or just fire Jim Harbaugh. Whichever one Michigan thinks is best. The #23 Wolverines lost 38-21 to #13 Indiana over the weekend and it really wasn't that close of a game at all. Not sure if Indiana is truly as good as their record indicates, but Michigan is every bit as bad. It's bad in Happy Valley too where Penn State is now 0-3 after losing 35-19 to Maryland. Let's just chalk this weird year up to 2020. I mean if Coastal Carolina is ranked #15 in the country (they beat South Alabama 23-6), it's just got to be that, a weird year.
#20 USC had a miraculous comeback, recovering an onside kick and defeating Arizona State 28-27. That's a difficult loss for the Sun Devils. Perhaps that loss though isn't as bad as the one Virginia Tech suffered. They blocked a field goal and returned it all the way for a touchdown to beat #25 Liberty. Oh wait. They called timeout before the kick. Liberty would make the kick and beat the Hokies 38-35. Excruciating loss for Virginia Tech.
The big game of the week took place in South Bend where #4 Notre Dame jumped out to an early 10-0 lead, but found themselves trailing late in the fourth quarter after #1 Clemson took a 33-26 lead thanks to running back Travis Etienne's touchdown. Notre Dame drove down the field and quarterback Ian Book found Avery Davis with a 4-yard yard touchdown with 22 seconds to go. To overtime we went and Clemson scored first, but Notre Dame answered. Running back Kyren Williams would score for the Fighting Irish in the second OT meaning Clemson had one more shot. Unfortunately for Clemson, Notre Dame sacked them twice and there really wasn't anything Clemson could do. The students stormed the field (stupidly of course given COVID-19 cases skyrocketing all across the country) and Notre Dame finished the upset, 47-40. Clemson was without Trevor Lawrence and it will be interesting to see what happens if/when these two teams meet in the ACC Championship game. Hopefully they will. We deserve to see a rematch with both teams at full strength. I'm not worried about Clemson yet.
Coming up Thursday: TNF preview & prediction plus college football weekend forecast
---