"The Stack" 11-13-18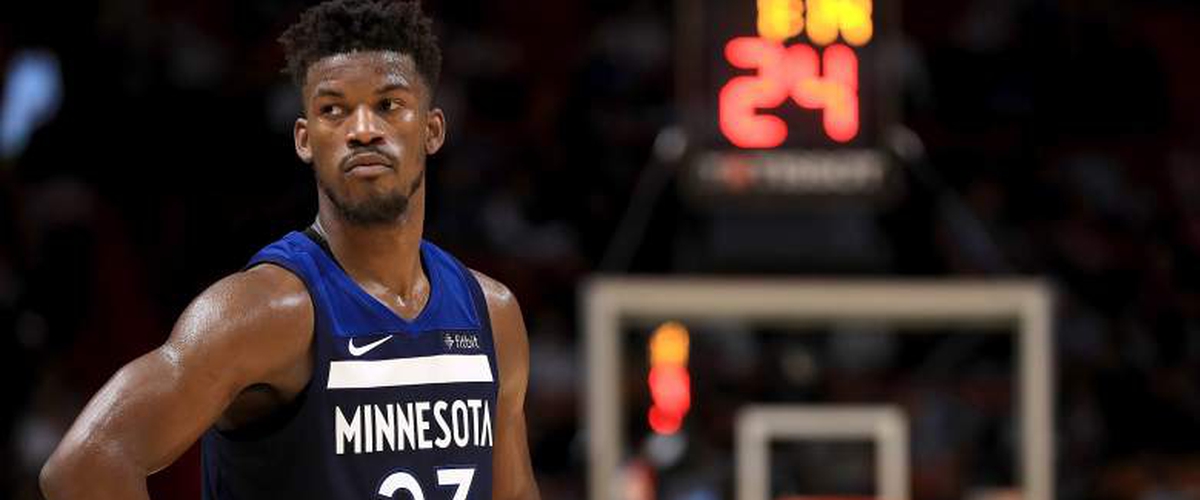 Jimmy Butler has finally been traded from the Minnesota Timberwolves. The Wolves traded him to the Philadelphia 76ers for Robert Covington, Dario Saric and a second round draft pick.
The Stack is back on this Tuesday and I can't begin to imagine what the people of California are going through with those wildfires not to mention the shooting in Thousand Oaks, California, but our thoughts and prayers are certainly with them. Help them out if you can through the Red Cross. We have football to talk about as well as some Minnesota sports news so let's get right to "the stack" for today, Tuesday, November 13th:
Giants rally to knock off 49ers
It has been a tumultuous year for Eli Manning and the New York Giants, but Monday night, the New York Giants quarterback put together one last drive to show that he still has it and isn't going to throw the towel in on the season. In a back-and-forth game, a game in which Odell Beckham Jr. had two touchdown catches, Manning drove the Giants down the field late. The drive was aided by penalties, but Manning had several good throws to tight end Evan Engram, Saquon Barkley and the last throw, the touchdown throw to Sterling Shepherd. It was a great drive by Manning and the Giants needed this win. With Tampa Bay coming up next week, they have a chance to put together a win streak. Nick Mullen didn't play terrible for the 49ers, but it wasn't enough to beat the Giants. Both teams are now 2-7.
College football weekend reaction
You know, this was a very blah week of college football. There weren't a lot of exciting results. The best games arguably occurred in the Big 12 where Oklahoma State attempted to go for two to beat #6 Oklahoma, but ultimately fell short and lost 48-47. #19 Texas survived at Texas Tech 41-34. They are still alive for a spot in the Big 12 Championship.
Holy cow, how did we forget? Northwestern is in the B1G Ten Championship game for the first time I believe in program history after going on the road and upsetting #21 Iowa 14-10. What an absolutely incredible job by the Wildcats. That touchdown catch by Skowronek was insane. Congrats to them.
There were a couple of other upsets. One happened on Thursday night when Wake Forest took down #14 North Carolina State 27-23 in Raleigh. Boise State beat #23 Fresno State on Friday night 24-17, but I wouldn't call it a major upset. And #11 Kentucky lost 24-7 to Tennessee, but is that really an upset, because do we believe that Kentucky was the #11 team in the country? I don't think so.
Other than that, there were no other upsets. #8 Washington State avoided the upset and beat Colorado 31-7. #9 West Virginia pummeled TCU 47-10. #10 Ohio State beat #18 Michigan State 26-6. Kansas nearly won their fourth game of the year, but ultimately lost 21-17 to Kansas State. What the heck has happened to Virginia Tech? My Hokies have fallen on tough times losing 52-22 to Pittsburgh and speaking of what the hell is going on, the same could be said for USC. They had a 14-0 lead at halftime at home against California and promptly lost 15-14. What?! We'll see what happens this week and we'll have your college football weekend forecast on Thursday. The College Football Playoff rankings should remain the same. Alabama will be number one, Clemson number two, Notre Dame three and Michigan four.
Jimmy Butler traded
It became an unsustainable situation. The Minnesota Timberwolves just couldn't put up with Jimmy Butler anymore so they traded him to the Philadelphia 76ers on Saturday along with George Patton for Robert Covington, Dario Solic and a second round draft pick. This makes me think that that four first round draft picks the Houston Rockets were supposedly offering was false, because I'm not all that impressed with the return. Covington is a good player and I guess Solic is too, but how do these guys fit into what the Timberwolves want to do? What is their vision? Make sure you keep these guys around and help them push Karl Anthony-Towns and Andrew Wiggins. I think is better than what the Miami Heat were offering and I think what gets me most is that the Timberwolves weren't even able to recoup a first round draft pick back. All they get is a second round pick which is essentially useless. The Timberwolves had to get rid of Butler because the situation was too toxic. We'll see if they can right the ship and if Tom Thibodeau can keep his job. I have my doubts.
What this trade does though for the 76ers is make them a legitimate threat in the eastern conference. I still think Toronto, Milwaukee and Boston are probably better, but with Simmons, Embiid and now Butler, the 76ers have a "big three" they can compete with for years to come. This is a good trade for Philadelphia provided that they can get Butler under contract.
Joe Mauer retires
It was an announcement that was expected, especially after he came out in the ninth inning of the last game of the year in his old catcher's gear for one final pitch, but Minnesota Twins first baseman Joe Mauer made it official last Friday and announced his retirement from baseball after fifteen seasons, all of which were with the Twins. Mauer never had the power numbers, but he had one of the better batting averages for a catcher and even won a batting title, something I don't believe a catcher had ever done, at least not in the AL. His on-base percentage was tremendous. Mauer endured a lot of down years for the Twins and the major reason why fans came to the ballpark was to see the Minnesota kid play. Unfortunately, the latter part of Mauer's career didn't see good years for the Twins, but the early part of his career did. He just didn't get to a World Series for one of the better players and definitely more genuine players in the game. He cited concussions as a primary reason for retiring and who can blame him? You have to think of your health. Mauer did that and he is well within his right to do so. Congrats Joe. Thanks for giving Minnesota and Twins fans everywhere a reason to tune in for the last decade-and-a-half.
Coming up Thursday: College football weekend forecast, TNF preview and more
---