"The Stack" 11-16-18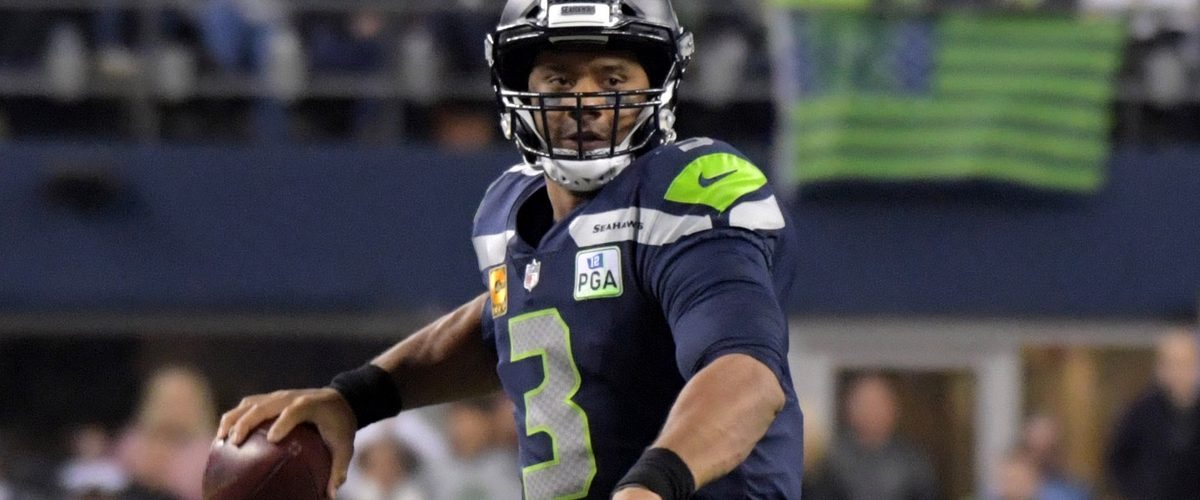 Russel Wilson had a big fourth quarter to lead the Seahawks to a comeback 27-24 win over the Packers.
The Stack is back on this Football Friday (it's another day too, but we won't get into that). Week 11 in the NFL and we are one week before Thanksgiving and the trio of games. We'll have a preview of those games next week, but we have plenty of big games on Sunday to talk about. First though, that was quite the game in the Pacific Northwest last night with the Seattle Seahawks rallying to knock off the Green Bay Packers 27-24. Aaron Rodgers had a couple of incredible touchdown throws, but his incomplete pass with 4:20 left would be the last throw he would make on the night as the Seahawks were able to run the clock out. Uphill climb now for the Packers. Now then, let's get right to "the stack" for today, Friday, November 16th:
4-5 Dallas Cowboys @ 4-5 Atlanta Falcons 1 PM ET FOX
The Cowboys maybe caught the Philadelphia Eagles off guard last week. I don't know if they will do that against the Falcons. The Falcons maybe took the Cleveland Browns a little lightly last week. They can ill-afford to do that this week against Dallas. Is Deion Jones coming back? That would be a big boost for the Falcons defense. They need to stop Ezekiel Elliott. I think they find a way to get the win in a high-scoring affair.
Prediction: Falcons 31 Cowboys 27
5-4 Cincinnati Bengals @ 4-5 Baltimore Ravens 1 PM ET CBS
Do we even know who is going to be under center for the Ravens on Sunday? No, we do not. It could be Lamar Jackson. It could be Robert Griffin III. It seems unlikely that we will see Joe Flacco. It may not matter. The Bengals defense is terrible right now. Plus they likely won't have wide receiver A.J. Green. I smell a win for the Ravens.
Prediction: Ravens 23 Bengals 16
6-3 Carolina Panthers @ 3-6 Detroit Lions 1 PM ET FOX
The Lions season appears to be on the brink of being over. Their offensive line isn't great and their defense isn't good either. They are going up against a Panthers team that is angry and eager to avenge their loss last week against the Steelers. I wouldn't want to go against Cam Newton and company this week.
Prediction: Panthers 34 Lions 16
5-4 Tennessee Titans @ 4-5 Indianapolis Colts 1 PM ET CBS
The last time the Titans had a big win at home (Eagles), they followed it up with a loss on the road at Buffalo. They had a big home win against the Patriots last week. I'll go with the side of history here and while I hope the Titans win, the Colts are playing really well right now so give me Andrew Luck and company for the win.
Prediction: Colts 23 Titans 20
3-6 Tampa Bay Buccaneers @ 2-7 New York Giants 1 PM ET FOX
The Buccaneers defense is terrible. They have a lot of injuries and are just not very good overall. With the Giants having a little bit of confidence after Monday night's win over the 49ers, look for Odell Beckham Jr., Saquon Barkley and company to exploit that defense and make some big plays. Do I see 30 points for the Giants? Maybe.
Prediction: Giants 34 Bucs 27
6-3 Houston Texans @ 6-3 Washington 1 PM ET CBS
What a battle this will be between division leaders. The Texans have reeled off six straight wins. We still can't figure Washington out. Newly acquired Demaryius Thomas has had time to figure the playbook out a little bit more. He'll have a touchdown catch in this one and the Texans will continue to roll.
Prediction: Texans 27 Washington 20
6-2-1 Pittsburgh Steelers @ 3-6 Jacksonville Jaguars 1 PM ET CBS
These two teams are going in completely opposite directions. Things have gotten really bad in Jacksonville. This game was flexed from primetime to 1 PM so the NFL apparently was right to be hesitant about putting the Jaguars in the spotlight. With the Le'Veon Bell saga behind them, expect James Conner to have a monster game. The Steelers are going to wallop the Jaguars. Prove us all wrong Jaguars.
Prediction: Steelers 34 Jaguars 20
1-8 Oakland Raiders @ 2-7 Arizona Cardinals 4:05 PM ET CBS
Both of these teams stink, but the Cardinals at least haven't thrown in the towel on this season like it appears the Raiders have. Josh Rosen's confidence will rise in this one going against the putrid pass rush of the Raiders. Expect at least a couple of touchdowns from him and for the Cardinals to win game number three.
Prediction: Cardinals 27 Raiders 13
3-6 Denver Broncos @ 7-2 Los Angeles Chargers 4:05 PM ET CBS
The Chargers are red hot right now. Do we think the Broncos will have figured out a game plan in two weeks to slow them down? I doubt it. They'll have plenty of fans at Stub Hub Center, but Philip Rivers, Melvin Gordon and company will be putting up way too many points. Heck, we may even get to see Joey Bosa in this one.
Prediction: Chargers 31 Broncos 20
4-5 Philadelphia Eagles @ 8-1 New Orleans Saints 4:25 PM ET FOX
The defending Super Bowl champions are on the brink. A loss would be crippling to their hopes of returning to the playoffs. It's going to happen. Why would you bet against the Saints right now? Drew Brees, Alvin Kamara, Mark Ingram, Michael Thomas. Saints roll.
Prediction: Saints 34 Eagles 23
5-3-1 Minnesota Vikings @ 6-3 Chicago Bears 8:20 PM ET NBC
The Vikings aren't a great primetime team. They'll need to get good in a hurry with three of their next four games under the lights. They've had a couple of weeks to prepare for the Bears and how to deal with Khalil Mack. Trubisky is playing really well. Have another good game, and the respect will be there. I'll go with the Vikings who are healthy headed into this one. They are here to tell the Bears that they aren't the team to beat in the NFC North…yet.
Prediction: Vikings 27 Bears 17
Coming up Monday: Week 11 Sunday NFL reaction plus MNF preview and prediction
Listen to this week's "The Sports Block" podcast here.
---