"The Stack" 11-15-18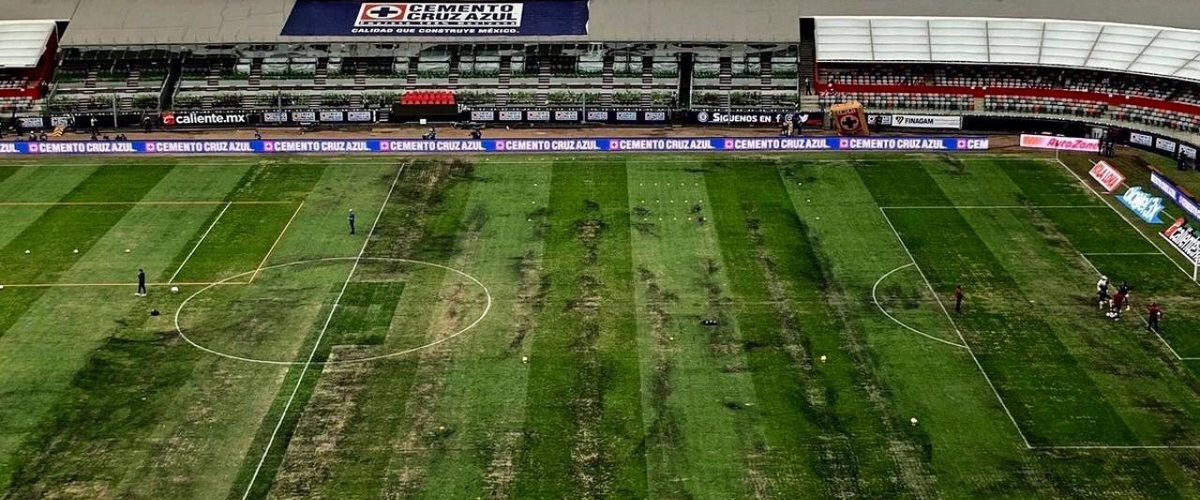 This is how the field looks at Azteca Stadium in Mexico City so it seems like the NFL made the smart, safe and obvious decision in moving the Chiefs-Rams game from Mexico City to L.A.
The Stack is back on this Thursday and week 11 in the NFL starts tonight in Seattle. It will end Monday night not in Mexico City, but in Los Angeles. We'll have thoughts on the NFL's decision to move the MNF game plus a pick for tonight's game and more so let's get right to "the stack" for today, Thursday, November 15th:
NFL moves Chiefs-Rams game from Mexico City to L.A.
Mexico City was supposed to have what arguably could be the game of the year in the NFL Monday night between the 9-1 Kansas City Chiefs and 9-1 Los Angeles Rams. Mexico City no longer has the game thanks to the terrible condition the field at Azteca Stadium is in. The pictures show just how bad it looks and it is bad in part due to the rainy season and also a Shakira concert that took place last month. As in, last October 11th. The NFL was holding their breath though that the game would be able to be played in Mexico still. It's not. Instead, the game has been shifted to L.A. where it will be played at the Coliseum, the Rams' home. The game was also moved in part because multiple players from both teams said they would boycott the game due to player's safety if the NFL proceeded with having the game in Mexico City.
This is not a good luck for the NFL at all, but they made the right choice when it is all said and done. You can't preach that you are all about player's safety and then make them play on a field like what they would be on at Azteca Stadium. That would be very hypocritical. If multiple players didn't play or worse, got injured, that also would be a bad look for the NFL. Yet, the decision to move the game only days before it was scheduled to happen also invites plenty of criticism the NFL's way and rightfully so. Reports are that they were getting regular reports on the field condition so it's not like this was that unexpected. Yes the NFL wants to grow globally, but is it really worth it to have your two best teams playing on an inferior surface? No. The NFL made the right decision here. The game between Chiefs and Rams is Monday night at 8:15 PM ET on ESPN.
College football weekend forecast
This is not a good week of college football. The lack of great matchups this weekend is alarming. I'll blame the SEC. More on them in a moment. There are only three games pitting ranked teams against one another. One is a neutral site game between #12 Syracuse and #3 Notre Dame (2:30 PM ET NBC). The game is at Yankee Stadium. Will the Orange beat the Fighting Irish and end their hopes of making it to the College Football Playoff? Don't put it past them, but I'll take Notre Dame in this one, but it will be really close. Inexplicably, #16 Iowa State is at #15 Texas at 8 PM ET on the Longhorn Network (LHN). Not ESPN, not Fox but the Longhorn Network. WTF?! Loser definitely won't make it to the Big 12 Championship game. And it is such a weak week that College Gameday is in Orlando for #19 Cincinnati @ #11 UCF (8 PM ET ABC). UCF can impress a lot of people in primetime. They will. They will rout Cincy.
Most SEC teams are on a bye this week. Seriously, these games are a joke. Just look at some of the matchups:
· The Citadel @ #1 Alabama
· Idaho @ #13 Floirda
· Middle Tennessee State University @ #17 Kentucky
· UMass @ #5 Georgia
· Liberty @ Auburn
· Rice @ #7 LSU
· Chattanooga @ South Carolina
I was going to put UAB @ Texas A&M, but UAB is really good. They're 9-1 and they are currently a 17 point underdog to the Aggies. Take UAB to cover! But seriously, SEC, please be better even though we know this happens every year.
To little surprise, the College Football Playoff rankings didn't change one bit in the top ten when that was announced on Tuesday. UCF made the jump to #11 which is nice, but there were no earth-shattering upsets and there is a pretty good chance more of the same will happen this week, but that's why they play the games. Something is bound to happen this weekend. We just don't know what. Enjoy the week of college football everyone!
4-4-1 Green Bay Packers @ 4-5 Seattle Seahawks 8:20 PM ET FOX & NFL Network (Streaming on Amazon Prime)
What a huge matchup this is in the NFC. Both teams need to get a win to stay in contention for a playoff spot. It's a tall task asking the Packers to fly halfway across the country past two different time zones to play, but then again, the Minnesota Vikings had to do it in week four when they played the L.A. Rams. Aaron Jones went off last week for the Packers rushing the football. Seattle seemed to find their run game too. I don't know if I am necessarily sold on either of these teams and normally I would go with the home team, but I don't like picking against Aaron Rodgers unless I am absolutely sure and I am not sure about this one.
Prediction: Packers 27 Seahawks 24
Coming up Friday: Week 11 NFL previews and predictions
---