"The Stack" 11-14-17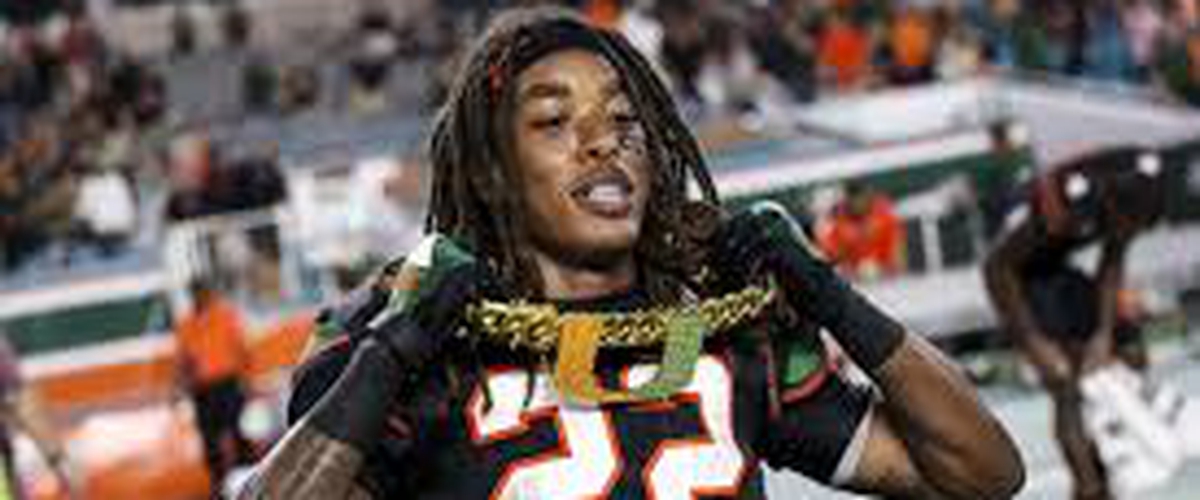 The Miami (FL) Hurricanes' turnover chain was used frequently Saturday night as the Hurricanes beat Notre Dame 41-8.
The Stack is back on this Tuesday and yes I'm changing things up this week. We'll do the college basketball season preview post on Thursday. I'll try next year to get it out earlier. We'll talk college football, MLB ROYs and more so let's get right to it and see what's in "the stack" for today, Tuesday, November 14th:
Panthers steamroll Dolphins on MNF
When Cam Newton is on, the Carolina Panthers are one of the most difficult teams to beat in the NFL. He was on Monday night accounting for four touchdowns, over 250 yards through the air and almost 100 more on the ground as the Panthers pummeled the Miami Dolphins 45-21. The game turned when Jay Cutler threw an interception late in the second quarter that helped set up a touchdown pass from Cam Newton to Ed Dickson. The Panthers poured it on in the third quarter since the Dolphins by all appearances chose not to come out for the second half. This is a bad primetime team. They have now lost three in a row all in primetime games. Get them off Sunday and Monday nights. The Panthers found their running game and if that continues, they aren't going to go quietly against the likes of the New Orleans Saints.
Judge, Bellinger win MLB Rookie of the Year awards
It should come as no shock to anyone that New York Yankees outfielder Aaron Judge and Los Angeles Dodgers first baseman Cody Bellinger won AL and NL Rookies of the Year respectively Monday. Bellinger had 39 homeruns, second only to Giancarlo Stanton in the NL. He was a major reason the Dodgers had the best record in baseball and made it to the World Series. Judge hit 52 homeruns and was a unanimous choice. All rise! Judge was an absolute beast this year. Well deserved awards for each of them.
College football weekend thoughts plus an early weekend forecast
I said last week that we would know who was in control of their destiny for the College Football Playoff. I picked Notre Dame to take down Miami (FL) and eliminate them. I also took #1 Georgia on the road at #10 Auburn. By now you should know that this year has not been the good year of picks for me, because both of those teams would lose handedly. The Hurricanes routed the Fighting Irish 41-8 while Auburn spotted Georgia a quick seven and proceeded to win 40-17. Auburn is the two loss team in control of their own destiny. If they beat Alabama in a couple of weeks in the Iron Bowl, they play in the SEC Championship in Atlanta against Georgia and if they beat Georgia again, they are in. Georgia is not out of it by any stretch, but they cannot lose any more games. At least I got #5 Oklahoma right. They took down #6 TCU 38-20. Oh, and those Hurricanes. They are on a collision course with #4 Clemson for the ACC Championship game. The winner of that game is in the College Football Playoff.
All of that means that #8 Wisconsin likely will not make it to the playoff, but the Badgers are still trying hard to crash the party. They thumped #20 Iowa 38-14. The two touchdowns that Iowa scored weren't even offensive touchdowns. Yikes. That game was one of many blowouts in the Big Ten. #14 Penn State beat Rutgers 35-6 #asexpected. What wasn't expected was #13 Ohio State obliterating #12 Michigan State 48-3 in Columbus. Michigan State would have been better off not even showing up. Oh and Minnesota put 54 points on Nebraska in a 54-21 win over the Cornhuskers. Yikes!
Other games of note include the fact that the Pac-12 is getting left out of the playoff this year following #9 Washington's 30-22 loss on the road at Stanford. And after his team lost 50-17 to Missouri, Butch Jones is out as head coach of the Tennessee Volunteers. Finally!
As we look ahead to this week, the slate is pretty awful. This is a tune up week for many teams in the SEC as they prepare for rivalry week so there is really nothing to see there. Seriously this slate is pretty bad which means we no doubt are going to have some exciting games and some big upsets. The only matchup of the day of ranked versus ranked team is #19 Michigan @ #8 Wisconsin (Noon ET, FOX). The rest of the day looks pretty bad. Maybe that is a good thing though for some of you so you can enjoy the rest of your Saturday.
I would be remiss if I didn't mention the big game in Vermillion (boo) between SDSU and USD. An in-state rivalry at its finest, USD comes into this game struggling quite a bit while SDSU is playing pretty well. Chris Streveler is a tremendous quarterback for the Coyotes (Yotes), but he can't play defense and USD is terrible at defense. That should mean Taryn Christian, Dallas Goedert and Jake Wieneke will have big days. Give me the Jackrabbits to win 56-35.
College basketball doubleheader tonight
While I am disappointed that ESPN did away with the college basketball tip-off marathon this year where we could have had 24 straight hours of college basketball, tonight's State Farm Champions Classic in Chicago featuring four of the top seven teams in the country. First it is #1 Duke vs. #2 Michigan State at 7 PM ET on ESPN. I am very high on Michigan State this year with Miles Bridges returning for his sophomore year. I will take Sparty in a minor upset. At 9:30 PM ET on ESPN or roughly a half hour after the end of Duke and Michigan State, it's #4 Kansas vs. #7 Kentucky. Kentucky has looked underwhelming in their first two games of the year against Utah Valley and Vermont. I will be curious to see how they look tonight against a really good Kansas squad. It's going to be a great night of college hoops. Can't wait!
Coming up Thursday: 2017-18 college basketball season preview
---