"The Stack" 11-16-17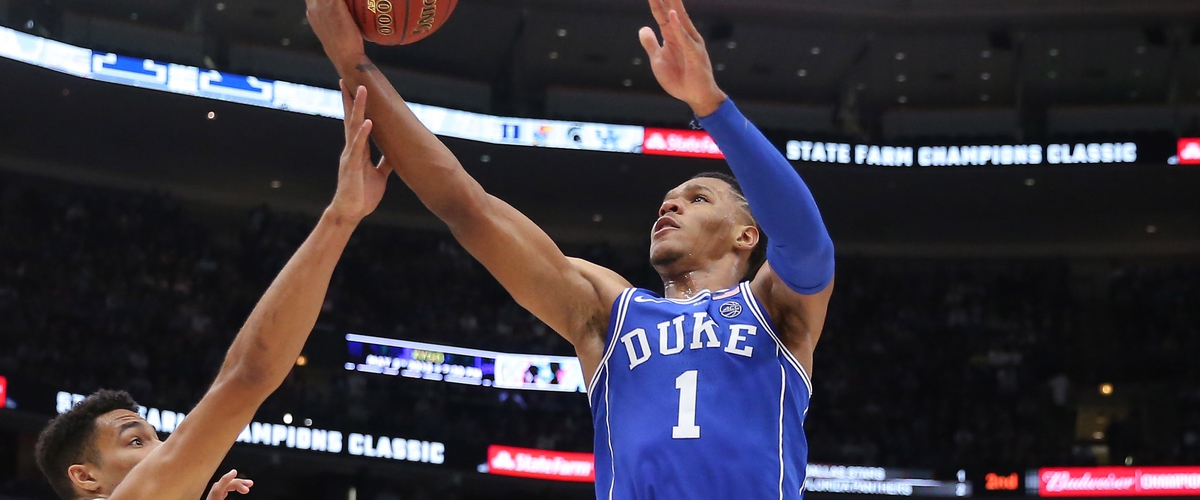 Duke and Michigan State put on quite the game in the Champions Classic Tuesday night. Will either team be making it to San Antonio for the Final Four? The college basketball season is finally here!
The college basketball season is upon us. Wasn't the Champions Classic Tuesday night fun with four of the best teams in college basketball going against one another? The Stack loves college basketball and is excited that the season has begun. Hint, I like at least two of the teams playing in the Champions Classic to make it to the Final Four this year. Then again, my picks last year were not very good. I love this sport even with the FBI investigation hanging like a cloud over the season. Let's get right to it and preview the 2017-18 college basketball season preview (even though the season has already started) that I hope you demand in "the stack" for today, Thursday, November 16th:
2017-18 College Basketball season preview
No doubt the FBI sting and investigation is a black eye for college basketball and it will hover over the season. Hopefully the play on the court will make that investigation take a back seat, but it's going to be near impossible to not think about it when a Louisville game is on national television and Rick Pitino isn't on the sidelines. Auburn, Oklahoma State, Arizona and USC, they all have to answer some questions about this, but those questions will die down as the season progresses. Heck, Auburn may be getting rid of head coach Bruce Pearl because he isn't cooperating fully with them. That somewhat implies guilt in my opinion, but that's beside the point. Unfortunately for Louisville, this will be with them all year and beyond.
Then you have the whole UCLA saga with three freshman including LiAngelo Ball who were accused of shoplifting some sunglasses last week while the team was in China for their game against Georgia Tech. It's a huge embarrassment. Fortunately, the President stepped in on their behalf and asked China to essentially look the other way or expedite the process. China obliged and the students are now back in the United States. It's not a good look for UCLA at all. Three dumb freshman commit a stupid act. No other way to slice it. That's why they are suspended indefinitely, however long that actually lasts. They need to accept their punishment and move on.
That aside, this will hopefully be another great college basketball season. Kentucky once again has a ton of good freshman. Duke may have the best one in Marvin Bagley III. A lot of eyes are on Sean Miller and Arizona. Is this the year they can finally get over the hump and make it to the Final Four? Wichita State looks really good. I mean really good. Final Four good. And they are in a new conference, the American Athletic Conference (AAC). Have fun with them the rest of you AAC teams. Have fun with them. Speaking of new teams in new conferences, IUPUI jumped ship from the Summit League and is now in the Horizon League. Any other changes? Maybe Coastal Carolina in the Sun Belt? It's not like we have seen in previous years. There were plenty of coaching changes too including Archie Miller leaving Dayton for Indiana. That is probably the most notable one. Michigan State looks like they are going to be a good team, but watch out for Minnesota in the Big Ten. Can Kansas win the Big Twelve for a record fourteenth straight year? Not even the great UCLA teams led by John Wooden did that. I think they will. These are just a few of the great storylines and things that should get you excited that college basketball is back. That plus some nice upcoming tournaments like the PK 80 and Maui Invitational. It's going to make for what hopefully is a great year. Oh by the way, I haven't even mentioned that North Carolina is your defending national champion. They are flying under the radar this year a little bit. Let's get to the conferences and see who I think will be dancing and making it to the NCAA Tournament when the Madness that is March begins and who will be cutting down the nets in San Antonio for the Final Four.
American Athletic Conference (AAC)
The AAC has not been given a ton of respect I feel like as that conference just outside of the power five. It's better than a mid-major, but not good enough to hang with the big boys. That changes this season with the addition of Wichita State. Not only is Wichita State a big brand name (maybe I'm overselling it a little), but they are just as good as about any team in the country. Landry Shamet is the best player on the team, but guys like Markis McDuffie and Conner Frankamp will do their part. This is a team to fear and is a dark horse to make it to San Antonio in the Final Four. Cincinnati is another sneaky team loaded with talent. They were good last year. They will be just as good this year. I am curious to see what SMU can do this year again. What about UConn and Memphis? They seem almost like an afterthought. UCF is certainly going to make things interesting as well.
Teams in: 4 (Wichita State, Cincinnati, SMU, UCF)
Atlantic 10 (A 10)
I was on Rhode Island last year. I'm on them again this year. They won't be quite as good as last year, but they still have E.C. Matthews and a solid supporting cast around him. Apparently St. Bonaventure is going to be good with two high scoring threats. I've been hearing this since the summer so I'm on board. Can never count out my VCU Rams either. Maybe St. Joseph's does something. Maybe George Mason. Maybe Richmond. Overall, it just won't cut it this year.
Teams in: 3 (Rhode Island, St. Bonaventure, VCU)
ACC
Okay, here we come now to the big boys. Apart from Boston College, Clemson, North Carolina State and Pittsburgh, I think an argument can be made that the other eleven teams in this conference can make it in. No disrespect intended for those four teams, but I just don't seem them stacking up well against the rest of this conference. Louisville of course will have a more difficult road dealing with the allegations, but they are still plenty talented. Miami (FL) should be good again this year. Notre Dame may be the second best team in the conference led by Bonzie Colson. I expect Virginia to have a semi-down year this year. Who knows what to expect from Syracuse. Can Danny Manning lead Wake Forest back into the NCAA Tournament? What about Josh Pastner at Georgia Tech? I think Buzz Williams continues to work his magic at Virginia Tech. Florida State lost some size, but they will still be good. UNC won the NCAA Championship last year, but I already told you that. Duke is the best team in the conference with Ted Cruz lookalike Grayson Allen and Marvin Bagley III. As many as ten or eleven teams could make it. I don't know if it will be quite that many, but it will be a lot.
Teams in: 9 (Duke, Notre Dame, Miami (FL), UNC, Louisville, Virginia Tech, Syracuse, Florida State)
Big 12
Kansas has won the Big 12 regular season for thirteen straight years. One more year and that's a record. There is no other reason really that we need to discuss the Big 12. I think now that Brad Underwood left OK State, I don't think they will be making it in. I could be proven wrong though. I have in the past. Plenty of times. West Virginia with Bob Huggins and his style of play is a team to be reckoned with. Baylor should be good. I like Texas to make it back with that behemoth of a man Mo Bamba. And Jamie Dixon almost had TCU in the tournament last year. I think he gets it done this year.
Teams in: 5 (Kansas, West Virginia, Texas, TCU, Baylor)
Big East
The Big East is a pretty good brand of basketball. It's not your daddy's Big East. It's not even the Big East you grew up watching in college (Kemba Walker six overtimes anyone?), but this is a very strong conference. How can you not like Butler? They just win consistently, year in, year out. I don't necessarily think they are the favorites in the league though. Seton Hall has arguably their most talented team led by Angel Delgado. I really like Seton Hall this year, but I may like Xavier more. Never discount what Xavier can do. They consistently win in the NCAA Tournament and Trevon Bluiett is a star. At the end of the day, Villanova led by Jalen Brunson is going to win the league in the regular season and maybe the Big East Tournament, but they will disappoint in March. Marquette had a couple of good players last year, but they aren't making it back. I think Creighton will be decent too. Patrick Ewing is back at Georgetown, but they are still a year away I think. Sorry Providence, I think you'll have a semi-down year and miss the tournament, but be back in it next year.
Teams in: 5 (Butler, Creighton, Seton Hall, Villanova, Xavier)
Big Ten
The Big Ten was a little down last year. I think it is going to be better this year. Michigan State is the crème de la crème in this conference. I love that Bridges came back for a sophomore year. They have veterans to go with the young, skilled superstars. But they better watch out for Minnesota. Minnesota returns all of their starters if memory serves me correct from last year's team. Last year's team was no fluke. Can Northwestern make it back for a second consecutive year? Yes! Journalists all over the country rejoice! Wisconsin will be good. Purdue will be good. I'm a little skeptical about Iowa making the NCAA Tournament, but I think they should make it. Ohio State won't make it back to the NCAA Tournament again this year, but I'm feeling good about their chances next year. The team that really intrigues me is Illinois. When Steve Underwood left Stephen F. Austin for Oklahoma State, I thought it would be a year before he could get the Cowboys to the NCAA Tournament. He did it in year one. I will not doubt him this year though now certainly they will fail. I think it will be another year of growing pains for Indiana. They'll miss out again. And Michigan? Not getting in this year either.
Teams In: 8 (Michigan State, Minnesota, Northwestern, Maryland, Purdue, Wisconsin, Illinois, Iowa)
Pac-12
Is this the year that Sean Miller finally breaks through and can lead Arizona to the Final Four? It seems like that question has been asked many times since Miller came to Arizona. Who could blame you for not buying into the hype? This year, I am, for whatever reason. Allonzo Trier is a very good player. They have a lot of good young freshman too. For some reason I just think that this is their year to make it to the Final Four. USC brings back their starters. They were fun to watch in the tournament last year. They will be the better of the L.A. teams this year and it isn't just because of the whole China shoplifting scandal involving LiAngelo Ball and two other freshman. I just don't like UCLA as much this year. Oregon would be my pick to win the conference and make it back to the Final Four if Dillon Brooks and company would have come back, but they still at least have Payton Pritchard. This is a very young team. Do not be surprised if they fail to make the NCAA Tournament. Oregon State will be better, because they can't be any worse. Washington, despite losing Michael Porter Jr. has some talented pieces. They will be just be missing out. So too will Stanford, Colorado and Utah. Besides the "Curtain of Distraction", Arizona State won't be in either.
Teams In: 4 (Arizona, Oregon, UCLA, USC)
SEC
Kentucky continually restocks and reloads on talented freshman. Kevin Knox is tremendous. Hamidou Diallo doesn't seem bad. They've got plenty of other good guys too, but something seems different this year than in previous years. They just don't seem like they are nearly as good this year as they have been in previous years. Florida may indeed be the team to beat this year. After their Elite Eight run, Egor Koulechov is good and KeVaughn Allen played well in the tournament last year. I think Florida can go deep. South Carolina is going to reload after last year's stunning Final Four run. Auburn has plenty of issues with head coach Bruce Pearl. A lot of people like Texas A&M this year. Sure, I'll get on the bandwagon too. I really like Missouri though with Michael Porter Jr. and the other talent they have brought in. Not saying they are Final Four bound or anything, but they certainly have what it takes to make the NCAA Tournament. Tennessee and Vanderbilt are very intriguing to me. I think either and or both of them can make the tournament. Don't know if both will however I will take Alabama with Avery Johnson who was close to making the tournament last year. Good talent. They will make it back. Mississippi State and Ole Miss will be close as well, but no cigar.
Teams In: 6 (Alabama, Florida, Kentucky, Arkansas, Texas A&M, Missouri)
The other conferences (picks sure to go wrong)
American East: Vermont (This team is loaded and back for another run after last year. They are even more dangerous this year).
Atlantic Sun: Florida Gulf Coast (Why not pick Dunk City to win it again this year? Watch out for FGCU!)
Big Sky: Weber State (Idaho and North Dakota will be right up there, but I'll take Weber State to win)
Big South: UNC-Asheville (I believe Campbell has one of the highest scorers in the country that came back from last year. They will be right up there with UNC-Asheville)
Big West: Long Beach State (UC Irvine will be right in the mix as well and has been tabbed as the favorite. They have some size on this team that will make life difficult for opponents including LBSU. Why am I taking them again?)
CAA: College of Charleston (Or just Charleston works. I really like Elon though to make a run. I may end up switching this pick)
Conference USA: Middle Tennessee State (They are a damn good mid-major. Nobody is going to take this team down)
Horizon: Oakland (I think Northern Kentucky and Milwaukee will make it interesting, but Oakland and Greg Kampe will get the job done)
Ivy League: Yale (Harvard has been tabbed the favorite, but I've got my eye on Princeton and Penn as well. If Harvard wins, it would not shock me at all)
MAAC: Iona (This team scores a lot of points. They'll score plenty this year)
MAC: Buffalo (Complete stab in the dark. This team will have plenty of decent teams that can come out and put on their dancing shoes)
MEAC: North Carolina Central (They made it last year if I recall. They'll be back again this year)
MVC: Illinois State (Missouri State is right up there. Valparaiso, welcome to the conference. As always, watch out for UNI)
Mountain West: Nevada (Just one team out of the MWC, but this Nevada team is good. I mean really good. Get on the bandwagon now. This is a potential Cinderella. They have tremendous skill and size)
NEC: Fairleigh Dickinson (Wagner may have something to say about that)
OVC: Belmont (Jacksonville State and maybe Tennessee State will have something to say about that)
Patriot League: Bucknell (The Bison find a way to do it again)
Southern: East Tennessee State (Others peg Furman and Mercer as the teams to beat)
Southland: Stephen F. Austin (After New Orleans won it last year (and I think they will certainly be in the mix again this year, the Lumberjacks get back to the Big Dance)
SWAC: Texas Southern (Mike Davis' squad is normally pretty good)
Summit League: South Dakota (I love Mike Daum and the Jackrabbits and hope they win, but think that USD's veteran leadership will come through. Please prove me wrong Jackrabbits)
Sun Belt: UT-Arlington (I'll try them again this year)
WAC: Grand Canyon (first year of eligibility…I like GCU)
WCC: Gonzaga and St. Mary's (2 teams from the WCC…like it normally is)
Final Four teams
Duke
Michigan State
Arizona
Florida
Player of the year: Marvin Bagley III (Duke)
National champion: Michigan State
Sorry head coach Tom Izzo, my friend Chad Johnson (no not the former Ocho Cinco) and the rest of Sparty Nation, The Stack has put the proverbial curse and jinx on you this year. I'm hoping it's going to be a great season. Enjoy the great basketball everyone. March Madness will be here before we know it.
Coming up Friday: NFL week 11 preview and picks
---