"The Stack" 11-20-18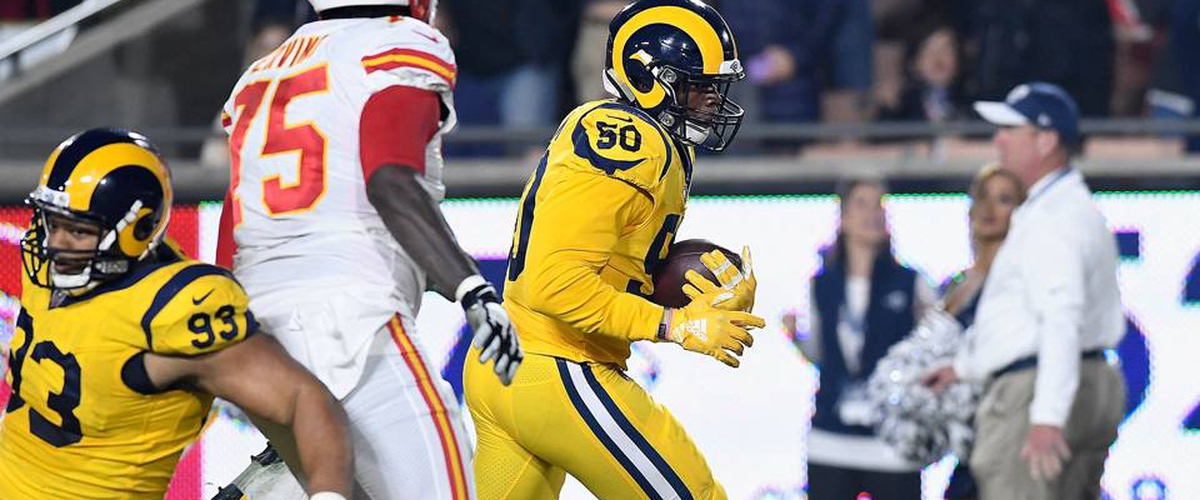 In a game where both quarterbacks played incredibly well and had almost 900 combined passing yards, it was a couple of defensive touchdowns by Samson Ebukam who had two touchdowns to help the Rams get by the Chiefs in the highest scoring Monday Night Football game in history, 54-51.
The Stack is back on this Tuesday and oh my goodness! What a game we saw last night on ESPN's MNF between the Kansas City Chiefs and Los Angeles Rams. We can't do a full deep-dive on this game but we'll go over as much as we can so let's get right to "the stack" for today, Tuesday, November 20th:
Rams outscore Chiefs in thrilling MNF contest
Chiefs-Rams had been billed up as the game of the year in the NFL. It not only met that expectation, but exceeded it. In the highest scoring Monday Night Football game in history and the first game in which both teams scored at least 50 points, the Los Angeles Rams outlasted the Kansas City Chiefs 54-51. The fourth quarter alone saw three lead changes.
Now you would think with 105 points that there was absolutely zero defense, but you would be wrong. There were three defensive touchdowns, two by Samson Ebukam of the Rams. And what if I told you that Rams running back Todd Gurley didn't have a touchdown in this game? He had scored a touchdown in thirteen straight games. That's right, he didn't find the endzone once. This was all about quarterback Jared Goff, going toe-to-toe with Patrick Mahomes. Goff threw for 413 yards and four touchdowns. More importantly he had zero interceptions and only one fumble. Mahomes meanwhile went for 478 yards and six touchdowns (a MNF record), but he had three interceptions, two of them coming late. Couple that with his two fumbles and the five turnovers doomed the Chiefs. The Rams scored 21 points off of those turnovers. It was all about the aerial assault in this game and Goff and the Rams were able to come away victorious. What a game. What a game. Oh yeah, Chiefs wide receiver Tyreek Hill had 210 receiving yards and two touchdowns. I'm all over the place with this game and I could continue long into the night. I won't and it in some regards is like this game. It was all over the place and chaotic to say the least. What a game. What a game! Can we please see this game again? As in the Super Bowl?
College football weekend reaction
So, in off the field news Kansas has a new head football coach. It's former LSU head coach Les Miles. Will he fit in in the Big 12 where defense is non-existent and points galore are scored with quarterbacks airing it out left and right? Miles likes to run the ball and play defense. He will need to change his style slightly. He won't need to worry about stopping West Virginia quarterback Will Grier. Unfortunately for those of us that wanted to see West Virginia in the College Football Playoff, that won't happen. West Virginia blew a fourth quarter lead and lost 45-41 to Oklahoma State. The Mountaineers had a chance to win at the end, but failed to convert. That sucks. I was really pulling for them. #15 Texas for what it's worth beat #16 Iowa State 24-10.
There were a number of close calls. #10 Ohio State found themselves trailing pretty much the entire game against Maryland and won 52-51 after Maryland went for two in overtime that would have won them the game. Heartbreaking loss for them. #4 Michigan struggled to beat Indiana 31-20. Florida State scored late and upset #20 Boston College 22-21. #1 Alabama struggled for a half with The Citadel. It was 10-10 at half. That's the number one team in the country tied with an FCS team. Not good. Bama would end up winning 50-17. And Oregon held on to beat Arizona State 31-29.
How bad has it gotten for historic college football programs like USC and Virginia Tech? USC lost to UCLA of all teams 34-27 while Virginia Tech was embarrassed at home by Miami (FL) 38-14. Both of these teams very may well not be playing in a bowl game this season though if Virginia Tech beats Virginia this week they will play Marshall next week for a chance to be bowl bound.
Several teams though were very impressive. #3 Notre Dame nearly pitched a shutout against #12 Syracuse, squeezing the life out of the Orange and beating them 36-3. That will shut Stephen A. Smith up for a moment. #8 Washington State laid an epic beatdown on Arizona pummeling them 68-29. Come on, Mike Leach! Lead your squad to the playoffs. Looking forward this week to all of the rivalry games.
Coming up Wednesday: College football weekend forecast plus other top headlines in sports
---