"The Stack" 11-21-18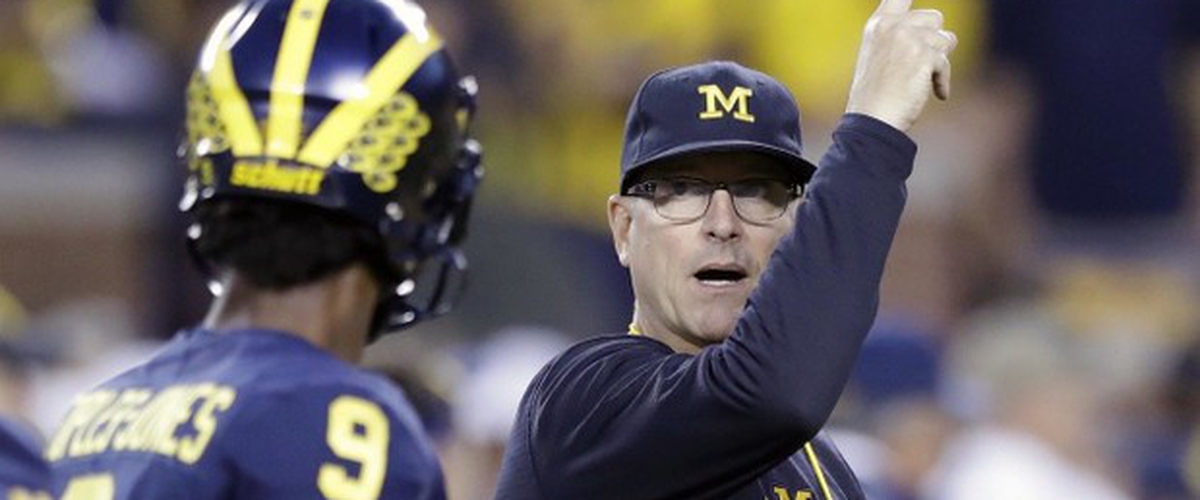 Can Jim Harbaugh lead #4 Michigan to a win at #10 Ohio State and secure their spot in the Big Ten Championship game? Harbaugh has not done well against Ohio State in year's past. He needs a big win this week.
The Stack is back on this Wednesday and while we normally don't post on Wednesdays, but with Thanksgiving on Thursday and a trio of NFL games Thursday night, we're going to have two shorter posts today and tomorrow. A reminder that the Tiger Woods – Phil Mickelson pay-per-view event is Friday. "The Match", as they are calling it is taking place at Shadow Creek near Las Vegas beginning at 3 PM ET. Should be fun to watch. Let's get to your college weekend forecast in "the stack" for today, Wednesday, November 21st:
College football weekend forecast
It is the final week of the college football regular season and that means for many teams they are playing their rivals this week. It all starts Thursday night with the Egg Bowl between #18 Mississippi State and Ole Miss. Ole Miss isn't going to a bowl game this year, but they would love nothing more than to beat their in-state rivals.
That's the great thing about this week is that you can throw out the records in most case scenarios because each team is going to play even harder than they have for other games. The focus is there. Here's a look at some of the rivalry games this week:
Friday
· 4-7 Nebraska @ 7-4 Iowa Noon ET FOX (Heroes Trophy)
· 7-4 Virginia @ 4-6 Virginia Tech 3:30 PM ET ABC (Commonwealth Cup)
· 7-4 Oregon @ 2-9 Oregon State 4 PM ET FS1 (Civil War)
· #9 10-0 UCF @ 7-4 South Florida 4:15 PM ET ESPN (War on I-4)
· #16 8-3 Washington @ #8 10-1 Washington State 8:30 PM ET FOX (Apple Cup)
Saturday
· #4 10-1 Michigan @ #10 10-1 Ohio State Noon ET FOX (The Game)
· 7-4 Georgia Tech @ #5 10-1 Georgia Noon ET SEC Network (Clean, Old-Fashioned Hate)
· #11 8-3 Florida @ 5-6 Florida State Noon ET ABC (Sunshine Showdown)
· 5-6 Purdue @ 5-6 Indiana Noon ET ESPN2 (Old Oaken Bucket)
· 8-3 Georgia Southern @ 2-9 Georgia State 2 PM ET
· 6-5 Louisiana @ 6-5 UL-Monroe 3 PM ET (Battle on the Bayou) (Wooden Boot)
· 7-4 Auburn @ #1 11-0 Alabama 3:30 PM ET CBS (Iron Bowl)
· 4-7 Illinois @ #19 7-4 Northwestern 3:30 PM ET BTN (Land of Lincoln Trophy)
· 6-5 Arizona State @ 5-6 Arizona 3:30 PM ET FS1 (Territorial Cup)
· 5-6 Minnesota @ 7-4 Wisconsin 3:30 PM ET ESPN2 (Paul Bunyan's Axe)
· 5-6 Tennessee @ 5-6 Vanderbilt 4 PM ET SEC Network
· 6-4 South Carolina @ #2 11-0 Clemson 7 PM ET ESPN (Palmetto Bowl)
· #15 8-3 Kentucky @ 2-9 Louisville 7 PM ET ESPN2 (Governor's Cup)
· #3 11-0 Notre Dame @ 5-6 USC 8 PM ET ABC (Jeweled Shillelagh)
· 7-4 Nevada @ 3-8 UNLV 9:30 PM ET CBSSN
· 6-5 BYU @ #17 8-3 Utah 10 PM ET FS1 (Holy War)
There are of course others, but these are some of the bigger ones and how do you not love some of these in-state rivalry games? Now in terms of great games, there are only a few games pitting ranked teams against one another. Friday night, #6 Oklahoma is at #13 West Virginia (8 PM ET ESPN) though that game has lost some luster with West Virginia losing last week at Oklahoma State. If Oklahoma wins, they stay alive for a spot in the College Football Playoff. #16 Washington was my preseason pick to make it to the College Football Playoff from the Pac-12. If things fall into place it will be #8 Washington State instead. They have been great and we want to see Mike Leach in the playoff. They host Washington at 8:30 PM ET on FOX. On Saturday, #4 Michigan is at the Horseshoe to take on #10 Ohio State (Noon ET FOX) and Ohio State is an underdog! They haven't looked great at times this season, but to be a home underdog, you better believe they will play that as a disrespect card. This game has the biggest playoff impact of the weekend. #7 LSU is at #22 Texas A&M (7:30 PM ET SEC Network) and #21 Utah State is at #23 Boise State (10:15 PM ET ESPN). Should be another great week of college football.
With the playoff rankings being unveiled last night, it should be noted that the top eight did not change, but UCF jumped into the top ten at number nine. If Notre Dame beats USC, they are in. Clemson should win. Alabama should win. Michigan, that's the big question. If they lose it opens the door for teams like Georgia, Oklahoma and Washington State to get in. It is going to be a very interesting week in college football.
Coming up Thursday: Previews and predictions for the trio of Thanksgiving Day NFL games
---