"The Stack" 11-6-17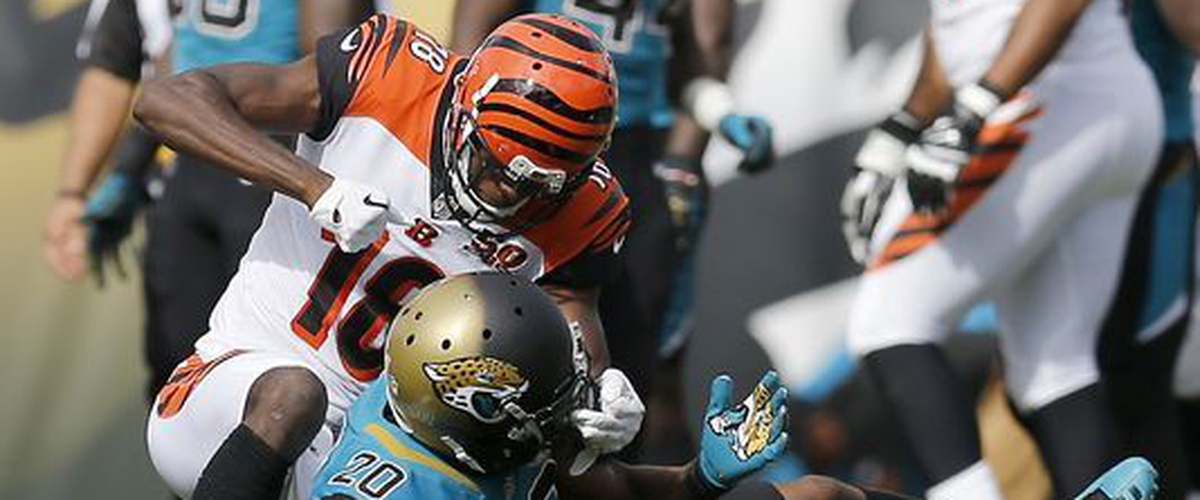 Cincinnati Bengals wide receiver A.J. Green went off on Jacksonville Jaguars safety Jalen Ramsey after Ramsey instigated an altercation near the end of the first half. Green threw multiple punches which will likely land him a suspension.
The Stack is back on this Monday and it certainly seemed like Daylight Savings Time affected the NFL. Or maybe I am just being facetious. Either way, there were plenty of fights and some teams who chose not to show up for their games yesterday. Let's get to some reaction in "the stack" for today, Monday, November 6th:
Panthers 20 Falcons 17
The Falcons got off to a nice start, but then the Panthers got going. They scored twenty straight points and that would be enough as the Falcons scored and then got the ball back, but couldn't finish the deal. They may have not needed that final drive if Julio Jones wouldn't have dropped the wide open touchdown in the endzone earlier in the second half. You don't see him do that very often if ever. That is a drop that will haunt him the rest of the season.
Colts 20 Texans 14
Less anyone forgets why the Texans pulled Tom Savage for Deshaun Watson after the first half of the first gave of the season, Savage showed once again why he shouldn't be the Texans starter in this one. Yet somehow he had the Texans just yards away from the potential game-winning touchdown, but fumbled it and the Colts would prevail. Colin Kaepernick anyone? The Colts won this game in large part to T.Y. Hilton who had five catches for 175 yards and two touchdowns. This dude is a pretty good wide receiver when someone can get him the ball.
Jaguars 23 Bengals 7
First, Jaguars rookie running back Leonard Fournette is made inactive for a team related reason. Then at the end of the first half Jaguars safety Jalen Ramsey and Bengals wide receiver A.J. Green got into it at the end of a play and both got ejected. I'm guessing Green will get suspended because he threw some punches even though Ramsey started it. Without Green, the Bengals offense was a rudderless ship and they lost.
Saints 30 Buccaneers 10
When Jameis Winston had to leave the game because of a shoulder injury (most likely re-injuring his shoulder) you knew the Bucs were in trouble, but then he helped start a fight by shoving Saints rookie cornerback Marshon Lattimore and when Lattimore went at it with the Bucs sideline, Bucs wide receiver Mike Evans came up from behind and drilled him. Somehow, some way, he was not ejected. All of this overshadows the fact that Drew Brees and Alvin Kamara had big days and the Saints have now won six in a row.
Rams 51 Giants 17
Someone should have told the Giants that their bye week was last week and that they had a game at 1 PM ET on Sunday. It sure didn't look like the Giants showed up, particularly on a 3rd and 33 for the Rams that they converted and scored a touchdown on. Jared Goff was outstanding and the high power Rams offense torched the Giants defense. It was not a good game for the Giants any way you want to slice it. And they sure got sliced.
Eagles 51 Broncos 23
Speaking of teams not showing up, throw the Broncos into that mix. Brock Osweiler sure didn't instill a lot of confidence in the team that he could get the offense moving, but at least he is only responsible for the offense. The defense was atrocious giving up 51 points including four touchdown passes to Carson Wentz. The Eagles absolutely torched the Broncos defense all night long. They have now won seven straight and are 8-1 overall. They are flying high in Philly.
Titans 23 Ravens 20
Fairly close game throughout. The Ravens had a chance after they scored a late touchdown, but they couldn't get the job done. This is a .500 team at best this year. The Titans don't play the prettiest football, but they do enough to get the job done and at 5-3, they are tied for first in the AFC South with the Jaguars.
Cardinals 20 49ers 10
Sure Drew Stanton played decent against a bad 49ers team, but the story in this one was the fight at the end of the game involving 49ers running back Carlos Hyde and a couple of Cardinals defenders. Hopefully Hyde won't be suspended. Playing on the winless 49ers is punishment enough. The Cardinals won't win many more games this year, but it's always nice to get a W even if it is in front of almost an empty stadium against a winless team. When is Jimmy Garoppolo playing?
Washington 17 Seahawks 14
Stunning win for Washington. Their defense played absolutely phenomenal yet Russell Wilson and his fourth quarter magic brought the Seahawks back with a 14-10 lead. That would seem to be pretty safe, but Kirk Cousins delivered on a couple of magnificent passes including one along the sideline to Josh Docston that helped set up the go-ahead touchdown by Rob Kelly. Huge, season saving win for Washington. A puzzling loss at best for the Seahawks.
Cowboys 28 Chiefs 17
Look out NFL…Dak Prescott is coming into his own. He'll need to once Ezekiel Elliott's suspension stays, but at least for now he gets to enjoy Elliott who ran for just under 100 yards and a touchdown. The Chiefs offense was not great in this one nor was their defense. They are coming back down to earth.
Raiders 27 Dolphins 24
The Raiders still have not intercepted a pass yet this year. The Dolphins still have not rushed for a touchdown this year. I bet they wish they had Marshawn Lynch. Lynch came back from his suspension and ran for two touchdowns to help lead the Raiders to the victory. They head into their bye week and still have a shot at the AFC West division title, but it is going to take a lot of work. Their defense must improve.
Detroit Lions @ Green Bay Packers 8:30 PM ET ESPN MNF
Remember what Packers quarterback Brett Hundley looked like a couple of weeks ago? He wasn't very good. He's had two more weeks to prepare. The Lions need to figure out how to score touchdowns. I think Matthew Stafford and company get the deal done against the Packers. Should the Packers lose it is very possible their season is essentially over.
Prediction: Lions 23 Packers 17
Coming up Tuesday: MNF reaction, college football thoughts and more
---