"The Stack" 11-7-17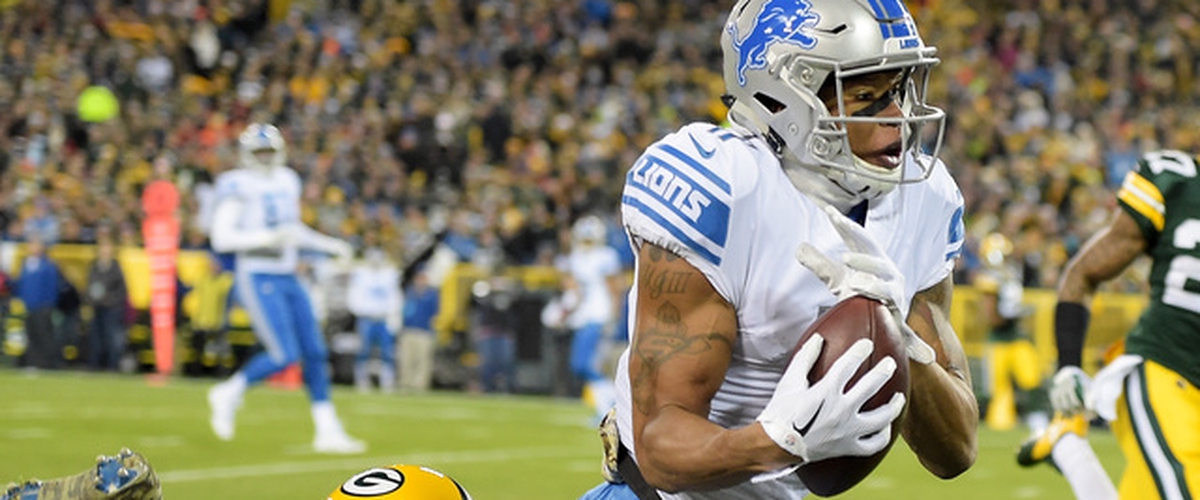 Detroit Lions wide receiver Marvin Jones Jr. had two touchdown catches as the Lions upended the Green Bay Packers 30-17 at Lambeau Field on MNF.
We don't have much in "the stack" for today. The Stack is working on the college basketball season preview blog. That will come out later this week or early next week. College basketball season tips off on Friday. Can't wait! Now though, let's get right to it and see what's in "the stack" for today, Tuesday, November 7th:
Lions hunt down Hundley, take down Packers
The Detroit Lions were favored headed into Monday night's road affair at Green Bay and rightfully so. The Packers after all were starting Brett Hundley at quarterback, but some thought that maybe with a couple of weeks to prepare that the Packers offense would look good. Their first drive started off well, but Mason Crosby's field goal attempt was blocked. After that it was all downhill. Hundley kept throwing short passes and the Packers offense stalled. Matthew Stafford meanwhile kept finding Golden Tate and Marvin Jones Jr. Jones Jr. would have two touchdowns on the night and 94 yards through the air and the Lions defense more than their fair share in the Lions 30-17 victory over the Packers. The Lions next three games are home against Cleveland, at Chicago and home against Minnesota on Thanksgiving. That's a pretty favorable schedule and by sitting only two games back of Minnesota, it definitely puts pressure on the Vikings who have four of their next five games on the road. The Packers are all but done unless Hundley flips a switch and plays lights out. I do not see that happening.
College football weekend reaction
Saturday was a very disappointing day for several college football teams. Heck, let's even throw conferences in on the mix. The Big Ten has to be scratching their heads wondering what the heck happened after #6 Ohio State inexplicably got blown out by Iowa in Iowa 55-24. #7 Penn State meanwhile had to endure a nearly three-and-a-half hour weather delay with #24 Michigan State. Michigan State likes the bad weather. They beat Michigan earlier this season in a monsoon-like storm. They beat Penn State too, taking the Nittany Lions down with a last-second field goal for a 27-24 victory. That means that both Ohio State and Penn State each have two losses. While Michigan State may still have a shot, it appears that the only realistic chance the Big Ten has of getting to the College Football Playoff is if Wisconsin stays undefeated and wins the Big Ten Championship. However that certainly depends on how Wisconsin plays down the stretch.
There was plenty of other good action on Saturday however. How about the Battle of Bedlam down in Stillwater, Oklahoma, where Oklahoma quarterback Baker Mayfield threw for 598 yards and overcame a couple of interceptions to help the Sooners take down Oklahoma State 62-52. He is your Heisman Trophy leader in the clubhouse right now. These teams beat the over/under by the end of the first half. An insane number of yards and touchdowns. Did either team want to play defense? That sure would have been nice.
#4 Clemson survived arguably their last test until the ACC Championship game after going on the road and beating #20 NC State in Raleigh 38-31. NC State had the lead for much of the first half, but Clemson turned things on in the second half. They will likely be taking on Miami (FL) in that championship game. The Hurricanes had by far their most complete game of the year with a 28-10 win over #13 Virginia Tech. The Hurricanes defense made life miserable for Josh Jackson and the Hokies offense.
It says something when LSU-Alabama is essentially an afterthought, but that's what it was. #2 Alabama took down #19 LSU 24-10. And how can we not mention that South Dakota State played incredibly well against North Dakota State on the FCS level, beating the Bison 33-21 to keep the Dakota Marker in Brookings. The Jackrabbits offense made the Bison defense look weak. That won't happen if these two teams play again in the playoffs, but this was by far the most impressive South Dakota State has looked all year long. It was quite the game. We'll see what happens this week and we'll have our weekend forecast on Thursday.
Mike Evans gets suspended, A.J. Green avoids one
Amazingly with all of the fights on Sunday only one player is getting suspended. No it's not Cincinnati Bengals wide receiver A.J. Green who threw multiple punches against Jacksonville Jaguars safety Jalen Ramsey. Instead it is Tampa Bay Buccaneers wide receiver Mike Evans whose violent shove on New Orleans Saints cornerback Marshon Lattimore helped start a huge brawl. His quarterback Jameis Winston was the real instigator pushing Lattimore, but Evans had no right to do what he did. Still, this could have all been avoided if Winston was just a little more mature. Green has no history of doing the thing he did on Sunday. Evans has lost his cool before. He'll now be sitting a game as a result of it.
Coming up Thursday: TNF preview, college football weekend forecast and more
---