"The Stack" 11-24-18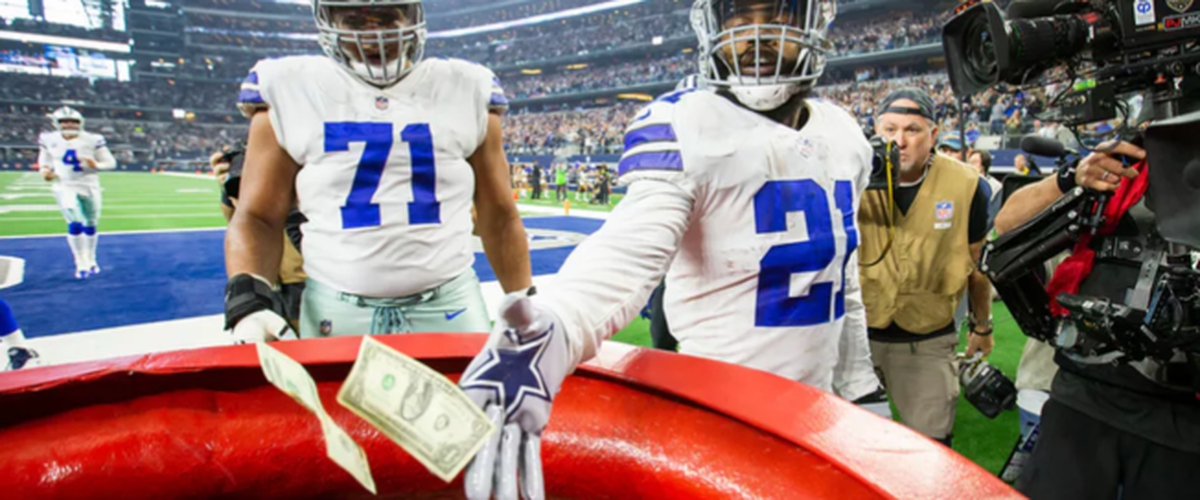 Ezekiel Elliott donated a big game to the Dallas Cowboys (over 100 yards rushing and a touchdown) and also threw in some money for the Salvation Army Red Kittle kickoff too as the Cowboys took over first place in the NFC East with a 31-23 win over Washington on Thanksgiving.
The Stack is back late on this Black Friday (okay it is early Saturday) and hopefully everyone had a very good Thanksgiving. The football was pretty good. The Chicago Bears won despite Chase Daniels starting. Actually, Daniels did pretty well in the 23-16 win over the Detroit Lions. The game was tied 16-16 before Matthew Stafford threw a pick-six. The Bears defense is really good in case you haven't figured that out yet….There is a new leader in the NFC East. That would be the Dallas Cowboys who got strong games from quarterback Dak Prescott and Ezekiel Elliott and they beat Washington 31-23….In the nightcap, the Atlanta Falcons had plenty of chances against the New Orleans Saints, but fumbles by Matt Ryan and Calvin Ridley did them in. Too many turnovers. Can't happen against the Saints. Drew Brees threw four touchdowns and the Saints extended their win streak to ten games as they beat the Falcons 31-17. We went 2-1 in the picks on Thursday. How will we do the rest of the week? Let's find out with some previews and predictions for Sunday's week 12 NFL games in "the stack" for today, Friday, November 23rd:
2-8 Oakland Raiders @ 5-5 Baltimore Ravens 1 PM ET CBS
Lamar Jackson is getting the start at quarterback for the Ravens. Does that mean we'll see more Gus Edwards at running back too? I hope so anyway since I picked him up on one of my fantasy teams. The Ravens running game will be strong and despite the Raiders winning last week, I don't see them being very competitive this week.
Prediction: Ravens 30 Raiders 13
3-7 Jacksonville Jaguars @ 3-7 Buffalo Bills 1 PM ET CBS
How can you have any faith in either of these teams? Who knows where the Jaguars are at
mentally after that tough loss to the Pittsburgh Steelers last week and the Bills are starting Josh Allen at quarterback. I went against my better judgement Thursday when I took the Lions over the Bears. I'll do it again by picking Leonard Fournette and the Jaguars.
Prediction: Jaguars 23 Bills 16
5-5 Seattle Seahawks @ 6-4 Carolina Panthers 1 PM ET FOX
Both of these teams are going in opposite directions. The Seahawks had a big win last week against Green Bay while Panthers are reeling having lost two games in a row. Seahawks wide receiver Doug Baldwin doesn't sound like he is playing in this one and that is a fairly significant loss to the Seahawks offense. They still have Russell Wilson though. However, against Cam Newton in Charlotte, I'll go with the home team.
Prediction: Panthers 27 Seahawks 24
3-6-1 Cleveland Browns @ 5-5 Cincinnati Bengals 1 PM ET CBS
Hue Jackson's former team gets a crack at his new team. How much of a motivational factor is it that for the Browns? Not as much as the fact that they have a 25 game road losing streak. If Bengals wide receiver A.J. Green does not play, I like the Browns' chances. If the he does play, it is going to be much more difficult for the Browns. At bare minimum they'll cover. Against my better judgement, I'll go with the home team.
Prediction: Bengals 30 Browns 27
7-3 New England Patriots @ 3-7 New York Jets 1 PM ET CBS
Both teams had a bye last week. It would take the Jets at least a month to be able to figure out a way to beat Tom Brady, Bill Belichick and the Patriots coming off of a bye. And Sam Darnold isn't playing. Not a chance the Jets win. Not a chance.
Prediction: Patriots 37 Jets 17
3-7 New York Giants @ 4-6 Philadelphia Eagles 1 PM ET FOX
Hey Eagles, I would be more than happy to suit up and play in the secondary for you this week. You have four guys out correct? I mean I probably won't be able to cover Odell Beckham Jr., but can anyone on your team either? Probably not. The Giants are on a win streak and the Eagles season is getting derailed. Yet I still see Eagles putting up a fight and coming out on top with a win. I'm not sounding all that smart with my reasoning am I?
Prediction: Eagles 27 Giants 24
2-8 San Francisco 49ers @ 3-7 Tampa Bay Buccaneers 1 PM ET FOX
Well it's back to Jameis Winston at quarterback for the Bucs so expect a couple of turnovers at least, but the 49ers aren't all that great offensively so the Bucs should still be able to come out on top with a win.
Prediction: Bucs 24 49ers 13
2-8 Arizona Cardinals @ 7-3 Los Angeles Chargers 4:05 PM ET FOX
After last week's debacle against the Denver Broncos, I expect the Chargers to be sharp in this one. The problem though is that Melvin Gordon may not play due to a hamstring. Didn't know about that until Friday. Having said all of that, they should still beat a Cardinals team that couldn't even beat the Raiders at home last week.
Prediction: Chargers 30 Cardinals 10
5-5 Miami Dolphins @ 5-5 Indianapolis Colts 4:25 PM ET CBS
Who can beat Andrew Luck and the Colts at this time? Right now, not too many teams. They have a few injuries to deal with (I think offensive lineman Ryan Kelly is out in this one), but they should be able to take care of business against the Dolphins although the Dolphins will be starting Ryan Tannehill by the sounds of it so we'll see how that goes.
Prediction: Colts 30 Dolphins 19
7-2-1 Pittsburgh Steelers @ 4-6 Denver Broncos 4:25 PM ET CBS
The Steelers got a scare last week against the Jacksonville Jaguars. They know they can't do that again and expect to win. With the Broncos coming off of a big win at the Chargers, they will be plenty inspired in this one and they can put up points if Case Keenum doesn't turn the ball over. The Steelers though are too explosive and their defense is starting to come around. I think they come through with the victory.
Prediction: Steelers 31 Broncos 23
4-5-1 Green Bay Packers @ 5-4-1 Minnesota Vikings 8:20 PM ET NBC
Must-win game football game for both teams. The Packers have not won a road game all season and the Vikings stink in primetime games. Or maybe it is just quarterback Kirk Cousins who is 4-12 in his 16 primetime games. The Vikings are the better team in this one though the Packers have the better quarterback. Head coach Mike Zimmer was very unhappy last week after his team's loss. He will have them ready and focused and ready to go.
Prediction: Vikings 27 Packers 23
Coming up Monday: Week 12 NFL Sunday reaction plus MNF preview and prediction