"The Stack" 10-22-18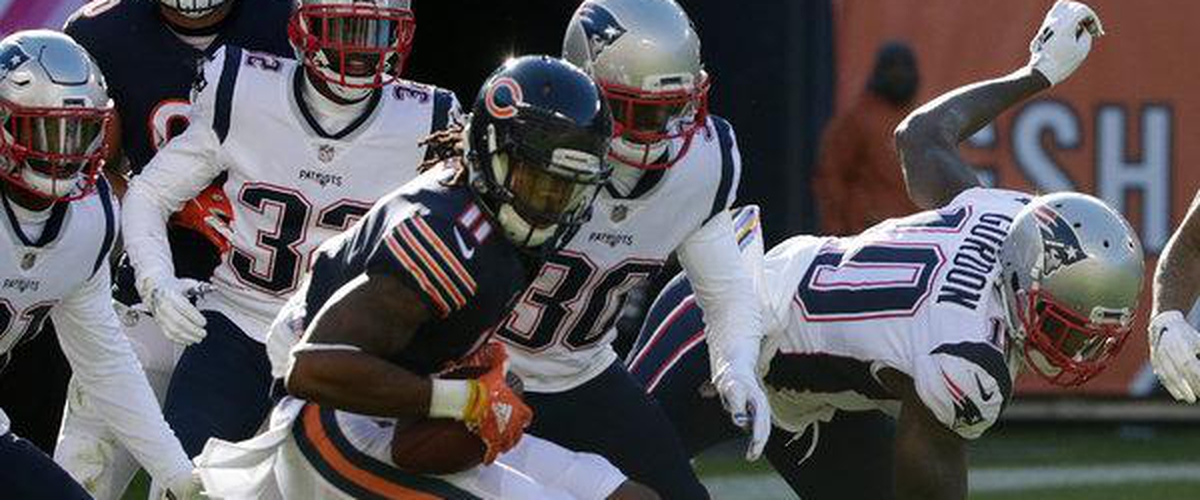 The Chicago Bears had a last chance Hail Mary that came up one yard short as the Patriots stopped Kevin White from getting in the endzone to secure New England's 38-31 victory.
The Stack is back on this Monday and another week, another number of surprising results and things that happened in the NFL. We've got reaction to it all plus a MNF preview so let's get right to "the stack" for today, Monday, October 22nd:
Titans 19 Chargers 20
The Tennessee Titans played so much better in this game than they did last week against Baltimore. They tried to play ball control and keep Philip Rivers and the Chargers offense on the sideline. It worked for the most part. The Titans scored a touchdown late and had a chance to tie the game, but head coach Mike Vrabel went for two and the win. They did not get it and have now lost three games in a row. The Chargers won despite not having running back Melvin Gordon who sat out due to a hamstring injury. That is something to keep an eye on.
Patriots 38 Chargers 31
What a game! First off, Trubisky, the Bears quarterback had an epic touchdown run that spanned over 70 yards running for eight real yards and a touchdown. It was unbelievable. The Patriots though had the last laugh scoring two special teams touchdowns, one on a kickoff by Cordarrelle Patterson and one on a blocked punt. The Bears still had a chance to tie the game at the end when Trubisky threw a Hail Mary that was caught, but Bears wide receiver Kevin White got stood up at the one yard line and the Patriots hung on to win. What a game!
Bills 5 Colts 37
Oh my goodness, how bad are the Bills. It doesn't matter if Derek Anderson is under center or Nathan Peterman or heck, even Jim Kelly. This team is absolutely terrible. LeSean McCoy left the game with an injury and despite a bad day by Colts kicker Adam Vinatieri (bad his standards) with a missed extra point and a couple of missed field goals (he says he has a groin injury), the Colts rolled. Andrew Luck had four touchdown passes.
Texans 20 Jaguars 7
The Jacksonville Jaguars are in complete freefall. Their offense is in complete shambles and Blake Bortles was benched after halftime for Cody Kessler. Though they did score a touchdown, it didn't matter. The Texans defense was great and Texans quarterback Deshaun Watson did not take many hits which was great considering he arrive in Jacksonville by bus instead of flying due to his chest injury. Make that four wins in a row for the Texans.
Lions 32 Dolphins 21
It appears the Lions have a stud at running back in Kerryon Johnson. He had 158 yards rushing, giving him two games with over 100 yards rushing this season. The Lions hadn't had that for a few years. With that weapon in the backfield, the pressure is off of Matthew Stafford for a bit and he played well on Sunday. Good win for the Lions.
Vikings 37 Jets 17
It was crazy windy in the swamps of Jersey with wind gusts over 40 MPH. That made throwing into the wind and kicking difficult, but the Vikings defense was up to the task against rookie Sam Darnold picking him off three times. Kirk Cousins wasn't great in this game for the Vikings, but when you can throw to the best wide receiver in the game, you don't have to be great all of the time. Adam Thielen had a tremendous touchdown catch on the first drive of the game and finished with over 100 yards receiving for the seventh consecutive game this season, tying an NFL record. Latavius Murray added two rushing touchdowns and the Vikings rolled and are now in first place in the NFC North.
Panthers 21 Eagles 17
The Eagles defense shut down the Panthers offense the first 49 minutes, but forgot that NFL games are 60 minutes. The Panthers scored three touchdowns in the final eleven minutes to take the lead and then sacked Carson Went and forced a fumble on fourth down with the Eagles in Panthers territory to complete the comeback win. Huge win for the Panthers being able to comeback after looking so bad for the first three plus quarters. The defending Super Bowl champions have more losses now at this point than they did all of last year.
Browns 23 Buccaneers 26
For the fourth time in seven games this season, the Browns played in overtime (the record is five). While the Browns are so close to having a winning record, they just aren't there yet. They seemed destined to tie the Bucs after Myles Garrett came up with a sack in overtime to force 3rd and 29. A pass to DeSean Jackson from Jameis Winston for fourteen yards set up Chandler Catanzaro for a 59-yard field goal. He had only missed a 40-yard field goal at the end of regulation. Catanzaro would make this field goal to give the Bucs the win denying Baker Mayfield what would have been a nice comeback victory. Poor Browns.
Saints 24 Ravens 23
New Orleans Saints quarterback Drew Brees threw his 500th career touchdown in this game, but it was a struggle for most of the game for the Saints offense. The fourth quarter saw them down by ten points, but came back thanks to Alvin Kamara running in for a touchdown and Brees finding Michael Thomas to give the Saints a lead. The Ravens came back to score a touchdown with under a minute to go in the game with the most automatic kicker in the NFL only needing an extra point to tie. Justin Tucker missed it. He was 222-for-222 on extra points prior to that kick. Unbelievable moment. That could end up costing the Ravens a playoff spot when this season is all said and done.
Cowboys 17 Washington 20
This was a pretty boring game overall until late in the fourth quarter. Dak Prescott got stripped and Washington recovered in the endzone for a touchdown. Dallas would battle back though and Prescott would run in to get within three. Their last drive though had no sense of urgency and their kicker who has been so clutch and automatic this year, Brett Maher, had his field goal hit off the upright after a snapping infraction. What an odd finish. The Cowboys offense just isn't the same on the road as they are at home.
Rams 39 49ers 10
Here's the deal…the Rams are really good and the 49ers aren't. That was evident in this game. The Rams defense dominated the 49ers, Aaron Donald in particular. What did he have, four sacks? He is the best. Todd Gurley may be the best running back in football. He had three total touchdowns as the Rams routed the 49ers to remain undefeated.
Bengals 10 Chiefs 45
What an absolute blowout. Kansas City Chiefs quarterback Pat Mahomes was spectacular and if it is possible, running back Kareem Hunt was even better with two receiving touchdowns and a rushing touchdown as the Chiefs embarrassed the Cincinnati Bengals. Maybe that loss to the Steelers took all of the wind out of the Bengals' sails. Either way, it was not a good game by the Bengals #asexpected. The Chiefs are so good.
1-3 New York Giants @ 2-4 Atlanta Falcons 8:15 PM ET ESPN MNF
The Giants have had a little extra time to prepare for the Falcons. Good luck. Matt Ryan is playing great right now. He needs to hook up with Julio Jones in the endzone though. That would be great. The Falcons defense is in shambles due to injuries so Saquon Barkley and Odell Beckham Jr. should have some success. I don't think it will be enough. Falcons win.
Prediction: Falcons 38 Giants 31
Coming up Tuesday: MNF recap, World Series thoughts, college football reaction and more.
---