"The Stack" 11-27-18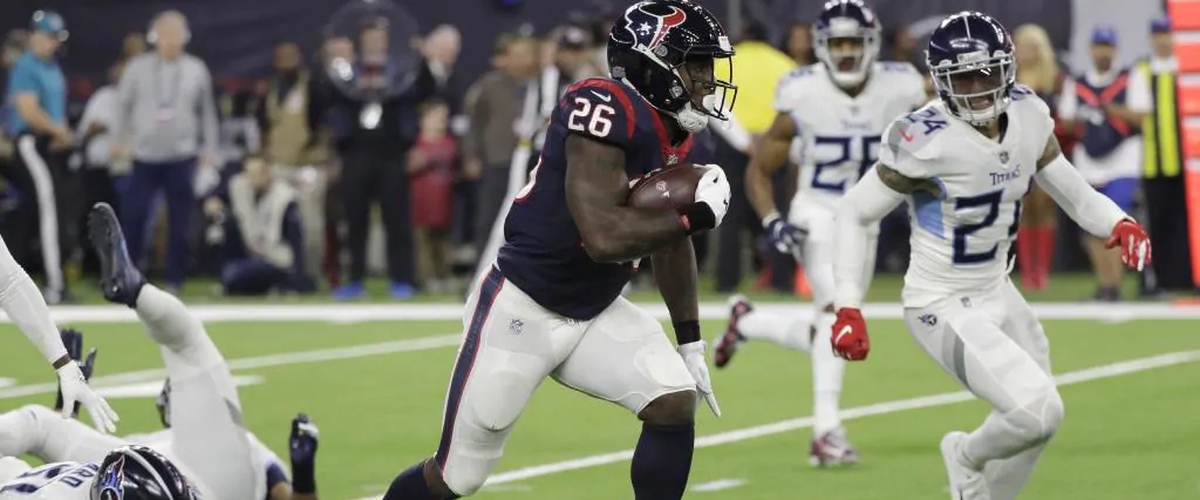 Houston Texans running back Lamar Miller ran for a 97-yard touchdown that helped the Texans take down the Tennessee Titans 34-17 to win their eighth straight game.
The Stack is back on this Tuesday and boy did the Houston Texans look good after spotting the Tennessee Titans an early ten points last night. We'll have reaction to that game plus thoughts from the weekend in college football and college football head coaching news so let's get right to "the stack" for today, Tuesday, November 27th:
Texans top Titans on MNF
The Houston Texans had a little extra motivation and inspiration Monday night in their first game since owner Steve McNair passed away. He brought football back to Houston and gave back to the community. His legacy was slightly tarnished by his, "the inmates are running the asylum" comment last year that seemed to be in reference to players running the league when there was talk about the national anthem, but overall he was a very good owner. His Texans played inspired Monday night rushing for nearly 300 yards and doubling up on the Tennessee Titans 34-17. The Titans jumped out to a 10-0 lead in the first quarter before the Texans responded with 27 straight points. Running back Lamar Miller busted out a 97-yard touchdown run and the Texans just pummeled the Titans. Marcus Mariota did finish with only one incompletion which was nice, but this was yet another game in which the Titans were largely uncompetitive. That is not good for the Titans, but with four home games remaining, they are still in a good position to make a run at a wild card spot. The Texans have now won eight in a row. This is a dangerous football team.
NFL injury and suspension news
Cincinnati Bengals quarterback Andy Dalton's season is over. Tests on his thumb revealed damaged ligaments and the Bengals are ending his season. Jeff Driskel will be the starting quarterback going forward. Between injuries to A.J. Green, Tyler Eifert and now Dalton, it's a down year in Cincinnati and their season is pretty much over.
Minnesota Vikings cornerback Xavier Rhodes appears to have avoided a significant to his hamstring. Contrary to, as head coach Mike Zimmer put it, the "TV doctors" out there, Rhodes injury is a mild hamstring injury according to Zimmer. It is not a season-ending injury that will require surgery, at least not for now. That's good news for the Vikings with the New England Patriots and Seattle Seahawks coming up on the road in consecutive weeks.
And while not injury related, the Jacksonville Jaguars are a mess and this season has been a season to forget. Well, they have benched quarterback Blake Bortles. Cody Kessler will be their starter on Sunday. They fired offensive coordinator Nathaniel Hackett and to add insult to injury, running back Leonard Fournette has been suspended one game for his role in that ugly brawl Sunday against Buffalo. He will appeal, but he won't win. He shouldn't win. This season has been very ugly in Jacksonville.
College football weekend reaction
Rivalry week in college football normally does not disappoint and this last weekend did not disappoint except for Mike Leach and #8 Washington State who lost in the snow to #16 Washington 28-15. Washington will face Utah in the Pac-12 Championship on Friday.
How many points could possibly be scored in the Oklahoma-West Virginia game? Well the Mountaineers made a few too many mistakes and they lost to the #6 ranked Sooners 59-56. What a game. Bummed that West Virginia couldn't close the deal.
Did you see that finish to Virginia-Virginia Tech on Friday? Tech was down 31-24 when quarterback Ryan Willis threw a prayer up and a miraculous catch was made. Moments later a fumble went into the endzone and was recovered by the Hokies to force overtime. They would kick a field goal on their opening possession and then force a turnover on Virginia's turn. Va Tech wins and remains alive for a bowl berth provided they can beat Marshall next week.
And what can you say about what the Minnesota Golden Gophers did Saturday in Madison to the Wisconsin Badgers? They hadn't won Paul Bunyan's Axe in what, 14 or 15 years? Well they laid an absolute beatdown on the Badgers 37-15. Minnesota has a very young team with many freshman and sophomores. This team is going to be really good the next couple of years at the very least.
Was this the year that Michigan would be able to beat Ohio State? Head coach Jim Harbaugh has struggled in these positions before. The struggles continued as the best defense in college football got shredded by the Buckeyes offense. #4 Michigan got routed 62-39 to #10 Ohio State.
This was by far Ohio State's most complete game of the season.
UCF beat South Florida 38-10, but lost quarterback McKenzie Milton in the process to a nasty leg injury. Here's hoping that they beat Memphis this week in the AAC Championship game and then for absolute chaos so they can get into the playoff. I doubt it will happen, but beating Memphis will give them a chance.
#3 Notre Dame survived against USC 24-17. USC came to play and Notre Dame needed a really good game from quarterback Ian Book, but they were able to escape L.A. with a 24-17 win. They will be in the College Football Playoff.
And what about that seven overtime game between #7 LSU and #22 Texas A&M. A&M won 74-72. LSU prematurely dumped Gatorade out on head coach Ed Orgeron thinking they had won the game in regulation after they intercepted A&M, but replay showed that Mond's knee was down. A&M would tie the game and then we went to a marathon seven overtimes (I can't stand college football overtime FYI). They would ultimately prevail 74-72. What a game! What a game! Can't wait to see what we get this week for championship week.
College football head coaching news
There have already been a few head coaches who have been let go and one coach who was surprisingly retained. That's what happens when the college football regular season comes to an end. New coaches will be on the sidelines next year at Texas Tech, UNC and Western Kentucky.
The coach every lady loves to look at, Kliff Kingsbury, is out at Texas Tech after losing five straight games to finish the season at 5-7. He just never got Tech to where they needed to be.
Larry Fedora got Michell Trubisky drafted number two overall. Two years later and he is out at North Carolina. The last two years what how many games has UNC won, like four? Not good, but they may be on the road back to success as they have already hired a head coach and that would be former UNC head coach (and national champion coach at Texas and current ESPN analyst) Mack Brown. Good hire by the Tar Heels.
Western Kentucky fired head coach Mike Sanford after posting a 9-16 record in two season and they were quick to hire their replacement. They have tabbed Tennessee offensive coordinator Tyson Helton to run the show.
The big surprise, to some, is USC staying with Clay Helton following the Trojans' 5-7 record this season. They will not be going to a bowl game and that's a big deal. USC was very underwhelming this year and a number of people wanted Helton gone. He's going to get at least one more year, but have another 5-7 hear and Helton will be gone.
Coming up Thursday: College football championship game picks and TNF preview and prediction
---