"The Stack" 11-26-19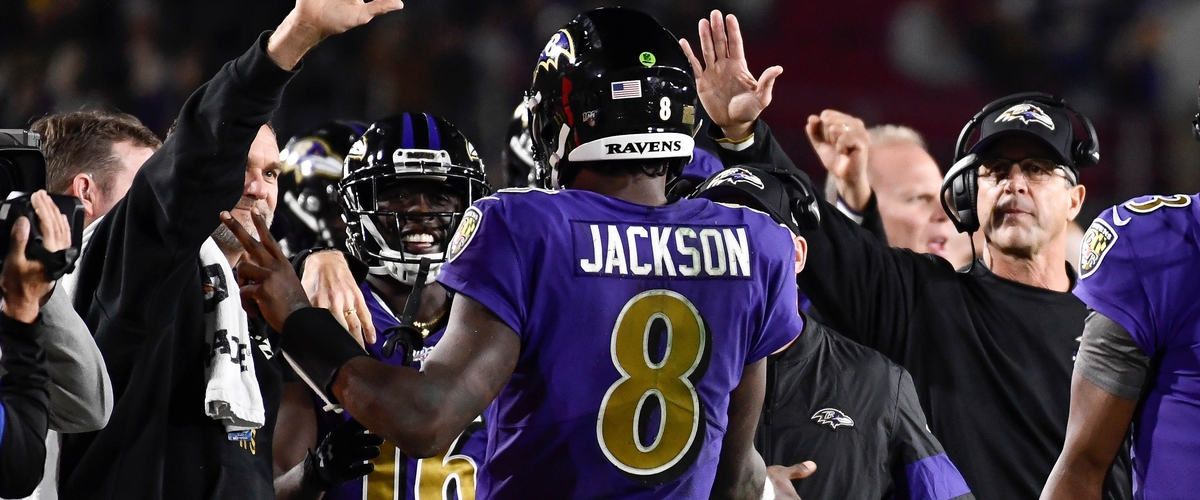 Keep celebrating Lamar Jackson and the Baltimore Ravens. Jackson threw for 5 touchdowns and the Ravens thumped the L.A. Rams 45-6 on MNF. The Ravens look just about unstoppable right now.
The Stack is back on this Tuesday and Lamar Jackson is special. You didn't need me to tell you that. You already knew that even before he torched the LA. Rams last night. Reaction to that plus college football talk so let's get right to "the stack" for today, Tuesday, November 26th:
Lamar Jackson dominates, Ravens thump Rams on MNF
Last night was the Lamar Jackson Show. It's Lamar Jackson's world and we are all just living in it. The Baltimore Ravens quarterback was once again electric and sensational, throwing for five touchdowns as the Ravens thoroughly embarrassed the L.A. Rams 45-6. The Ravens scored touchdowns on their first six possessions. Wasn't the Rams defense supposed to be good? Jared Goff and the Rams offense sure isn't good right now. Goff is struggling and nothing is really going well for the Rams. Head coach Sean McVay really needs to show what makes him such a special coach right now, because the Rams are in danger of freefalling the rest of the season and that would be a big disappointment heading into the offseason and a new stadium…especially when they don't have a first round draft pick.
But back to Jackson and the Ravens. Jackson was 15-of-20 for 169 yards with those five touchdowns and he ran for 95 yards. How do you stop this guy? How do you stop the Ravens offense? The 49ers defense is going to be a significant challenge, but right now, I have to trust Jackson and the Ravens, because they are unstoppable right now. This is like Michael Vick 2.0 except Jackson is a better passer. It's pretty special watching him.
College football weekend recap
The College Football Playoff has been shaken up significantly thanks to Herm Edwards and Arizona State. The Sun Devils upset #6 Oregon 31-28. Freshman quarterback Jayden Daniels threw for 408 yards and three touchdowns. The Ducks seemed to have momentum in the fourth quarter trailing 24-21 and having Arizona State in a third and long. Inexplicably they let wide receiver Brandon Aiyuk get behind them and go 81 yards for a touchdown. The Ducks couldn't complete the comeback and their playoff hopes are officially done. What sucks and hurts most about this is that the Pac-12 was in the driver's seat for the fourth and final playoff spot in the College Football Playoff. Had both Oregon and Utah entered the Pac-12 Championship Game each with one loss, the winner was going to have a very good chance of making the playoff. Now, all hopes rest with Utah and I don't know if they will have enough to jump the teams in front of them. Should they beat Oregon in the Pac-12 Championship Game, yes it is a good win, but the Ducks won't be ranked as high as they would be had they done their job and beat Arizona State. This hurts Utah and it hurts the Pac-12.
Elsewhere, #2 Ohio State beat #8 Penn State 28-17 to clinch the Big Ten East. It was 21-0 and then Penn State rattled off 17 straight points, but the Buckeyes responded with a touchdown and shut down the Nittany Lions from that point on. It also didn't help Penn State that quarterback Sean Clifford had to leave the game.
#9 Oklahoma needed a goal line interception to survive TCU and escape with a 28-24 victory. Oklahoma looks shaky. Do you think they will make the College Football Playoff? I would bet not at this point. They need to be dominating these next two weeks and make a statement and I don't see that happening.
Not much unexpected happened the rest of the college football weekend. Virginia Tech sent out defensive coordinator Bud Foster on a great note in his last home game. The Hokies shut out Pittsburgh 28-0. Foster is retiring at the end of the season. Nice job Va Tech!
College football weekend forecast
Let's just do the college football weekend forecast now with the Thanksgiving holiday and since storms are going to snarl the country from coast to coast. There is a storm in California. A winter storm has made its way through Denver and the Rocky Mountains and is moving through the Plains and heading to Minnesota today. Speaking of Minnesota, it's the first time that the University of Minnesota is hosting College Gameday for Minnesota-Wisconsin (3:30 PM ET ABC) (updated CFP Rankings have not been released yet) and there is going to be snow in the forecast…chances are a new storm will be barreling down on the area during the show and the game. That sucks, but it should be a great atmosphere and a fantastic game, one with huge implications. It's not just the Ax that is on the line, but the winner goes to Indianapolis representing the Big Ten West where they will get throttled by Ohio State. Minnesota hasn't been there before. It's time! Row The Boat! Ski-U-Mah. Go Gophers!
This is the week of rivalry games. At the risk of missing a rivalry, I am not going to list them all. This is a fun week though in college football. Even if you season has not turned out the way you thought it would, this is your chance to beat your rival and have bragging rights for a year (just ask me after South Dakota beat South Dakota State last weekend L ). Virginia Tech is on a roll right now and they are taking on Virginia (Noon ET ABC on Friday) for the right to play Clemson in the ACC Championship. Virginia has struggled to beat Virginia Tech lately. Will Virginia beat them this year? I'm not sure. I'm really not. This is a tossup game to me.
#2 Ohio State & #13 Michigan square off in the Big House (Noon ET FOX on Saturday) and barring a major upset, Ohio State is going to walk away with the victory. I don't think Buckeyes fans will have to worry much at all.
There are a number of teams with bowl eligibility on the line this week. That number is eleven. I count eleven teams with five wins (Missouri has five, but they are postseason ineligible so I didn't count them) so there is plenty on the line for those teams this week as well. I don't think we'll see any 5-7 teams in the bowl games this year. Poor Oregon State. Had they just hung on to beat Washington State and not lost 54-53, they would be bowl eligible. I don't see them beating Oregon this week (4 PM ET Pac-12 Network on Saturday).
#5 Alabama plays at #15 Auburn (3:30 PM ET CBS on Saturday) #9 Oklahoma plays at #21 Oklahoma State (8 PM ET FOX on Saturday). Both games have playoff implications. We'll see how those rivalry games go. It should be a great week of college football. Enjoy it amidst Thanksgiving and Black Friday everyone.
Coming up Thursday: Turkey Day NFL tripleheader previews and predictions
---