"The Stack" 11-30-18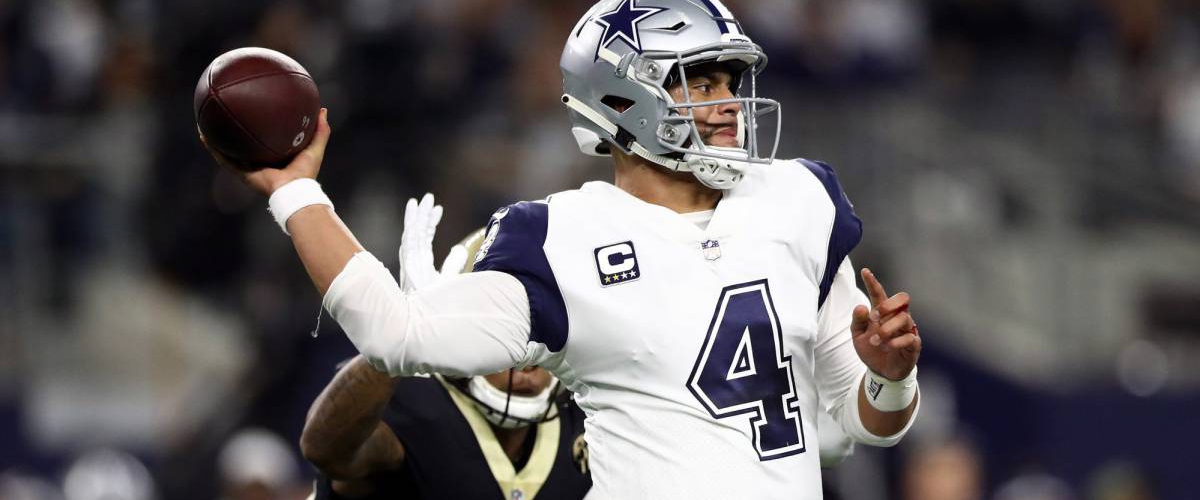 Dak Prescott and the Dallas Cowboys pulled off a major upset Thursday night, taking down the New Orleans Saints 13-10 and snapping their ten game winning streak.
The Stack is back on this Football Friday and that was sure a surprising football game last night at Jerry World. Not only was it surprising that the New Orleans Saints lost to the Dallas Cowboys, but it was how they lost. They scored only 10 points. Drew Brees looked uncomfortable. The Cowboys defense looked great. They have totally turned their season around. The Saints 10 game winning streak is over. Wowza! We'll see if the picks are any better for the Sunday's games so let's get right to the picks for week 13 in the NFL in "the stack" for today, Friday, November 30th:
6-5 Baltimore Ravens @ 4-7 Atlanta Falcons 1 PM ET CBS
Will Lamar Jackson be making his third straight start at quarterback for the Ravens? He and fellow rookie [running back] Gus Edwards have pretty lethal for the most part the last couple of weeks. Against a Falcons defense that is leaky at best, the Ravens best bet is to play ball control and keep the Falcons offense off of the field. I think they do just enough to pick up their third straight win.
Prediction: Ravens 30 Falcons 24
5-6 Denver Broncos @ 5-6 Cincinnati Bengals 1 PM ET CBS
Two teams going in very different directions. The Broncos' confidence has to be a mile high having beaten the Chargers and Steelers in consecutive weeks. Case Keenum hasn't turned the ball over either. He shouldn't in this game against the worst defense in football. If he does, that's not good and the Broncos may be in trouble. A.J. Green playing will help the Bengals and maybe they will rally around Jeff Driskel, but I think the Broncos are playing the better football at this moment.
Prediction: Broncos 30 Bengals 20
10-1 Los Angeles Rams @ 4-7 Detroit Lions 1 PM ET FOX
Apparently Lions head coach Matt Patricia had the Lions practice outside in the cold and snow this week again. They'll be running around so much trying to keep up with the Rams that they'll thaw fairly quickly. The Rams have had two weeks to prepare and Ndamukong Suh is ready to beat up on Matthew Stafford.
Prediction: Rams 37 Lions 17
2-9 Arizona Cardinals @ 4-6-1 Green Bay Packers 1 PM ET FOX
Poor Cardinals. A week after they got shredded and essentially quit against Philip Rivers and the Los Angeles Chargers, they get to face an angry Packers team and Aaron Rodgers at home. Rodgers will slice and dice them. It's going to be ugly.
Prediction: Packers 45 Cardinals 17
4-6-1 Cleveland Browns @ 8-3 Houston Texans 1 PM ET CBS
This game is not as easy as it might look for the Texans who have won eight in a row. Baker Mayfield and the Browns are playing really good football right now and they have confidence. They're about to face a really difficult team though. Deshaun Watson could have been drafted by the Browns last year. We'll see if Browns fans are going to be wishing the Browns had drafted him after Watson, DeAndre Hopkins and company take down the Browns.
Prediction: Texans 24 Browns 20
6-5 Indianapolis Colts @ 3-8 Jacksonville Jaguars 1 PM ET CBS
Let's see, the Jaguars are starting their backup quarterback, Cody Kessler, because they have benched their starter Blake Bortles and their starting running back, Leonard Fournette, is suspended for the game. Oh yeah, they should totally be able to put up as many points as Andrew Luck and the Colts.
Prediction: Colts 34 Jaguars 13
4-7 Buffalo Bills @ 5-6 Miami Dolphins 1 PM ET CBS
The Bills have been playing better, but I'm still not believing that Josh Allen and the Bills will put up enough offense to win many more games. After seeing Ryan Tannehill return last week against the Colts, I think the Dolphins will put up more than enough points to beat the spread and the Bills.
Prediction: Dolphins 27 Bills 10
8-3 Chicago Bears @ 3-8 New York Giants 1 PM ET FOX
As Admiral Ackbar once said, "It's a Trap". This is a trap game for the Bears, but it would have been more of one had the Giants not collapsed against the Philadelphia Eagles last week and lost. Their will to win and compete may be going on empty. It won't matter if Trubisky plays or not (as of now it sounds like Chase Daniels is starting again), the Bears defense will be too much and they will win again.
Prediction: Bears 23 Giants 13
6-5 Carolina Panthers @ 4-7 Tampa Bay Buccaneers 1 PM ET FOX
The Panthers are really on the skids right now, but it's not like the Buccaneers are lighting the world on fire although their offense looked pretty good last week albeit against a distracted and bad San Francisco 49ers team. Woo, that was a mouthful. Bottom line, I don't think the Buccaneers defense will be able to slow down Cam Newton and Christian McCaffrey enough to get the win.
Prediction: Panthers 27 Buccaneers 21
9-2 Kansas City Chiefs @ 2-9 Oakland Raiders 4:05 PM ET CBS
So the Chiefs have had two weeks to prepare for the Raiders and stew on that loss to the Rams on that faithful Monday night. Do you really think they aren't going to come out and pummel the awful Raiders? I didn't think so.
Prediction: Chiefs 45 Raiders 16
3-8 New York Jets @ 5-6 Tennessee Titans 4:05 PM ET CBS
What Jekyl and Hyde Titans team will we get this week? I'm guessing we're getting the good Titans team for a couple of reasons. One, they are playing at home. Two, they are playing the Jets and the Jets are very bad. Doesn't matter who starts at quarterback, Josh McCown or Sam Darnold. They will lose.
Prediction: Titans 27 Jets 13
6-4-1 Minnesota Vikings @ 8-3 New England Patriots 4:25 PM ET FOX
What a matchup this is. Two Bill Parcells disciples (I wonder how many times Bill Parcells name will be mentioned during the telecast) going against one another. Will the Vikings have cornerback Xavier Rhodes? Possibly not. If they don't have wide receiver Stefon Diggs that will be a problem as well. The Patriots will exploit the Vikings weaknesses. Hopefully the Vikings can get after the Patriots' weaknesses. I don't see that happening.
Prediction: Patriots 24 Vikings 16
2-9 San Francisco 49ers @ 6-5 Seattle Seahawks 4:25 PM ET FOX
49ers cornerback Richard Sherman has been opening up trap again this week. He is interesting most of the time, but I wish he would shut up about Russell Wilson. Wilson will just have to shut him up on Sunday with his play. He will as will the rest of the Seahawks.
Prediction: Seahawks 27 49ers 10
8-3 Los Angeles Chargers @ 7-3-1 Pittsburgh Steelers 8:20 PM ET NBC
If running back Melvin Gordon was playing in this one, I would like the Chargers' odds of winning this game, but he isn't playing and the Steelers are ticked after last week's loss to the Broncos. Until I see how well the Chargers play in primetime, I have to go with the home team.
Prediction: Steelers 30 Chargers 20
Coming up Monday: Week 13 NFL Sunday reaction plus MNF preview and prediction