"The Stack" 12-4-18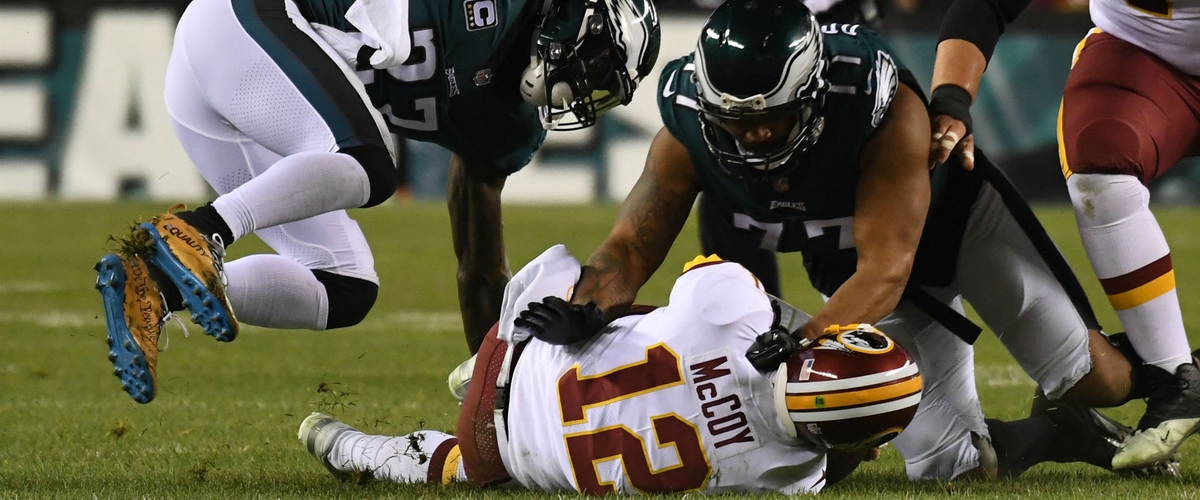 Colt McCoy didn't last long as Washington's starting quarterback. He went down with an injury in the first half against Philadelphia and the diagnosis is a fractured fibula.
The Stack is back on this Tuesday and we don't have a whole lot to talk about today. Again, Mike McCarthy is out as Green Bay Packers head coach, but we mentioned that on Monday. Interesting to see where the Packers go. I am already saying that Aaron Rodgers will be the NFL MVP next year. Now then, let's see what else is in "the stack" for today, Tuesday, December 4th:
Eagles take down Washington on MNF, Colt McCoy injured
The injury bug has reared its ugly head again for Washington and again it is to the quarterback position. Early in Washington's contest with the Philadelphia Eagles Monday night, Colt McCoy scrambled and slipped. An Eagles defender hit McCoy and you could tell almost right away that it wasn't good. The diagnosis…a fractured fibula. That means Mark Sanchez had to come in, yes the Butt Fumbler himself, is now the starting quarterback for Washington. He was recently acquired, signing with the team right after Alex Smith's injury. Needless to say, it didn't go wonderfully for Washington. Outside of a 90-yard touchdown run by Adrian Peterson in the first half on the first play that Sanchez came in the game (Peterson's longest of his career), Washington's offense couldn't get any traction going and they would fall to Philadelphia 28-13. The Eagles weren't fantastic on offense, but Carson Wentz did not what he needed to do. He finally got Golden Tate involved a little bit more and tight end Zach Ertz caught nine more passes. He is very close to breaking the record for most catches in a single season by a tight end, set by former Dallas Cowboys tight end Jason Witten, who had 110 one season. Ertz will get it. He's the real deal. The Eagles and both Washington are now 6-6, both a game back of Dallas.
Heisman Trophy candidates announced
There will be three quarterbacks in New York City for the Heisman Trophy presentation on Saturday. The three finalists are:
· Tua Tagovailoa (QB, Alabama)
· Kyler Murray (QB, Oklahoma)
· Dwayne Haskins (QB, Ohio State)
It's hard not to think that Tagovailoa is going to win, but Murray has put together a very good season. He is currently the betting favorite. He has been great, but what Tua has put together this season is really special outside of the SEC Championship game. I'll take Tua to win. It should be pretty interesting.
Fred Hoiberg fired
I don't think it is entirely his fault in large part because the Chicago Bulls are in a full-blown rebuild, but the Bulls fired head coach Fed Hoiberg on Monday. He was 5-19 this season so far with the Bulls. The Bulls have a lot of young guys and maybe it was just the coaching style and philosophy of Hoiberg that didn't mesh well. One way or the other, Hoiberg is out as Bulls head coach. He seems better suited for the college game. I'm guessing he'll find his way back on campus next year…maybe at the place he left to take the NBA job. That would be Iowa State. We shall see.
College Football Playoff reaction
I'll come out right away and say it…I think the committee got it right. I think they made the right decision by putting Oklahoma in as the four seed over Georgia. Listen, you can certainly say that Georgia would play Alabama closer than Oklahoma likely will and that is fine, but the fact of the matter is that Georgia blew a 14 point lead to Alabama with backup Jalen Hurts in at quarterback for the Crimson Tide and they lost 35-28. Oklahoma beat Texas 39-27. Their defense looked better than it has in previous weeks. They won the Big 12. They had one loss. Georgia had two. The conference championship has to count for something since they only have one loss. Oklahoma deserved to get in. Georgia, I think people forget did lose by 20 at LSU. Oklahoma's only loss was a three point loss on a neutral field to Texas whom they beat the in the Big 12 Championship game. Now we will get to see Kyler Murray and that booming Oklahoma Sooners offense against vaunted Alabama. Clemson and Notre Dame will be the other semi-final. It would seem that Clemson is the heavy favorite in that one, but we will see.
As for Georgia, they will take on Texas in the Sugar Bowl. UCF and LSU are in the Fiesta Bowl and Washington and Ohio State are in the Rose Bowl. Michigan and Florida meet in the Chick-Fil-A Peach Bowl. We'll have plenty more on the bowls next week.
Kareem Hunt thoughts
I don't even know where to begin. When TMZ Sports released that video on Friday showing now former Kansas City Chiefs running back Kareem Hunt pushing a woman and then later in the video kicking her after he had pushed her down. It's stupid. It's awful. Why would Hunt do this? What would possess someone to do this? What's even worse is that the Cleveland police officers that responded to the call didn't do anything or request security footage from the hotel, something about they don't do that for a misdemeanor. Why wouldn't a domestic violence charge be viewed as anything less than a felony? The young woman in the video was clearly distraught. It's very sad that nothing was done. I feel that those officers should be reprimanded.
As for the Chiefs, I was very surprised that they released him as quickly as they did. Teams just don't do that. This is different than the Reuben Foster situation. The Chiefs said they released Hunt, because he lied to them. The fact of the matter is that the NFL didn't do nearly enough (did they do anything really?) in their investigation of the matter. Hunt was not truthful with the Chiefs, but for the Chiefs to take wide receiver Tyreek Hill in the NFL Draft a few years ago after he had plead guilty to some domestic violence charges against his then pregnant girlfriend (he has since said they are getting engaged), it just seems a little hypocritical. Maybe if there was video footage of that that got released they would release Hill.
Who knows if Hunt will get picked up by a team anytime soon. He is currently on the Commissioner's Exempt List. He's facing minimum, a six game suspension, but he is very young and he is talented. Running backs though, are a dime a dozen. When will NFL players learn? When will athletes in general learn? Don't hit women! Actually that's something that everyone should know, but sadly, this sort of thing keeps happening.
Coming up Thursday: TNF preview plus other headlines from the sports world