"The Stack" 12-6-18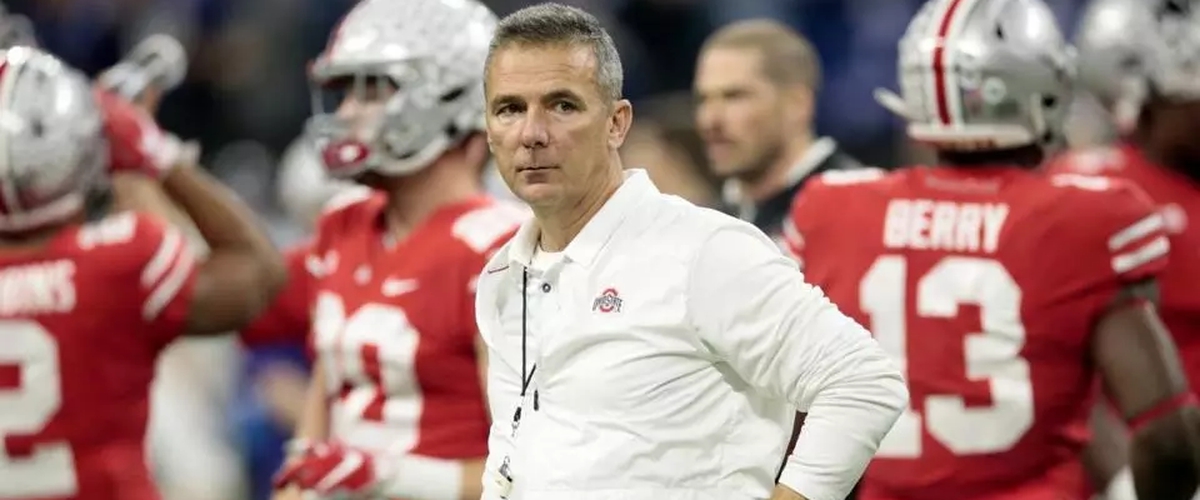 Ohio State head football coach Urban Meyer announced on Tuesday that he will retire after the Buckeyes' Rose Bowl game against Washington.
The Stack is back on this Thursday and we really don't have a whole lot to talk about outside of Urban Meyer. What a bombshell of a story that was on Tuesday. We'll talk that, TNF and some more stuff so let's get right to "the stack" for today, Thursday, December 6th:
Urban Meyer retiring after the Rose Bowl
Ohio State Buckeyes head football coach Urban Meyer announced on Tuesday that he will be retiring after the team's Rose Bowl game against Washington. Offensive coordinator Ryan Day will be the new head coach. It was a stunning announcement. Did the toll of this year get to Meyer? If so, then why didn't the committee just recommend to fire him/force him to resign at the beginning of the season? Makes me wonder, and I can't be the only one, if there is something that was going on behind the scenes or if there is something that has happened that we don't know about perhaps regarding the whole situation with Zach Smith that will be coming out at some point and Meyer thought it would be best at this point to just retire. Meyer looked like a damn fool when he talked about being able to coach the team this year and being suspended only three games. He has taken a lot of heat and rightfully so. There is also the question on if Meyer will want to coach somewhere else or in the pros. At this point, he says he is fairly certain he will not coach again, but he is only 54 years old and the best coach by winning percentage at Ohio State in program history. He is best among active coaches. There is no doubt Meyer can coach and recruit, but his character comes into question. With everything that happened at Ohio State this year, either he couldn't take it anymore or there is something else that is going on. Day was getting some consideration for other jobs both in college and the pros. Ohio State maybe felt like now was the best time to make sure Day stayed with the Buckeyes. Regardless, it is a strange day in Columbus and Ohio State's football team faces some uncertain times ahead of them after the Rose Bowl.
Paul Goldschmidt goes to the Cardinals
We don't talk a lot about the #MLBHotStove, but we do try to cover some of the bigger trades. The move Wednesday between the Arizona Diamondbacks and St. Louis Cardinals certainly qualifies. The Diamondbacks have sent their best slugger and first baseman Paul Goldschmidt to the Cardinals for right hand starting pitcher Luke Weaver, catcher Carson Kelly, infielder Andy Young and a draft pick. Why did they do this? Because the Diamondbacks feel the need to rebuild. Why are they rebuilding? That's a great question, but after seeing starting pitcher Patrick Corbin sign a monster deal with the Washington Nationals, it's pretty easy to see that the Diamondbacks are try to get some talent for their farm system and get some young guys in in the hopes of making a quick rebuild. Perhaps they don't think they can compete with the Los Angeles Dodgers and Colorado Rockies as currently slated. Seems a little odd if you ask me. The move makes the Cardinals a really formidable team now. Goldschmidt is tremendous. He hits a lot of homeruns, drives in runs and is probably one of the best players in baseball you don't know much about. I love this move for the Cardinals. Will it be enough to win the NL Central? We'll have to see how the rest of free agency plays out, but as of now, it puts them on near equal footing with the Milwaukee Brewers and Chicago Cubs.
3-9 Navy VS 9-2 Army 3 PM ET CBS
The lone FBS game on the schedule this weekend. For nearly the last decade, Navy has had Army's number. Army got them last year. They'll do it again this year with their ball control offense. Army will run, run, run, run, run, run and run some more. Navy is surprisingly bad this year. Army should win this one fairly easily.
Predicted winner: Army
4-8 Jacksonville Jaguars @ 6-6 Tennessee Titans 8:20 PM ET FOX and NFL Network (Streaming on Amazon Prime)
This looked to be a far more compelling matchup at the beginning of the season. The Jaguars were supposed to be good and the Titans would be fighting for a playoff spot. Well, fast forward to today and only one of those things is happening and we still don't know what type of Titans teams we're going to see on a week-to-week basis. The Titans have the Jaguars number though and with Jacksonville still going with Cody Kessler, I like the Titans' odds in this one. At least Jacksonville gets running back Leonard Fournette back. It won't matter. Marcus Mariota and company will be too strong down stretch and keep their playoff hopes alive.
Prediction: Titans 23 Jaguars 13
Coming up Friday: Sunday NFL week 14 previews and predictions
Listen to this week's "The Sports Block" podcast here.
---