"The Stack" 12-10-19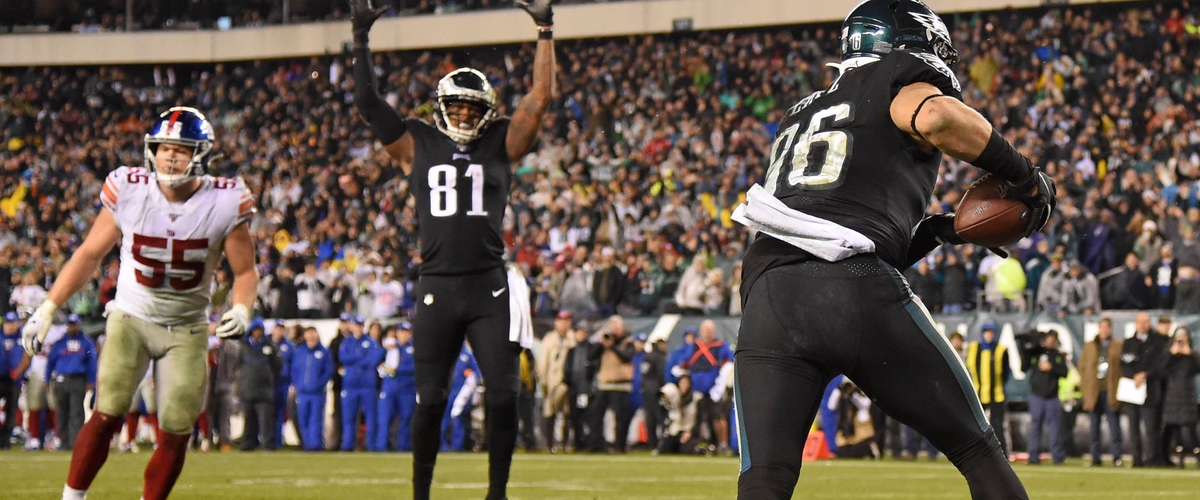 Philadelphia Eagles tight end Zach Ertz caught the game-winning touchdown in overtime as the Eagles overcame a 17-3 deficit to beat the New York Giants 23-17.
The Stack is back on this Tuesday and we don't have much for you today. A MNF recap, an early TNF prediction & some thoughts on the College Football Playoff final rankings. Let's get right to it and check out "the stack" for today, Tuesday, December 10th:
Eagles rally, beat Giants in OT on MNF
It was rainy. It was sloppy. It was boring, but somehow, the Philadelphia Eagles overcame a 17-3 deficit to beat the New York Giants 23-17 in overtime last night, spoiling the return of Eli Manning. Manning and the Giants offense looked really good in the first half, throwing for two touchdowns to rookie wide receiver Darius Slayton. The offense couldn't do anything in the second half though and credit for that goes to the Philadelphia Eagles.
The Eagles offense couldn't do anything in the first half. It didn't help that Carson Wentz didn't have any weapons around him at the wide receiver position. Alshon Jeffrey left on the second drive of the game and didn't return. Offensive tackle Lane Johnson got injured and didn't return. Rookie running back Miles Sanders got injured. The Eagles had to resort to Boston Scott and tight end Zach Ertz to help lead the way. You can say the Giants imploded, and that is fair to a degree, but credit Wentz and the Eagles for battling back and getting into a tie atop first place in the NFC lEAST with the Dallas Cowboys at 6-7. Big game in a couple of weeks for them.
CFP thoughts
Let me say this to start, the College Football Playoff Committee absolutely 100 percent got the rankings right. LSU, after their 37-10 butt-whooping over Georgia fully deserved to jump Ohio State for the number one spot. They have better wins than Ohio State. And Ohio State struggled with #8 Wisconsin, down 21-7 at the half. What? ! The gap had to be close between Ohio State and LSU to make it possible for LSU to jump the Buckeyes and with the convincing way LSU beat Georgia, not even Ohio State's strong second half and 34-21 win over Wisconsin was going to be enough. LSU avoids Clemson and now gets to take on the #4 seed, Oklahoma, who beat Baylor 30-23 in overtime in the Big 12 Championship. Oklahoma can thank #13 Oregon for knocking off #5 Utah in the Pac-12 Championship Game 37-15 Friday night. If Utah had won, Oklahoma would have needed to be downright impressive against Baylor and they were far from it. Don't overlook Jalen Hurts and Oklahoma, but LSU is going to win that game.
Ohio State will have the unfortunate opportunity of having to face the most fearsome #3 seed that we have seen in the College Football Playoff, Clemson. Clemson is angry. They are playing with a chip on their shoulders that head coach Dabo Swinney, right or wrong, keeps driving and enforcing this thought that Clemson is being disrespected. Ohio State is good, but they are going to face a different beast in the Fiesta Bowl.
We'll be previewing all of the bowl games coming up next week and the following week. Join our bowl pick 'em group on ESPN.com, "The Sports Lounge Season4" and see how well you can do.
It's going to be fun.
5-7 New York Jets @ 11-2 Baltimore Ravens 8:20 PM ET FOX & NFL Network (Thursday)
We're doing an early preview since there is no College Football apart from Army-Navy this week (I'll pick Navy). In this game, it's pretty simple. The Jets stink and one team has Lamar Jackson and one doesn't. I'll go with the team that has Jackson.
Prediction: Ravens 34 Jets 13
Coming up Friday: Week 15 NFL previews and predictions
---