"The Stack" 12-11-18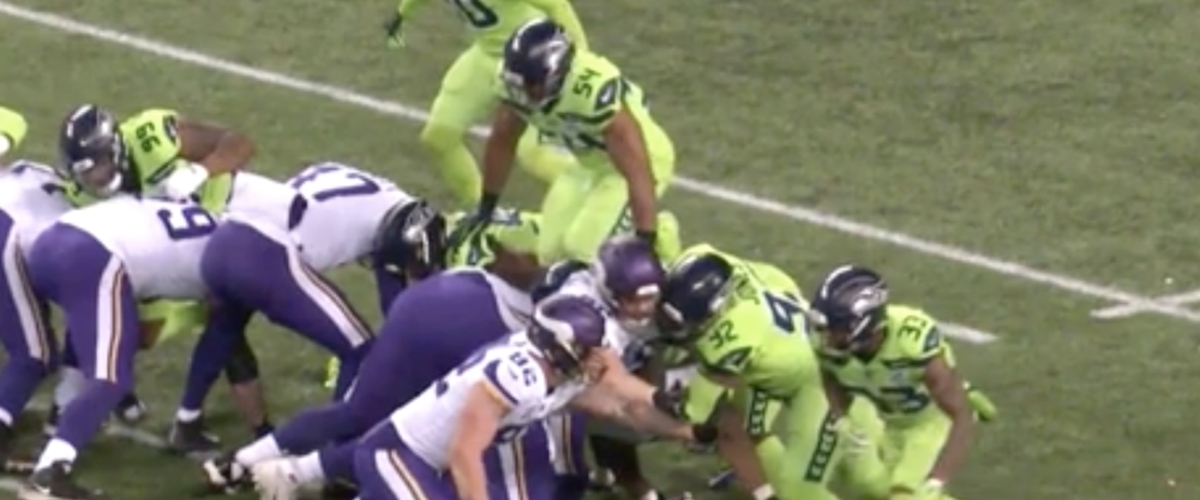 Seattle Seahawks linebacker clearly committed a penalty on a field goal he blocked to against the Minnesota Vikings on MNF (geez, Stacken...you aren't unbiased at all are you?). The blocked field goal changed the complexion and momentum of the game and helped lift the Seahawks to a 21-7 victory.
The Stack is back on this Tuesday and that was a rough one on MNF last night. We'll have reaction to Seattle's big win plus Heisman thoughts and more so let's get right to "the stack" for today, Tuesday, December 11th:
Seahawks top Vikings in MNF slugfest
It was an ugly game, a 3-0 game after three quarters, but eventually the Seattle Seahawks broke through and beat the Minnesota Vikings 21-7. It was 6-0 Seahawks and it could have been more if Russell Wilson hadn't suffered a brain cramp late in the second quarter and throw an ill-advised pass that was intercepted. The Vikings offense had done nothing until their one drive when they got completions to Adam Thielen and a 48-yard completion to Stefon Diggs. They eventually had first and goal at the five and thanks to some bad play calling, got stopped on fourth and goal at the one. Good defense, but bad play-calling and scheming by the Vikings. The Vikings defense held though and on the next Vikings possession they had a chance to kick a field goal to cut the lead to 6-3, but Dan Bailey's field goal was blocked by Bobby Wagner. Only problem, Wagner placed his hands on his teammates in an attempt to gain leverage which is against the rules. A flag was thrown and Brad Allen inexplicably picked it up and said there was no call. Moments later, Seattle scored a touchdown and that was all she wrote. How do you pick up that flag? Yes, the Vikings shouldn't have been in that position in the first place, but that would have given them a first down and would have changed the game. How do you miss that?
As it stands, Seattle is now firmly in the fifth spot holding the first wild card position while the Vikings are barely hanging on to the sixth seed. With games against Miami, Detroit and Chicago, the road won't be easy, but it is doable for the Vikings. We'll see how they respond. They better respond in a positive way. Their disappointing season continues.
Kyler Murray wins the Heisman Trophy
It was a hotly contested race and one of the closest in recent memory (or a long time), but Saturday night in NYC, Oklahoma quarterback Kyler Murray lifted the Heisman Trophy. He won by less than 300 points over Alabama quarterback Tua Tagovailoa. In the end, it isn't a huge deal that Tua didn't win. Ultimately, his not playing in the fourth quarter in almost every game may have done him in. Listen, Murray was great. He was a fantastic passer and he ran well. Tua was phenomenal, but maybe his performance in the SEC Championship game hurt him. Maybe he'll use that as motivation (assuming he plays) when Alabama takes on Oklahoma in the College Football Playoff semi-final in the Orange Bowl. Congrats to Kyler, but you have to feel bad a little bit for Tua and also Ohio State quarterback Dwayne Haskins who finished a distant third.
Kansas State names new head football coach
Bill Snyder will forever be synonymous with Kansas State football. He retired from football last week and now Kansas State has their new head coach. It is Chris Klieman, currently the head football coach at North Dakota State. All Klieman has done is go 67-6 with what, three national championships? He's been great since being named head football coach after Craig Bowl left for Wyoming. This is a great hire for Kansas State. Their AD is Gene Taylor who hired Klieman at NDSU. He'll do good things in Manhattan. For North Dakota State, they'll get someone else and just keep winning, because that is what they do and they will not stop doing it. They will just keep winning and winning and winning.
Before we go…did you know #1 Gonzaga lost on Sunday to #7 Tennessee 76-73? It was a good game and now college basketball has a new number one, Kansas. They play #17 Villanova on Saturday. That should be a good one.
Coming up later this week: TNF preview plus other sports headlines
---