"The Stack" 12-12-17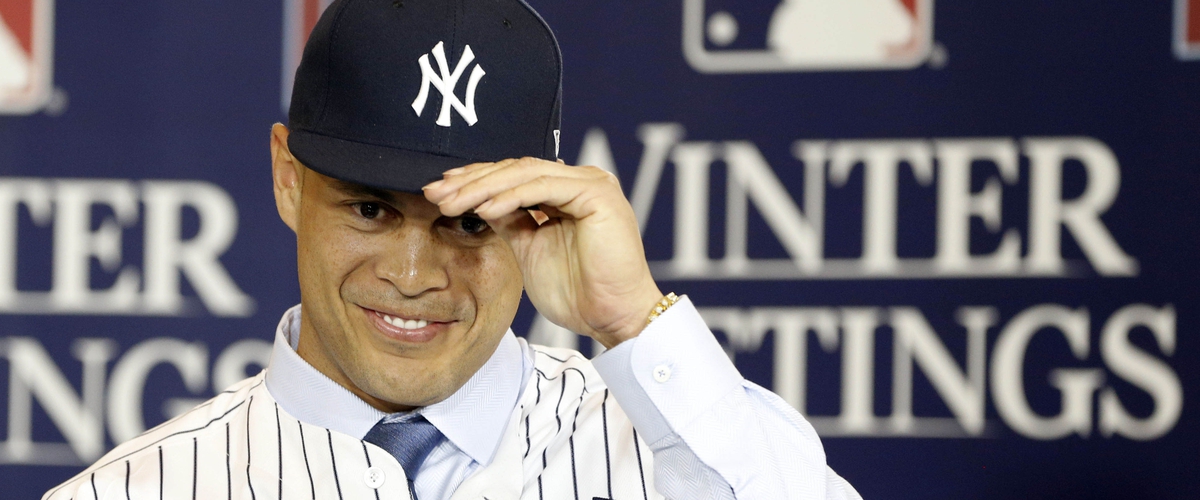 Giancarlo Stanton was formally introduced as a New York Yankee Monday after getting traded by the Marlins over the weekend. The Evil Empire is back.
The Stack is back on this Tuesday with some headlines from the weekend plus an early preview of some of the bowl games on Saturday…potentially. We hope to have our normal Football Friday preview post, but we'll have to see if Baby Stacken allows that. Let's find out what is in "the stack" for today, Tuesday, December 12th:
Dolphins surprise Patriots on MNF
The Miami Dolphins shocked just about everyone with their performance Monday night against the New England Patriots. Or maybe the Patriots surprised everyone with just how bad they played. Jay Cutler outdueled Tom Brady and the Dolphins beat the Patriots 27-20 to keep their slim playoff hopes alive and give the Patriots a pretty bad loss. Cutler was outstanding throwing three touchdowns while Kenyon Drake ran berserk with over 200 yards rushing and receiving. Meanwhile, the Patriots couldn't do much of anything. How much of that stemmed from not having tight end Rob Gronkowski? Some no doubt, but that can't be blamed for all of it. They just didn't play well. Defensively they were bad and Brady was not his normal terrific self with two interceptions. The offense was held in check. This was a stunning performance by the Dolphins. And Cutler beat the Patriots for the first time in his career. Good for him finally getting the monkey off of his back. Good for them on the win.
Carson Wentz out for the year
Sunday's victory over the Rams came at a price for the Philadelphia Eagles. Head coach Doug Pederson confirmed at his Monday press conference that quarterback Carson Wentz did tear his ACL and will miss the remainder of the season. The team's worst fears were confirmed. The Eagles believe that Wentz may have torn his ACL before the run that he made to get in the endzone when he was sandwiched by two Rams players. That touchdown was ultimately called back and Wentz stayed in the game, throwing a touchdown to Alshon Jeffrey. He was done after that. Nick Foles came in and replaced him and did a good job. The Eagles have faith in Foles. Eagles fans should too, to a degree, but it isn't the same as Wentz. Wentz was putting up unbelievable numbers. He was an MVP candidate, maybe even the favorite. The Eagles no doubt will take a step back by losing Wentz, but they are still a team to fear and they still will likely get homefield advantage for the playoffs in the NFC.
Giancarlo Stanton heading to the Big Apple
The Giancarlo Stanton sweepstakes has come to an end. Stanton isn't going to St. Louis. Nor is he going to San Francisco. Many people thought that the Cardinals and Giants were the favorites, but Stanton nixed those deals and instead okayed a trade to the Big Apple. He's going to New York to be a Yankee. The Yankees in return are sending the Miami Marlins second baseman Starlin Castro and two other minor leaguers. It's a stunning lack of return for arguably the best slugger in baseball. The Yankees will absorb and take on the rest of Stanton's contract which is over $200 million. The Yankees are becoming the evil empire again. Stanton and Judge provide a lethal one-two punch in the batting lineup. Watch out for the Yankees. They are going for it all. As for the Marlins and their fans, this is yet another painful departure and potential rebuild. I know they have to trust Derek Jeter and the new ownership to build a winner, but this is a tough day, a tough time for Marlins fans. On second thought, don't believe them. They are bamboozling you. Jeter just helped the team he played for. Boo Jeter. Boo!
College football bowl season kicks off
Starting December 16th, we are going to have 17 straight days of bowl games between college football and the NFL. How great is that?! If you haven't done so, you should go to Capital One Bowl Mania on espn.com and make some picks. May I suggest doing confidence points and joining The Sports Lounge Season4 group? That's the group I'm in. Confidence point games are so difficult. There are always upsets. Saturday is a big day though for me, because of all of the points that I have with some of these teams…more so than any other year that I can remember for an opening Saturday. We'll list the games along with the confidence points.
Celebration Bowl (Atlanta, GA)
11-1 Grambling State vs. 11-0 North Carolina A&T Noon ET ABC
This counts in the Bowl Pick 'Em, but it shouldn't. North Carolina A&T has a good offense I hear. I'm only going one point here though out of principle.
Pick: Grambling State
Confidence points: 1
R+L Carriers New Orleans Bowl (New Orleans, LA)
10-2 Troy vs. 8-4 North Texas 1 PM ET ESPN
This bowl game is always the last game on Saturday night. Why is it being played in the afternoon? Don't get it. While the Celebration Bowl is being played at Mercedes-Benz Stadium in Atlanta, this game is being played at the Mercedes-Benz Superdome. Don't get confused.
Pick: Troy
Confidence points: Low to mid 20s
Autonation Cure Bowl (Orlando, FL)
6-6 Western Kentucky vs. 6-5 Georgia State 2:30 PM ET CBSSN
Western Kentucky has been pretty disappointing this season. Mike White is a pretty good quarterback, but he struggled for much of the season. He'll shine in this one.
Pick: Western Kentucky
Confidence: Mid to high 30s
Las Vegas Bowl (Las Vegas, NV)
10-3 #25 Boise State vs. 7-5 Oregon 3:30 PM ET ABC
This isn't the sort of Boise State team we've been used to seeing over the last decade plus. They are not quite as dominant this year. With quarterback Justin Herbert healthy and a good running back in Royce Freeman, I think the Ducks will be too much.
Pick: Oregon
Confidence points: Low to mid 20s
Gildan New Mexico Bowl (Albuquerque, NM)
7-5 Marshall vs. 7-5 Colorado State 4:30 PM ET ESPN
Marshall struggled down the stretch losing four of five. Colorado State wasn't much better, but they have a better offense and they will be too much for the Thundering Herd.
Pick: Colorado State
Confidence points: Mid to high 30s
Raycom Media Camellia Bowl
6-6 Middle Tennessee State vs. 7-4 Arkansas State 8 PM ET ESPN
Don't have much confidence in MTSU. Arkansas State is a better team on both sides of the ball and they will win.
Pick: Arkansas State
Confidence points: Low 30s
We'll have more college bowl game picks as Capital One Bowl Mania week continues…and as time allows.
Coming up later this week (potentially): Week 15 Football Friday picks
---