"The Stack" 12-15-17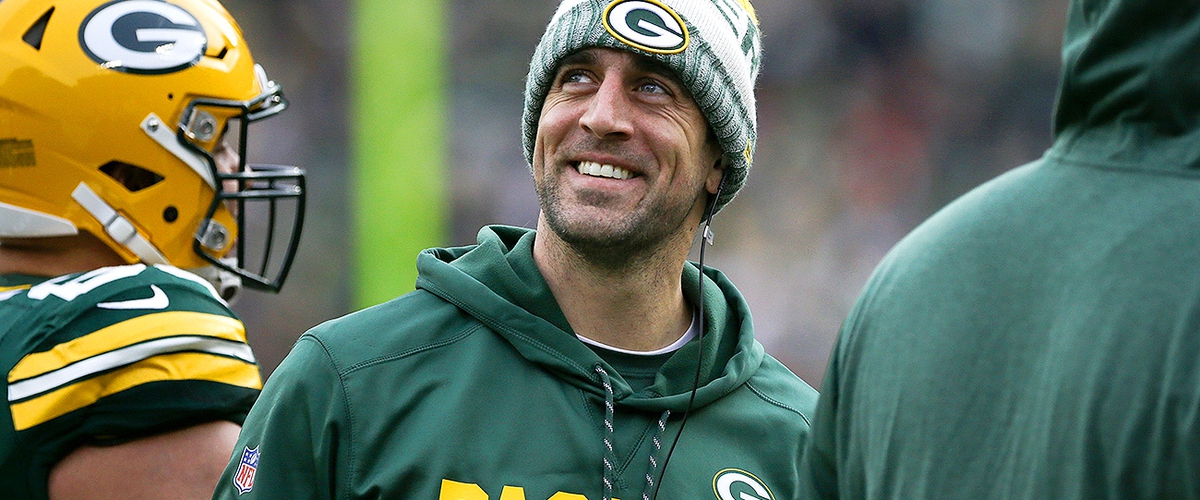 Uh-oh everyone. Aaron Rodgers is back and he means business. Be aware of the Packers...especially you Carolina.
The Stack is back on this Football Friday and Thursday night games are done. The Broncos won the last one last night 22-13. Aaron Rodgers is back. That means we all should worry about the Packers. Let's make some picks now for week 15 in "the stack" for today, Friday, December 15th:
Chicago Bears @ Detroit Lions 4:30 PM ET NFL Network (Saturday)
A doubleheader on Saturday. The Lions are playing for their playoff lives. The Bears had a nice win with Trubisky last week in Cincinnati. Matthew Stafford's hand injury is still slightly concerning, but the Lions are playing for their playoff lives…and they are the better team.
Prediction: Lions 27 Bears 17
Los Angeles Chargers @ Kansas City Chiefs 8:30 PM ET NFL Network (Saturday)
Arguably no team is hotter in the NFL right now than the Chargers. Perhaps only the Steelers in the AFC. Philip Rivers is playing great football right now. The Chiefs defense was good last week, but Rivers and company should have a field day through the air. Can the Chiefs offense keep pace? Quite possibly. Not enough though. Prove me right Chargers. Prove me right!
Prediction: Chargers: 31 Chiefs 27
Miami Dolphins @ Buffalo Bills 1 PM ET CBS
After the fun in the snow last week, will Buffalo be ready for the Dolphins who suddenly seem to be finding their groove? If Tyrod Taylor plays, I like the Bills to win this game. The Dolphins played well against the Patriots last week, but I don't know if their offense can travel up to Buffalo. I'll take the Bills.
Prediction: Bills 20 Dolphins 16
Green Bay Packers @ Carolina Panthers 1 PM ET FOX
In case you didn't know, Aaron Rodgers is back at quarterback for the Packers this week. The Panthers are a little wounded after last week's win against the Vikings. I don't know if their secondary will be up to the task of stopping Rodgers, but if they can get a little pressure on him, then things may change. Until I see that though, I must go with Rodgers and the Pack.
Prediction: Packers 27 Panthers 23
Baltimore Ravens @ Cleveland Browns 1 PM ET CBS
The Browns had their chance last week to get their first win….and they failed. Thanks for nothing Cleveland. While I'm not convinced the Ravens are a great team, I do think they have enough on both sides of the ball to take down the Browns. I'm sure DeShone Kizer throws a bad interception or two.
Prediction: Ravens 23 Browns 17
Houston Texans @ Jacksonville Jaguars 1 PM ET CBS
T.J. Yates is starting at quarterback for the Texans. Good luck succeeding against that Jaguars defense. Have fun Houston. Have fun. It is an odd week after all. And the Jaguars don't lose on odd weeks.
Prediction: Jaguars 30 Texans 10
Cincinnati Bengals @ Minnesota Vikings 1 PM ET CBS
Mike Zimmer against Marvin Lewis. Zimmer was the defensive coordinator at Cincinnati for Lewis before coming to Minnesota to be the head coach of the Vikings. The Vikings are stinging after that loss to the Panthers last week while the Bengals were a no show. They'll be prepared to play and the Vikings are going to be thin at tight end with holiday favorite Kyle Rudolph possibly not playing, but the Vikings are too talented and playing for the NFC North and homefield advantage.
Prediction: Vikings 27 Bengals 10
New York Jets @ New Orleans Saints 1 PM ET CBS
Bryce Petty versus Drew Brees. Jets quarterback Josh McCown is done for the year with a broken hand. Again, Bryce Petty versus Drew Brees. Enough said.
Prediction: Saints 37 Jets 17
Philadelphia Eagles @ New York Giants 1 PM ET FOX
Nick Foles gets his first chance to prove that he can lead the Eagles offense almost as effectively as Carson Wentz did. He's not as good as Wentz, not by a long shot, but the Eagles offense will be just fine…especially against a Giants team that appears to have given up. Beware of the upset here, but I think the Eagles get the job done.
Prediction: Eagles 34 Giants 20
Arizona Cardinals @ Washington 1 PM ET FOX
Well the Cardinals still have a very miniscule chance of making the playoffs while Washington is eliminated. Still, the Cardinals do not do good in 1 PM starts. Washington is the better team…I think. They are the home team, I know that. They will find a way to win.
Prediction: Washington 24 Cardinals 13
Los Angeles Rams @ Seattle Seahawks 4:05 PM ET FOX
The Rams are getting healthy with wide receiver Robert Woods coming back for this game as well as others while the Seahawks are banged up and most likely will not have linebacker Bobby Wagner. Yet somehow, some way, I think the Seahawks redeem themselves after last week's loss in Jacksonville.
Prediction: Seahawks 31 Rams 30
New England Patriots @ Pittsburgh Steelers 4:25 PM ET CBS
What a game this should be. The Patriots and Steelers are battling for homefield advantage in the AFC. Tom Brady versus Ben Roethlisberger. Points galore! That Steelers defense is not very good though. I expect Brady and company to carve them up and while the Steelers offense is tremendous, Bill Belichick will have something up his sleeves.
Prediction: Patriots 30 Steelers 27
Tennessee Titans @ San Francisco 49ers 4:25 PM ET CBS
Marcus Mariota's health is a huge concern in this one and Jimmy Garoppolo is 2-0 as 49ers starter. The 49ers have hope. The Titans though are going to the playoffs this year and they are desperate. I think their defense does enough along with a strong running game to win.
Prediction: Titans 20 49ers 16
Dallas Cowboys @ Oakland Raiders 8:30 PM ET NBC
Both teams are desperate for a win to stay alive for the playoffs. The Raiders are arguably the most disappointing team in the league. Derek Carr has not performed like a franchise quarterback. Their defense is terrible, but I think they may be able to hold off the Cowboys and pick up a win in the Black Hole.
Prediction: Raiders 27 Cowboys 23
Coming up Monday: Sunday week 15 NFL reaction plus MNF preview
---