"The Stack" 12-22-17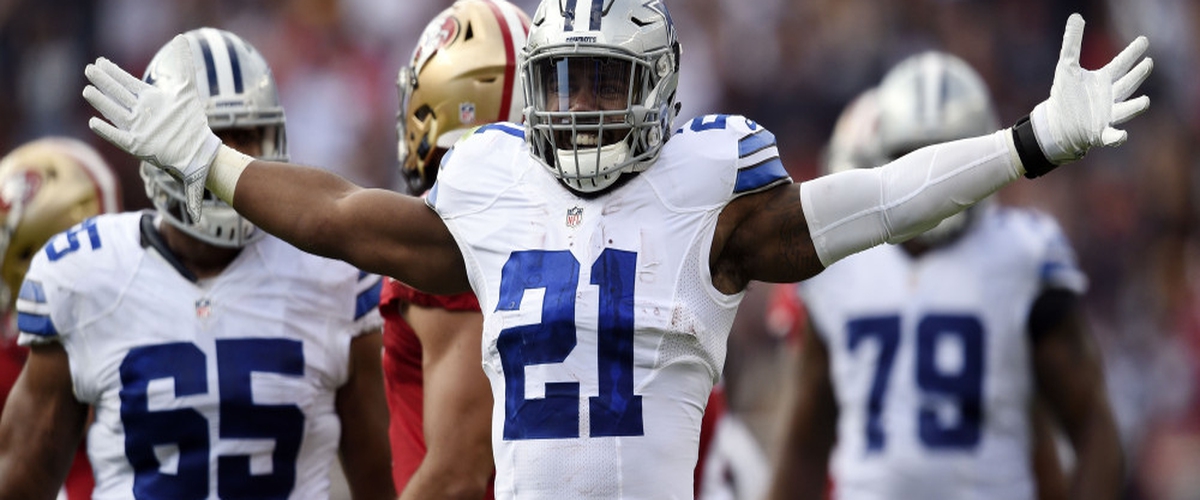 Ezekiel Elliott is back after his six game suspension. Can he help the Cowboys get back to the playoffs? Perhaps, provided he plays well and the Cowboys get some help.
The Stack is back on this Football Friday before Christmas and all through the house, Baby Stacken is sleeping or crying and needing my (our, my wife needs a lot of credit and a shoutout) attention so we have obviously been busy and not able to do a blog. We needed to get our standard Football Friday post in though so enjoy this Christmas edition of "the stack" for today, Friday, December 22nd:
Indianapolis Colts @ Baltimore Ravens 4:30 PM ET NFL Network (Saturday)
The Ravens still are fighting for a wild card spot. The Colts aren't fighting for anything except maybe a bonus for kicker Adam Vinatieri. The Ravens defense is so much better and they may have the better kicker in Justin Tucker which is really saying something.
Prediction: Ravens 26 Colts 9
Minnesota Vikings @ Green Bay Packers 8:30 PM ET NBC (Saturday)
Can the Vikings really lose this game if Aaron Rodgers, Devante Adams, Clay Matthews and Nick Perry don't play as well as a few others? Minnesota sports fans know that anything is possible. Having said all of that, they have something to play for (a playoff bye and maybe homefield advantage in the playoffs). Green Bay does not except to be a thorn in the side of the Vikings. Anthony Barr is in for a warm reception…not! He broke Aaron Rodgers collarbone on a hit after all you may recall.
Prediction: Vikings 27 Packers 13
Tampa Bay Buccaneers @ Carolina Panthers 1 PM ET FOX
The Buccaneers are the walking wounded. How many guys did they put on IR this week? Five or so?! Cam Newton and company will have a big day against this bad Buccaneers defense. Expect a couple of turnovers from Jameis Winston along the way.
Prediction: Panthers 31 Buccaneers 17
Cleveland Browns @ Chicago Bears 1 PM ET CBS
Apparently the Bears have never won as favorites in the John Fox era. They are 0-7. They are favorites in this one. The Browns last won a game on Christmas Eve last year. This game is on Christmas Eve. Don't be surprised if the Browns find a way to win.
Prediction: Bears 20 Browns 17
Detroit Lions @ Cincinnati Bengals 1 PM ET FOX
You would hope the Bengals can put forth a better effort than the one they have shown the last two weeks, but with Marvin Lewis likely headed out, the Bengals appear to have mailed it in as well. The Lions still have faint playoff hopes and will come out the more desperate team. Matthew Stafford's hand though still bears watching.
Prediction: Lions 29 Bengals 17
Miami Dolphins @ Kansas City Chiefs 1 PM ET CBS
The Chiefs appear to have turned things around. The offense is rolling and the defense is getting back on track. I'm sure Jay Cutler is good for a pick or three. There should be no reason that the Chiefs lose this game though the Dolphins may surprise. Don't say I didn't warn you.
Prediction: Chiefs 31 Dolphins 16
Buffalo Bills @ New England Patriots 1 PM ET CBS
Patriots tight end Rob Gronkowski better have his head on a swivel at all times in this game. You may recall he delivered a very cheap, late hit a few weeks ago when these two teams met. I don't blame the Bills for going after him. However, the Bills will not have enough to take down the Patriots who are trying to fend off the Steelers and Jaguars (yes the Jaguars) for homefield advantage throughout the AFC playoffs.
Prediction: Patriots 27 Bills 19
Atlanta Falcons @ New Orleans Saints 1 PM ET FOX
If the Falcons win out, they win the NFC South. There is no love lost between these two teams and if their game two weeks ago is any indication, this is going to be a big slugfest. The Saints are going to have to win without safety Kenny Vaccaro going forward, but they will be able to get the job done behind the one-two punch of Mark Ingram and Alvin Kamara.
Prediction: Saints 30 Falcons 23
Los Angeles Chargers @ New York Jets 1 PM ET CBS
The Chargers had a chance last week to seize control of the AFC West, but failed. They are relying on the Dolphins to beat the Chiefs while they focus on beating an AFC East opponent themselves. I'll take Philip Rivers over Bryce Petty. I'll take the Chargers to bounce back and keep their slim playoff hopes alive.
Prediction: Chargers 24 Jets 13
Los Angeles Rams @ Tennessee Titans 1 PM ET FOX
Do not underestimate just how big of a loss kicker Greg Zuerlein is for the Rams. Zuerlein is out for the year. The Rams offense is rolling right now and coming off of a crushing win against the Seahawks in Seattle. The Titans have been very underwhelming and disappointing the last couple of weeks. In order to stay in the playoff hunt they must play desperate. I think they will find a way to take down the Rams because the Rams new kicker will miss a field goal late.
Prediction: Titans 23 Rams 20
Denver Broncos @ Washington 1 PM ET CBS
Both teams are out of the playoff hunt so this game is essentially meaningless. Kirk Cousins though may be auditioning for a job with the Broncos if you believe the rumors out there that John Elway will make a run at him in the offseason. It wouldn't shock me. I hope he doesn't go there. Having said all that, Cousins will have a better day than Brock Osweiler and Washington will find a way to win.
Prediction: Washington 20 Broncos 16
Jacksonville Jaguars @ San Francisco 49ers 4:05 PM ET CBS
Jimmy Garoppolo is undefeated (3-0) as the starting quarterback for the 49ers. Can he make it 4-0? Not against that stout Jaguars defense. Leonard Fournette and Chris Ivory (if he's needed) will have big games as the Jaguars win another game.
Prediction: Jaguars 30 49ers 16
New York Giants @ Arizona Cardinals 4:25 PM ET FOX
Eli Manning and the Giants nearly pulled off the big upset last week over the Eagles. Unfortunately, they could not do it. Against a Cardinals team with nothing to play for maybe the Giants will put forth another big effort, but I feel like Larry Fitzgerald, who may be playing his final home game of his career, will not let that happen.
Prediction: Cardinals 24 Giants 17
Seattle Seahawks @ Dallas Cowboys 4:25 PM ET FOX
Welcome back Ezekiel Elliott. The Cowboys need you to make that final playoff push. They will need help as well. The Seahawks appear to be a mess right now. Can they end the dysfunction against the Cowboys? I would love to say yes, but I don't see it happening.
Prediction: Cowboys 27 Seahawks 20
Coming up Monday: Sunday week 16 NFL reaction plus Monday football doubleheader preview.
---