"The Stack" 12-21-18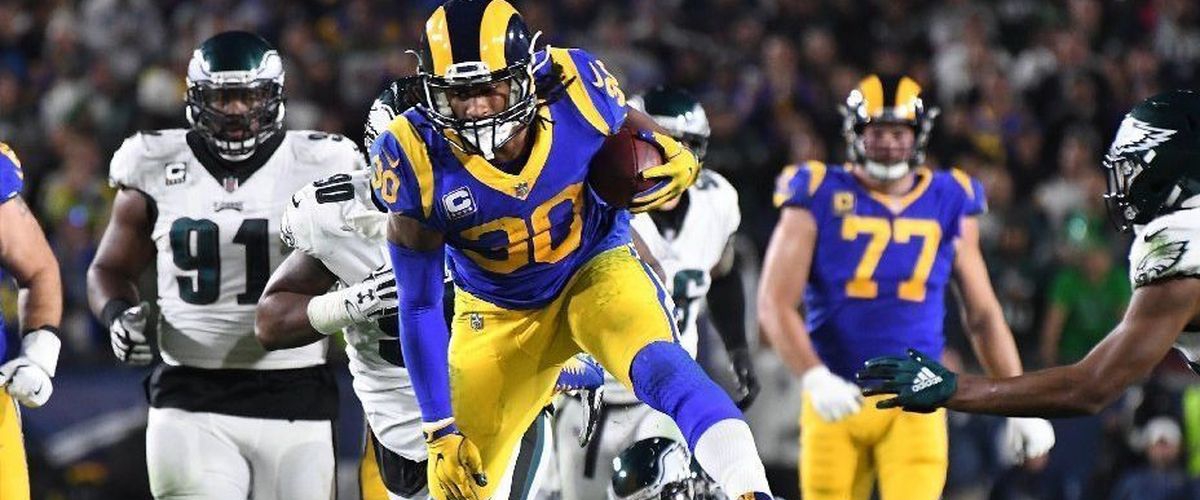 Los Angeles Rams running back Todd Gurley is a gametime decision with a knee injury. The Rams are just one of at least a dozen teams with big games with major playoff implications on Sunday.
The Stack is back late on this Football Friday and we have a full slate of games to preview apart from the MNF game. Two games Saturday, 13 on Sunday and one on Monday. Big week of football ahead so let's get right to it and preview week 16 in "the stack" for today, Friday, December 22nd:
7-7 Washington @ 8-6 Tennessee Titans 4:30 PM ET NFL Network (Saturday)
Big game with massive playoff implications for both teams. Washington is still somehow alive though they will be starting Josh Johnson again at quarterback and it is hard to see how their offense is going to be good against that Titans defense. Derrick Henry has run for over 400 yards the last two weeks. He's going to have another big game and keep Tennessee in prime playoff position.
Prediction: Titans 27 Washington 10
8-6 Baltimore Ravens @ 11-3 Los Angeles Chargers 8:20 PM ET NFL Network (Saturday)
Another huge game with tremendous playoff implications. Since Lamar Jackson has taken over at quarterback for the Ravens, they have ran for over 200 yards per game. The threat of Jackson running is substantial. The Chargers defense will have to be and I think they will be. Philip Rivers better be ready against that Ravens defense. If it comes down to special teams, I like the Ravens. I think the Chargers will do just enough though to emerge victorious.
Prediction: Chargers 27 Ravens 23
5-9 New York Giants @ 8-6 Indianapolis Colts 1 PM ET CBS
The Giants were shutout last week against an AFC South opponent. The Colts shut out an NFC East opponent last week. Something has to give. The Giants have nothing to play for and they may not have Odell Beckham Jr. The Colts are still fighting for a wild card spot. They'll get one step closer.
Prediction: Colts 26 Giants 13
4-10 Jacksonville Jaguars @ 7-7 Miami Dolphins 1 PM ET CBS
Listen, if the Jaguars can't even beat Washington, who has Josh Johnson starting at quarterback, at home, how are they going to beat a Dolphins team in Miami with playoff aspirations, albeit slim?
Prediction: Dolphins 23 Jaguars 6
5-9 Atlanta Falcons @ 6-8 Carolina Panthers 1 PM ET FOX
Two very disappointing teams with playoff aspirations at the beginning of the season meet in Charlotte. The Panthers have lost six games in a row and will not have Cam Newton for this game or for the rest of the year. That makes me want to take the Falcons. I may regret that, but I don't think Taylor Heineke can get it done for the Panthers.
Prediction: Falcons 20 Panthers 17
6-8 Cincinnati Bengals @ 6-7-1 Cleveland Browns 1 PM ET CBS
The Battle of Ohio has been primarily dominated by the Bengals in recent years. The Browns are looking to complete the sweep this year. Baker Mayfield is playing great and will outduel Jeff Driskel and the while the Browns playoff hopes may be over before kickoff, they'll still get the seventh win of the season.
Prediction: Browns 31 Bengals 13
5-9 Tampa Bay Buccaneers @ 8-6 Dallas Cowboys 1 PM ET FOX
I feel bad for the Bucs. They are going to feel the Cowboys' wrath after they got shutout last week. The Buccaneers defense is not that good and the Cowboys defense will force a few turnovers from Jameis Winston and the Cowboys will clinch the NFC East with a convincing win.
Prediction: Cowboys 31 Bucs 17
7-6-1 Minnesota Vikings @ 5-9 Detroit Lions 1 PM ET FOX
The Vikings running game was superb last week against the Dolphins. It will be more difficult this week against Lions, but with the Vikings having a playoff spot on the line, they'll find a way to beat a Lions team that will at this point be playing spoiler if possible. Not sure how healthy Matthew Stafford will be, but it won't matter. The Vikings defense will sack him at least four times and the Vikings will come away with the win.
Prediction: Vikings 27 Lions 16
5-9 Buffalo Bills @ 9-5 New England Patriots 1 PM ET CBS
The Patriots finish the year with two games at home and they need to win and get a little help from the Houston Texans to get a first round bye in the playoffs. Despite all of the Josh Gordon drama this week, they shouldn't have a problem taking down the Bills.
Prediction: Patriots 24 Bills 12
5-8-1 Green Bay Packers @ 4-10 New York Jets 1 PM ET FOX
Aaron Rodgers is going to play in this one by the sounds of it even though the Packers have nothing to play for as the season winds down. Good thing they are playing a Jets team that is sufficiently worse than they are. And that is saying something! Even though the Jets gave the Texans a battle last week, I don't see them being able to beat the Packers.
Prediction: Packers 27 Jets 16
10-4 Houston Texans @ 7-7 Philadelphia Eagles 1 PM ET CBS
This is a huge game for both teams with massive playoff implications. A win for the Texans secures them the AFC South division title and keeps them in line for a first round bye. A win for the Eagles keeps their wild card hopes alive. I want the Texans to win. I think they have the ability to win this game, but will they? I have my doubts. It's December and that means it's time for more Nick Foles magic.
Prediction: Eagles 27 Texans 20
11-3 Los Angeles Rams @ 3-11 Arizona Cardinals 4:05 PM ET FOX
The Rams are struggling having lost two in a row and Jared Goff has not looked good over the last three weeks. He may not have Todd Gurley in this one either. In what may be the last home game of his career, expect Larry Fitzgerald to make an impact (hopefully, anyway) and the Cardinals to play inspired, but I think the Rams will be too much down the stretch.
Prediction: Rams 26 Cardinals 17
10-4 Chicago Bears @ 4-10 San Francisco 49ers 4:05 PM ET FOX
A few weeks ago, the Bears found themselves in a trap game against the Giants in New York. They lost that game. They face a similar scenario here. I think the 49ers are going to give the Bears all they can ask for, but the Bears defense will make a big play late and secure the win to keep pressure on the Rams for that second seed in the NFC.
Prediction: Bears 24 49ers 20
8-5-1 Pittsburgh Steelers @ 12-2 New Orleans Saints 4:25 PM ET CBS
That was a great win for the Steelers last Sunday against New England. They'll need that type of effort again in order to beat the Saints on Sunday. I don't see that happening. The Saints have struggled offensively as of late, but returning home will provide a major boost. Look for Alvin Kamara and Mark Ingram to have big games and the Saints to win this one going away and secure homefield advantage throughout the entire NFC playoffs.
Prediction: Saints 34 Steelers 17
11-3 Kansas City Chiefs @ 8-6 Seattle Seahawks 8:20 PM ET NBC
Mark this one down as another game with huge playoff implications for both sides. The Chiefs will at least know what the Chargers did the night before to see if they can secure the AFC West title or not. The Seahawks need to win to maintain the fifth seed in the NFC. Seattle is never an easy place to play, but the Chiefs have had more than a week to stew on that loss and I think Patrick Mahomes and company and ready to light it up.
Prediction: Chiefs 27 Seahawks 21
Coming up Monday (Christmas Eve): NFL week 16 reaction plus MNF preview
---