"The Stack" 12-31-19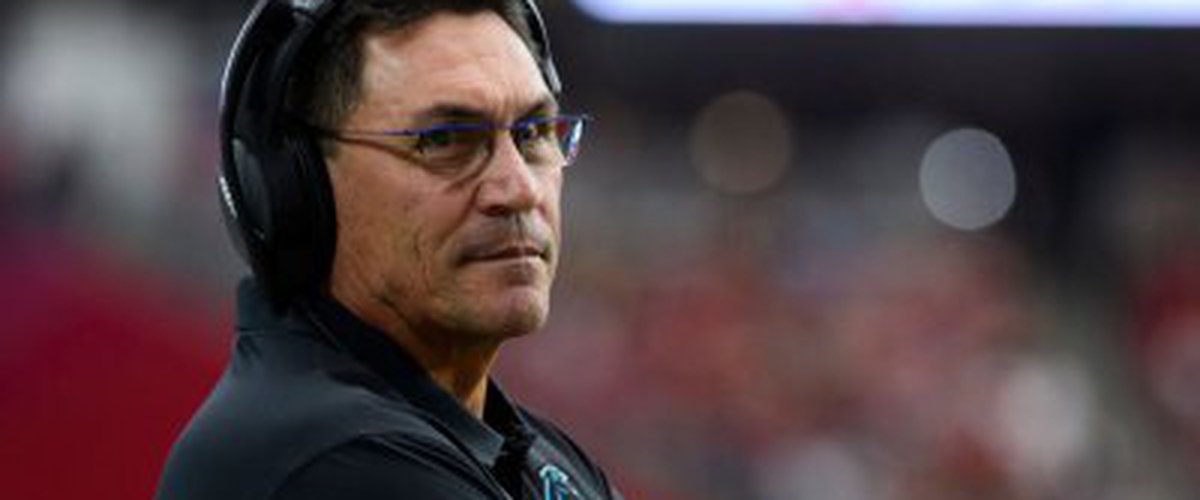 Ron Rivera is the new head coach of Washington. The former Carolina Panthers coach agreed to a deal late Monday night/early Tuesday morning. He brings immediate credibility to an organization that desperately needs it.
The Stack is back on this final day of 2019 and we have bowl games to pick today as well as NFL head coaches who were fired. There weren't as many as we thought there would be. Not today anyway. Let's get right to "the stack" for today, New Year's Eve 2019:
NFL Black Monday
The end of the NFL regular season was very exciting. The playoffs should be very good too. Unfortunately for teams that did not make the playoffs and failed to reach expectations, it means there are some jobs that will be lost. Such is the case in Cleveland where Freddie Kitchens is out after a very disappointing 6-10 season. The Browns were supposed to be in the playoffs. They were nowhere close to sniffing that.
Pat Shurmur is on his way out in New York following an abysmal 9-23 record over two years, but it wasn't entirely his fault. The roster is filled with holes. He was working with a rookie quarterback. His star running back missed a quarter of the season with a high ankle sprain and wasn't himself for most of the year. Maybe if Shurmur had interacted with the media better he would have helped his case. Yet somehow, the GM of the team is still there. What a world we live in.
Washington already fired Jay Gruden in the middle of the season, but they extended the firings on Monday by announcing that Bruce Allen, the top football executive in the front office, would no longer be with the team in any capacity. Considering how bad the team has been and the "culture" that Allen thought was pretty damn good, this firing has been a long time coming and probably should have happened years ago. Washington was quick to hire their next head coach, tabbing former Carolina Panthers head coach Ron Rivera as their new man. He brings immediate credibility to the team.
As of the writing of this blog, Doug Marrone is still the head coach in Jacksonville and Jason Garrett is still the head coach in Dallas, but that could change at any minute. We'll have to wait and see if those two teams keep the status quo or say it's time for a change. We'll also monitor the other openings (Carolina, Cleveland & New York) and let you know who the team's hire when they hire. Get comfy because it is going to be a wild ride.
Belk Bowl (Charlotte, NC)
8-4 Virginia Tech VS 7-5 Kentucky Noon ET ESPN
I'm a Hokies fan. I try and be unbiased whenever possible, but there is no way that Virginia Tech is going to lose the final game that Bud Foster is defensive coordinator. No freaking way!
Predicted winner: Virginia Tech
Confidence points: Low single digits
Tony the Tiger Sun Bow (El Paso, TX)
6-6 Florida State VS 7-5 Arizona State 2 PM ET CBS
Florida State has a new head coach in Mike Norvell. They also have a few players sitting this game out. Arizona State may have the best player in this game from either team in freshman quarterback Jayden Daniels. He's phenomenal. Herm Edwards will have his team ready. They'll come through with a victory.
Predicted winner: Arizona State
Confidence points: Low 30s
AutoZone Liberty Bowl (Memphis, TN)
10-2 #23 Navy VS 8-4 Kansas State 3:45 PM ET ESPN
Like Air Force, Navy's triple option running game is difficult to defend. Kansas State has had a remarkable first year under head coach Chris Kleiman and they have a good defense. They've had a few weeks to prepare for this attack, but I think Navy will control the ball for much of the game and emerge victorious.
Predicted winner: Navy
Confidence points: Low 30s
Nova Homes Arizona Bowl (Tucson, AZ)
7-5 Wyoming VS 7-5 Georgia State 4:30 PM ET CBSSN
Another terrible bowl game so it must be on CBS Sports Network. I hope I'm not wrong on this, but I think Wyoming is the more talented team and should win pretty easily.
Predicted winner: Wyoming
Confidence points: High 20s
Valero Alamo Bowl (San Antonio, TX)
11-2 #11 Utah VS 7-5 Texas 7:30 PM ET ESPN
Motivation is going to be a key factor in this one. Just how motivated is Utah to play in this bowl after getting trounced in the Pac-12 Championship game to Oregon? They were the second best team in the Pac-12 for crying out loud. Then again, head coach Kyle Whittingham's bowl track record speaks for itself. Texas has been a very disappointing team this year. The disappointment will go into 2020.
Predicted winner: Utah
Confidence points: Low 20s
Have a very enjoyable and safe New Year's Eve everyone. Keep your vision 2020.
Coming up Wednesday: New Year's Day Bowl picks
---