"The Stack" 12-5-17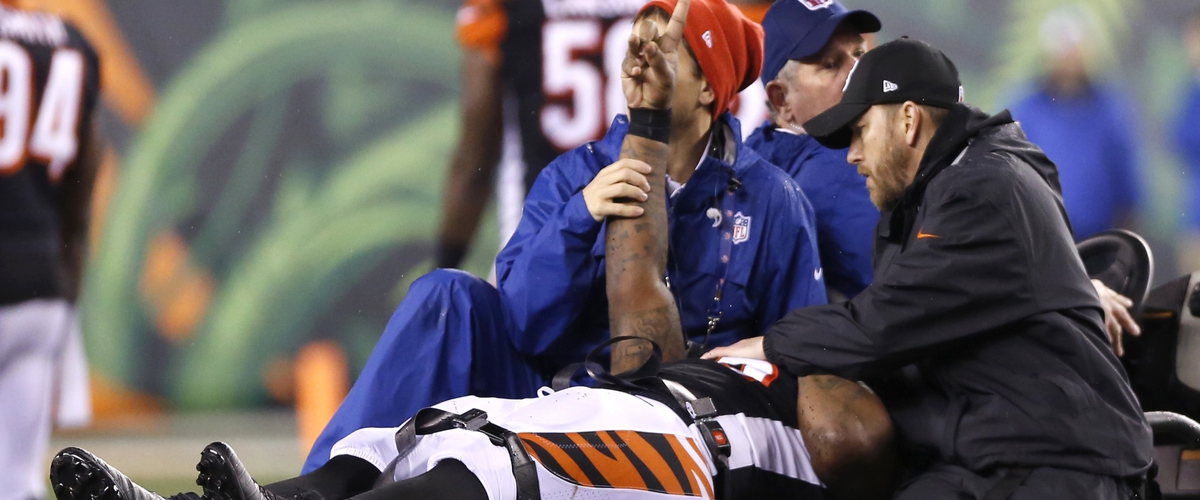 Vontaze Burfict and Ryan Shazier both were seriously injured in last night's game between the Steelers and Bengals.
The Stack is back on this Tuesday and there isn't a whole lot to discuss today, but we found a couple of things to discuss so let's get right to it and see what's in "the stack" for today, Tuesday, December 5th:
Steelers top Bengals in ugly MNF game
The Cincinnati Bengals blew a 17-0 lead to the Pittsburgh Steelers, let Le'Veon Bell loose down the sideline for a touchdown instead of knocking him out of bounds and lost the game 23-20. This game was marred though by a ton of penalties (the Bengals set a franchise record for penalty yards) and two significant injuries coupled with some big hits. Steelers linebacker Ryan Shazier went in a tackle and lowered his head. He left on a board and went to a local hospital. Feeling in his lower body was a concern. Things seem to progressing okay for him though and he may be able to get back to Pittsburgh in a couple of days. As if that wasn't jarring enough, Steelers rookie wide receiver JuJu Smith-Schuster blindsided Bengals linebacker Vontaze Burfict and then stood over him and taunted him. That can't happen. Somehow, only one penalty was enforced against Smith-Schuster. Don't know how that can happen. He also wasn't ejected. Burfict left the game on a board as well. The Bengals retaliated with Bengals safety George Iloka hit Steelers wide receiver Antonio Brown high as Brown caught a touchdown. Iloka and Smith-Schuster have both been suspended one game by the NFL for their actions. This is a nasty rivalry and it is starting to get out of hand. It's not just "AFC North football" as Ben Roethlisberger said last night after the game. It's dangerous. It's despicable. It's not football. Hopefully the NFL can control things here the next time these two teams meet.
Gronk suspended for one game
#AsExpected, New England Patriots tight end Rob Gronkowski has been suspended one game for his dirty hit on Buffalo Bills cornerback Tre'Davious White after White intercepted a pass in the fourth quarter. He was clearly out of bounds and Gronkowski came in and smashed him, giving him a forearm to the head. White has a concussion most likely and the NFL had to do something. Sure Gronk is fun loving, but there is no room in the NFL for plays like that. The NFL did the right thing by suspending him for a game.
LiAngelo Ball leaves UCLA
The LiAngelo Ball era at UCLA is done (you mean there was one?). Ball's father, you may have heard him, he's Lavar Ball said that he has pulled his son out of school and they are looking at their options. LiAngelo you may recall was one of three UCLA players accused of shoplifting on the team's trip in China. This also invites speculation as to whether or not the youngest Ball, LaMelo, will go to UCLA. At this point if the Balls could just leave society it would be fine. LiAngelo is the worst of the three Ball brothers so UCLA isn't losing a lot. Plus he was suspended indefinitely so he wasn't even seeing the court. LaVar isn't doing LiAngelo any favors with pulling him out, but he's doing what LaVar does and that is being in the spotlight and getting people to talk about him. Curse you LaVar Ball! You've done it again.
College Football Playoff thoughts
Championship Saturday didn't hold a lot of intrigue. The best championship game of the day by far was the AAC where it took two overtimes for Central Florida to take down Memphis 62-55. When Oklahoma beat TCU, you knew that Oklahoma had stamped their ticket to the Playoff. After Georgia "upset" Auburn, we knew two teams. Clemson steamrolled Miami (FL) so three teams were in. Could Wisconsin beat Ohio State and make it an easy decision for the College Football Playoff committee? No. Ohio State beat Wisconsin 27-21 and the question began. Would the committee select Ohio State who won the Big Ten or take Alabama as an at large? Sunday at noon eastern time, we found out. The committee liked Alabama and I think it has to stem in large part because Ohio State lost by 31 to Iowa. That is a terrible loss. Ultimately had Ohio State gotten in, it wouldn't have been a big deal. I could have gone with either won. Ohio State had a more impressive wins perhaps over Penn State, Michigan State and Michigan than Alabama did over Mississippi State, LSU and Florida State. It would be best if we got to eight playoff teams, but that isn't likely to happen anytime soon. So we have Clemson vs. Alabama, a rematch for the third straight year and Oklahoma vs. Georgia. Overall I guess I'm okay with it. Bowl season begins December 16th.
Russia banned from Winter Olympics
Amid doping allegations, the IOC has banned Russia from the 2018 Winter Olympics. Those athletes that want to compete must do so under an independent flag aka the Olympic flag. We'll see how many athletes actually choose to go. This doping scandal is pretty big. The IOC made the right call suspending them.
Coming up Thursday: TNF preview plus other top stories in sports
---