"The Stack" 12-7-17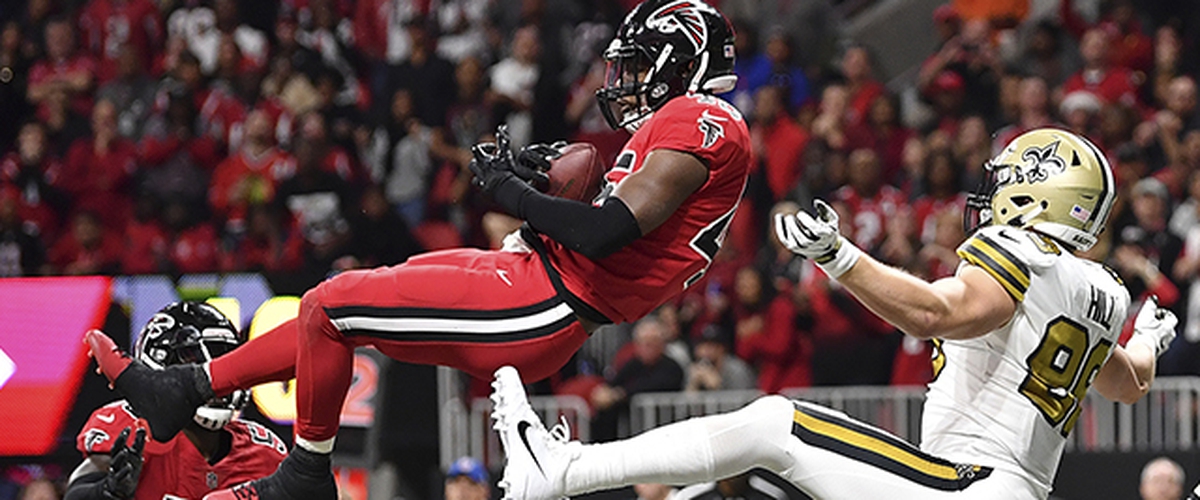 Deion Jones made a huge play with the Saints driving late in the fourth quarter, picking off Drew Brees in the endzone to preserve the Falcons' 20-17 lead. They would win by that score and stay alive in the NFC playoff picture.
The Stack is back on this Football Friday and we're going to find out a lot about the NFC this week. We already found out a little bit about it with last night's NFC South battle between the New Orleans Saints and Atlanta Falcons. The Falcons won 20-17 in a game that was not the cleanest of games, but Falcons linebacker made the play of the game with his athletic interception of Drew Brees late in the game. A penalty on Saints head coach Sean Payton would end this game. Huge win for the Falcons. Packers, Cowboys and Lions fans are not happy about that. What else is going to happen this week? Let's find out in "the stack" for today, Friday, December 8th:
Indianapolis Colts @ Buffalo Bills 1 PM ET CBS
Pretty crappy game. The Bills are going to have to start Nathan Peterman. You remember him right? The guy who threw five interceptions in the first half of their game with the Chargers. Yup, he's playing in this one. Colts quarterback Jacoby Brissett played against the Bills last year with the Patriots and got shut out. He's better this year, but the Bills are a better team.
Prediction: Bills 16 Colts 9
Minnesota Vikings @ Carolina Panthers 1 PM ET CBS
If the Vikings can get through this gauntlet of three straight road games 3-0, that would be really impressive. I picked against them last week and they proved me wrong. I'm going to do it again this week, in part because I wouldn't mind seeing the Panthers win just so it makes it more difficult for the Packers to get in the playoffs. Man this is a great analysis of the game. The Vikings defense against Cam Newton. Vikings have had success against Cam in the past. They probably will again, but I'll still take the Panthers.
Prediction: Panthers 21 Vikings 20
Chicago Bears @ Cincinnati Bengals 1 PM ET FOX
After that ugly game Monday night, will the Bengals be able to play a crisp game on Sunday? I doubt it, but even if they aren't at their best they should be able to beat a bad Bears team.
Prediction: Bengals 20 Bears 10
Green Bay Packers @ Cleveland Browns 1 PM ET FOX
I've been thinking for over a month now that this could be the game that the Browns will win. Brett Hundley has played terrible this season apart from one game on the road a couple of weeks ago in Pittsburgh. Browns, this is your time. You just fired your GM. You hired a new one hours later. Show me something Browns. Show me something!
Prediction: Packers 23 Browns 17
San Francisco 49ers @ Houston Texans 1 PM ET FOX
Jimmy Garoppolo versus Deshaun Watson would be very intriguing. Jimmy Garoppolo versus Tom Savage…not so much. Garoppolo looked pretty good last week against Chicago. Houston is a little better than Chicago. They'll win this one.
Prediction: Texans 27 49ers 17
Oakland Raiders @ Kansas City Chiefs 1 PM ET CBS
What a game these two played in Oakland earlier this season. The Chiefs defense is an absolute mess right now and cornerback Marcus Peters has been suspended for the game by the team. Derek Carr and the Raiders offense should have a great day against the Chiefs, but Alex Smith and company will find a little more success against the Raiders defense and come ahead with a big win.
Prediction: Chiefs 37 Raiders 31
Detroit Lions @ Tampa Bay Buccaneers 1 PM ET FOX
I'll make this as easy as possible. If Matthew Stafford plays, the Lions win. If he doesn't they lose. Stafford's hand has a hand in my pick. What a terrible joke Stacken. Are you kidding me? We'll offer two predictions:
If Stafford plays: Lions 26 Buccaneers 17
If Stafford doesn't play: Buccaneers 24 Lions 16
Dallas Cowboys @ New York Giants 1 PM ET FOX
So Eli Manning is starting again at quarterback for the Giants. The Cowboys are a desperate team. They need to win. We'll see the effort level of the Giants. I'm guessing they'll play better than they did with Ben McAdoo, but it won't result in a win.
Prediction: Cowboys 27 Giants 14
Tennessee Titans @ Arizona Cardinals 4:05 PM ET CBS
Really tough game to pick. The Titans tend to lose these types of games. The Cardinals have a good defense, but they still have Blaine Gabbert. I don't think he can go toe to toe with Marcus Mariota. I'll take the Titans narrowly, but I will not be shocked if the Cardinals get the W.
Prediction: Titans 23 Cardinals 20
New York Jets @ Denver Broncos 4:05 PM ET CBS
Yuck. Kind of an ugly game. The Jets have played so much better than anyone thought they would this year while the Broncos are flat out a disaster. Robby Anderson and Josh McCown will have another big day and the Jets are going to outduel the Broncos.
Prediction: Jets 20 Broncos 16
Washington @ Los Angeles Chargers 4:05 PM ET CBS
The Chargers are playing really good football right now. Philip Rivers is throwing a ton through the air and he is being really effective. I don't see Washington slowing him down. The Chargers on both offense and defense will roll.
Prediction: Chargers 27 Washington 20
Seattle Seahawks @ Jacksonville Jaguars 4:25 PM ET FOX
Hey it's the alliteration game. The Seahawks say they are ready to make a December run. Russell Wilson is going to have to run for his life away from Calais Campbell and the Jaguars defense, but I think they take an important step while the Jaguars find out they are not quite there yet and not to the Seahawks level.
Prediction: Seahawks 23 Jaguars 13
Philadelphia Eagles @ Los Angeles Rams 4:25 PM ET FOX
Carson Wentz versus Jared Goff. Number two pick versus number one pick. Both quarterbacks are enjoying a lot of success this year. It sounds like Wentz will get his tight end Zach Ertz back. It will be close, but the Eagles defense is going to contain the Rams offense and the Rams defense, while they will slow down Wentz and company, won't be able to do enough to get the win.
Prediction: Eagles 26 Rams 23
Baltimore Ravens @ Pittsburgh Steelers 8:30 PM ET NBC
One of football's best rivalries. There is respect in this rivalry we've learned this week unlike the Steelers-Bengals rivalry. The Ravens are playing better as of late, but Big Ben, Le'Veon Bell and Antonio Brown will prove to be too much and the Steelers will pick up the win and have two straight dogfights, physical matchups. They'll be black and blue after this one.
Prediction: Steelers 24 Ravens 16
Coming up Monday: Sunday week 14 NFL reaction plus MNF preview
---