"The Stack" 12-7-17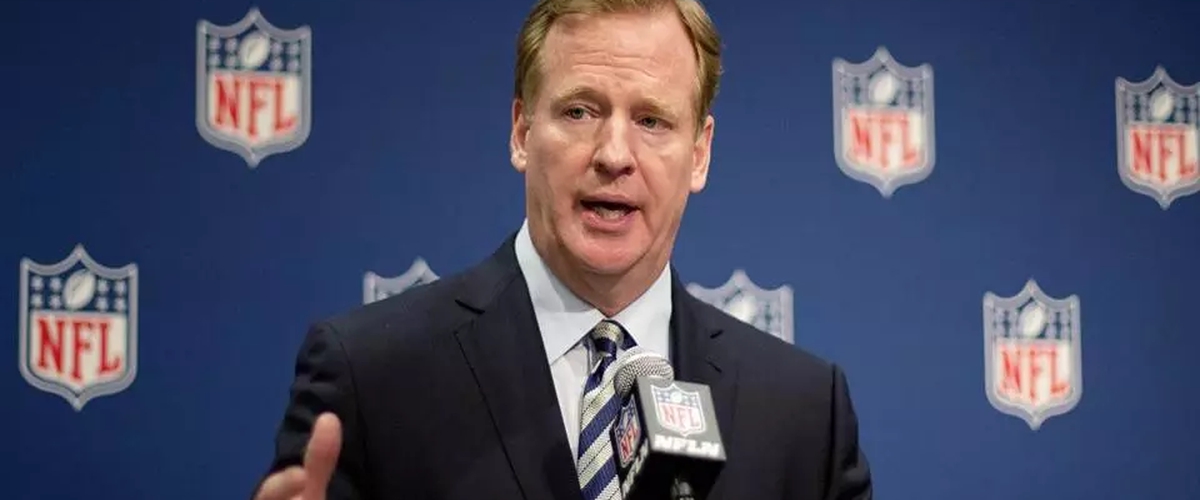 NFL Commissioner Roger Goodell has signed a new deal worth $200 million over the next five years, but heavy in bonuses and incentives.
The Stack is back on this Thursday and there is not much in store for today. It's what we call a short stack. Takes me back to my days as a waiter at Perkins Family Restaurant and Bakery. There's some bad shit going on with Warren Moon. Tennessee is finally close to getting a new football coach and it isn't Tee Martin. Let's get right to it and see what is in "the stack" for today, Thursday, December 7th:
Goodell signs contract extension
Despite the best efforts of Dallas Cowboys owner Jerry Jones, NFL Commissioner Roger Goodell has a new deal. It's a reportedly $200 million deal for five years. Almost 85 percent of the deal though is based on bonuses and incentives so the owners will have some say in this. That has to make Jones a little happy at least. No doubt Goodell has helped the league grow and make a ton of money during his time as commissioner, but there have been a number of issues lately stemming from the league's issue with suspending players for domestic violence (see Ray Rice and Ezekiel Elliott). Then there is the whole national anthem issue, inconsistent officiating and perhaps another issue or two that I am forgetting at this time. That's probably why the deal has so much riding on bonuses and incentives. Plus Goodell takes the brunt of the rage from fans and shields the owners from it for the most part. That's why the deal will pay him roughly $40 million a year for the next five years. We'll see if he is able to last five years or if changes in the league force the owners to make a change…which would make Jones happy.
Major college basketball upsets last night
Wednesday night was not a good night if you were a team ranked in the top five. Both #2 Kansas and #5 Florida lost. Kansas lost to Washington 74-65 in Kansas City while Florida inexplicably lost to Loyala (IL) 65-59. Washington didn't have a great chance to win this game, but they played great and Kansas could not hit from beyond the arc. They were just 5-for-20. I have no idea what the heck happened to Florida. It's baffling. This team is better than that. Two head scratching losses to say the least, but the Florida loss is far more damaging. Florida has now lost two straight. They lost to Florida State at home Monday night. This team had Final Four aspirations. They still do, but they need to clean up a lot of things and fast. Come March, perhaps this will just be something we look back at and say can you believe we worried about this? Or maybe we'll look back at how disappointing Florida was. This is the beauty of college basketball and why I love the college basketball season.
New Orleans Saints @ Atlanta Falcons 8:25 PM ET NBC and NFL Network (Streaming live on Amazon Prime)
Monster game in the NFC South tonight. The Falcons still have an outside shot at the NFC South title, but a loss tonight would all but end those hopes. The Falcons offense was not very good against Minnesota last week and that's putting it mildly. They must be explosive tonight and they are going to have to score a lot of points because Alvin Kamara and the Saints offense is rolling right now. Mark Ingram might not play in this one which would be a bit of a blow to the Saints, but with Kamara and Drew Brees, they'll find a way. The Falcons also need to win this game potentially just to make the playoffs with the Cowboys, Packers and Lions breathing down their necks. With Aaron Rodgers most likely coming back for the Packers next week, that makes this game essentially a must win for the Falcons. They understand what's at stake and I think (hope) they get the win here.
Prediction: Falcons 30 Saints 27
Coming up Friday: Preview and prediction for Sunday's week 14 NFL action
---