"The Stack" 12-7-18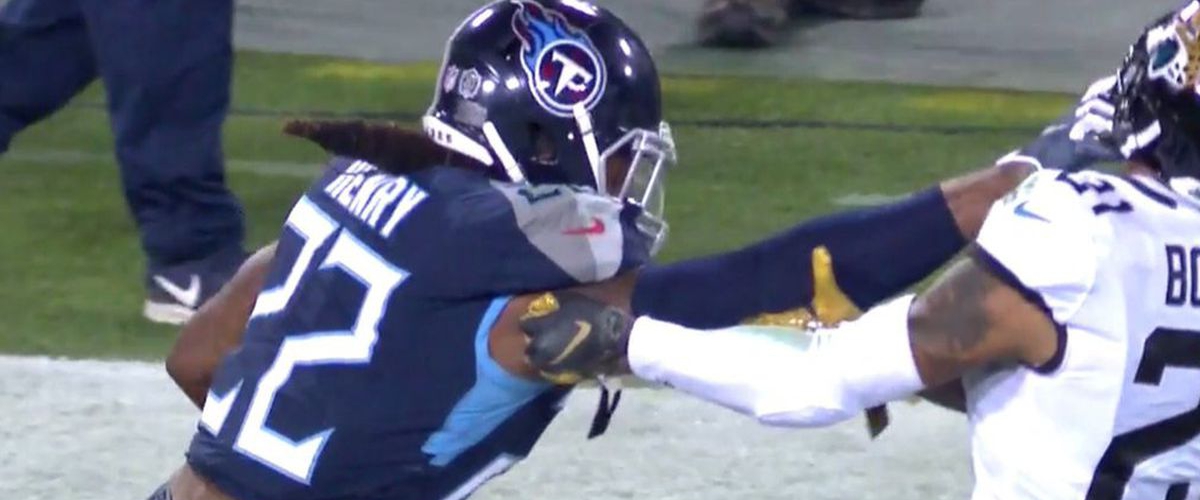 Tennessee Titans running back Derrick Henry had 238 yards rushing and four touchdowns including a 99-yard touchdown run in the second quarter as the Titans won 30-9 to keep their AFC wild card hopes alive.
The Stack is back on this Friday and can you believe we are to the last quarter of the NFL season already? Seems like it just started. The playoff push is currently going on for a number of teams and there are more than a handful of games with playoff implications this week. One game was last night where the Tennessee Titans took down the Jacksonville Jaguars 30-9 thanks almost entirely to running back Derrick Henry. He had 238 yards and four touchdowns including a 99-yard touchdown run in the second quarter. Quite the special night and it keeps the Titans right in the thick of the AFC wild card race. Now then, let's get right to some previews and predictions in "the stack" for today, Friday, December 7th:
3-9 New York Jets @ 4-8 Buffalo Bills 1 PM ET CBS
This is not one of those games with playoff implications. It still surprises me that the Bills have four wins on the year. The Jets are a team in turmoil right now and Bills rookie quarterback Josh Allen is playing better than either his rookie counterpart, Sam Darnold, or Josh McCown. Give me the Bills to win their fifth game of the year.
Prediction: Bills 27 Jets 13
6-6 Carolina Panthers @ 4-7-1 Cleveland Browns 1 PM ET FOX
The Panthers are freefalling right now, having lost four straight games. The Browns got blown out last week by the Texans, but who haven't the Texans made to look bad during their current nine game winning streak? Since Hue Jackson got fired, the Browns and Baker Mayfield are playing so much better. They'll continue that trend and hand the Panthers a crippling fifth straight loss.
Prediction: Browns 27 Panthers 20
4-8 Atlanta Falcons @ 4-7-1 Green Bay Packers 1 PM ET FOX
Last week's game against the Arizona Cardinals felt like a very safe and secure win for the Packers. Not the case as we now know. Head coach Mike McCarthy got fired and now the team turns to Joe Philbin to run the show for the remainder of the season. Normally I would say that against a Falcons team with all of their injuries and who have to feel deflated after gaining less than 150 total yards of offense at home against the Baltimore Ravens last week this would be a sure victory for the Packers, but I am hesitant. Ah, heck, give me the Packers.
Prediction: Packers 34 Falcons 20
6-6 Indianapolis Colts @ 9-3 Houston Texans 1 PM ET CBS
The Colts probably can't wait for this game to come fast enough to take the taste of last week's shutout out of their mouths. While they surely won't get shut out against the Texans, I don't know how you are going to stop the hottest team in football right now either. That defense will be great. Deshaun Watson and the offense will be ready too. Texans complete their sweep of the Colts and put the AFC South out of reach.
Prediction: Texans 33 Colts 23
7-5 Baltimore Ravens @ 10-2 Kansas City Chiefs 1 PM ET CBS
If I am the Chiefs or a Chiefs fan, I am very weary of an upset here. The Ravens with Lamar Jackson are running the ball incredibly well and they can do it again against that Chiefs defense. That will keep Patrick Mahomes and that high-powered Chiefs offense off of the field. The game is in Arrowhead though, and I don't know if the Ravens will be able to handle the atmosphere there for a full four quarters. Expect the Chiefs to play a better game after last week's distractions.
Prediction: Chiefs 27 Ravens 23
9-3 New England Patriots @ 6-6 Miami Dolphins 1 PM ET CBS
Very rarely do the Patriots play well in Miami in December…at least as of late. The Dolphins just have Bill Belichick and Tom Brady's number. I should just go ahead and take them now, but something is telling me that Brady and Belichick are eager not to lose in Miami again.
Prediction: Patriots 20 Dolphins 17
10-2 New Orleans Saints @ 5-7 Tampa Bay Buccaneers 1 PM ET FOX
Poor Bucs. I feel bad for them. I would not want to be the team facing the Saints after they only scored 10 points the week before and are probably very upset about it. Plus the Saints are out for revenge having lost 48-40 in the season opener to the Bucs. I expect a lot of points for the Saints in this one and they will keep piling it on.
Prediction: Saints 41 Bucs 20
4-8 New York Giants @ 6-6 Washington 1 PM ET FOX
If only the Giants had been able to hang on and beat the Philadelphia Eagles a couple of weeks ago. Then this game against Washington would mean a little more. As it stands, it will be Eli Manning versus Mark Sanchez. The supporting cast favors Manning. The defense is kind of a toss up since the Giants won't have safety Landon Collins. I'll go with the team playing the better football right now though.
Prediction: Giants 26 Washington 16
5-7 Cincinnati Bengals @ 9-3 Los Angeles Chargers 4:05 PM ET CBS
How are the Bengals going to put up any points against the Chargers with Jeff Driskel at quarterback and no A.J. Green? Don't underestimate the Chargers coming out flat in this one for the first quarter or so after their big win at Pittsburgh, but this Chargers team is just too talented. They win this one going away, with or without Melvin Gordon.
Prediction: Chargers 38 Bengals 10
6-6 Denver Broncos @ 2-10 San Francisco 49ers 4:05 PM ET CBS
I wonder where the Broncos heads will be early on after losing wide receiver Emmanuel Sanders to an Achilles injury on Wednesday. It's going to be tough, but against the 49ers team ravaged by injuries themselves, there is no time for self-pity. The Broncos are in a wild card chase after all.
Prediction: Broncos 24 49ers 13
4-8 Detroit Lions @ 3-9 Arizona Cardinals 4:25 PM ET FOX
This game is a toss-up. Matthew Stafford and the Lions offense have had a difficult time getting going on a consistent basis with all of the injuries and trading wide receiver Golden Tate. Arizona had a big win last week at Green Bay and they can certainly build on that with a win on Sunday. I think the Cardinals are trending up and I think they win a close one at home.
Prediction: Cardinals 20 Lions 13
6-6 Philadelphia Eagles @ 7-5 Dallas Cowboys 4:25 PM ET FOX
The Eagles have been trash talking the Cowboys a little bit this week saying they have been chokers in the past. Don't think the Cowboys haven't heard that and won't be making that a little bulletin board material. The Eagles are playing better as of late, but how do you bet against the Cowboys and what they have done over the last four weeks? I don't and I won't bet against them in this one.
Prediction: Cowboys 31 Eagles 24
7-4-1 Pittsburgh Steelers @ 2-10 Oakland Raiders 4:25 PM ET FOX
The Steelers have lost two games in a row. Will it be three? Don't discount the possibility that the Raiders win this one. They looked good against the Chiefs last week and the Steelers are reeling a bit. Plus the Steelers won't have running back James Conner. With all that being said, I think I will still take the Steelers.
Prediction: Steelers 34 Raiders 20
11-1 Los Angeles Rams @ 8-4 Chicago Bears 8:20 PM ET NBC
It's going to be cold in Chicago at night for this one. The Rams had some issues in the cold earlier this year at Denver. They looked a little flat last week. Head coach Sean McVay will make sure that they are up and ready for this one. The Bears defense is going to come at them, but I don't think the Bears offense will be able to match the Rams score for score.
Prediction: Rams 30 Bears 24
Coming up Monday: Week 14 Sunday NFL reaction plus MNF preview and prediction