"The Stack" 12-9-19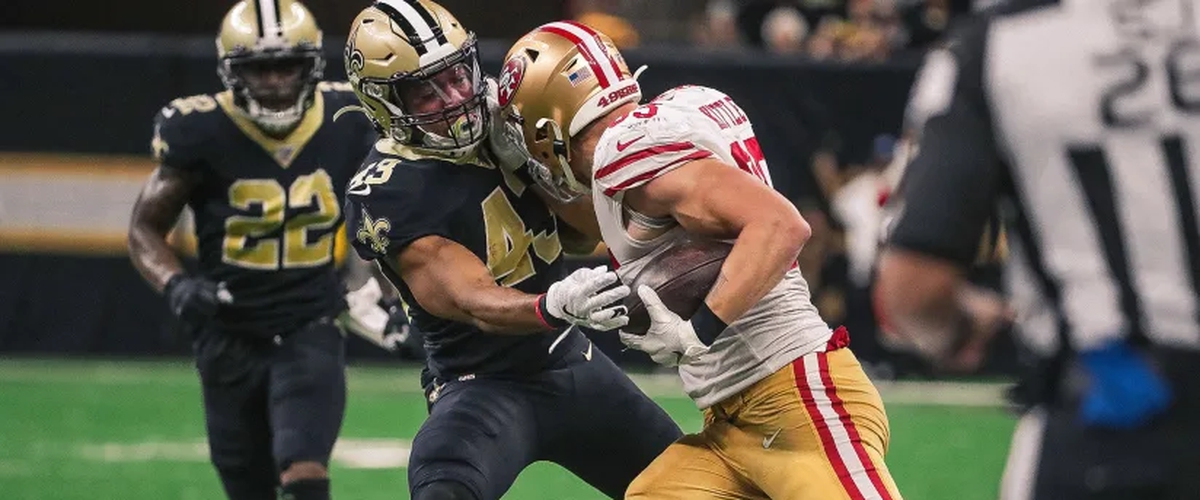 San Francisco 49ers tight end George Kittle caught a big 4th and 2 pass with under a minute to go and brought several New Orleans Saints with him, stiff arming them along the way. The 49ers would kick a game-winning field goal and win 48-46 in the game of the year in the NFL.
The Stack is back on this Monday and wasn't that San Francisco 49ers-New Orleans Saints game phenomenal? Game of the year candidate no question about it. Reaction to that and the rest of the week 14 Sunday NFL action plus a MNF preview and prediction so let's get right to "the stack" for today, Monday, December 9th:
Colts 35 Buccaneers 38
Pretty entertaining game. The Indianapolis Colts got out to a pretty big lead (actually led 35-21 in the third quarter, but Jameis Winston and the Tampa Bay Buccaneers would not be denied. Despite throwing three interceptions, Winston did throw for four touchdown and threw for over 400 yards as the Bucs were able to overcome the Colts for the win. Not a good loss for the Colts who are fading fast in the AFC South race.
Dolphins 21 Jets 22
Pretty remarkable win for the Jets considering they didn't have running back Le'Veon Bell. It looked like the Dolphins were going to win (thanks to Jason Sanders and his seven field goals), but they were on the wrong side of a pass interference penalty that was looked at by New York (the office, not the team), the Jets were able to kick a game-winning field goal and avoid the season sweep. Hope Miami just keeps their stuff at MetLife Stadium considering they play the Giants next week.
49ers 48 Saints 46
I don't think anyone saw this game being as high scoring as it was. New Orleans Saints quarterback Drew Brees was absolutely magnificent, throwing for five touchdowns and rushing for one more. Normally, that would be a day that you would say the Saints offense was unstoppable and they breezed to a victory. Not this day. San Francisco and quarterback Jimmy Garropolo answered. They had some trick plays like the Emmanuel Sanders touchdown pass. The Saints took the lead with under a minute to go, but the 49ers got a big play on fourth down by tight end George Kittle that set up the game-winning field goal. And I'm giving you the very brief cliff-notes version of the game. A recap would be so much longer!
Lions 7 Vikings 20
This was largely an uneventful game. The Minnesota Vikings defense played much better than they did in Seattle, but it helps when you play against an undrafted rookie quarterback making his second start. The offense was fine, but nothing noteworthy. The Vikings did what they needed to do and that was win the game.
Broncos 38 Texans 24
I said on Friday that the Houston Texans better be guarded against a letdown. Message not received. Denver Broncos rookie quarterback Drew Lock shredded the Texans for over 300 yards and three touchdowns. It was 38-3 before the Texans made the score look a little better. Make no mistake about it, this was a bad loss for the Texans. They got embarrassed!
Washington 15 Packers 20
This game probably shouldn't have been this close. Green Bay should have taken care of business and throttled a bad Washington team led by a rookie quarterback. That didn't happen though running back Aaron Jones did rush for 134 yards and a touchdown. A win is a win though and they maintain a one game lead on the Vikings for the NFC North lead.
Bengals 19 Browns 27
Cleveland struggled a little more with Cincinnati than we probably thought they should or would have. They got the win, but the real story is what happened pregame and postgame regarding Odell Beckham Jr. Does he want to stay in Cleveland or not? Doesn't sound like it. And then Baker Mayfield accidentally?? throwing his medical training staff under bus saying the OBJ injury wasn't handled correctly? Oh Cleveland, why can't you just be good? L
Ravens 24 Bills 17
What a good game this turned out to be. Baltimore's Lamar Jackson was held largely in check, but still threw three touchdowns. The Bills were down 24-9 and mounted a comeback, but couldn't convert on a fourth down deep in Ravens territory to potentially tie the game. Make that nine wins in a row for Baltimore. For the Bills, they will have to wait to clinch a playoff berth another week when they play a tough Steelers team.
Panthers 20 Falcons 40
Maybe if the Atlanta Falcons played the Carolina Panthers ever week, they would make the playoffs. The Falcons trounced the Panthers for the second time this season. They had the longest play from scrimmage in the NFL this season, a 93-yard touchdown pass. This was the response I think we were thinking the Panthers would give after the team fired head coach Ron Rivera. Yikes! Long seasons in Charlotte and Atlanta continue.
Chargers 45 Jaguars 10
The Jacksonville Jaguars appear to have thrown in the towel on the season. Or maybe it's just when the Los Angeles Chargers win, they win big. Philip Rivers threw for over 300 yards and three touchdowns and running back Austin Ekeler became the first player this season to have over 100 yards rushing and receiving in the same game. The Chargers embarrassed the Jaguars. Too bad they won't be going to the playoffs as they were eliminated from playoff contention on Sunday.
Titans 42 Raiders 21
I should have just gone with them. Instead I asked the Tennessee Titans to prove me wrong and boy, did they ever! Ryan Tannehill was once again tremendous throwing for nearly 400 yards (over 150 yards and two touchdowns to rookie wide receiver A.J. Brown) as the Titans broker a 21-21 tie by scoring 21 points in a matter of minutes as the Titans took down the Oakland Raiders. All that magic the Raiders had a few weeks back is gone now. They may win one, maybe two more games this year, but their playoff hopes are as good as done.
Chiefs 23 Patriots 16
New England Patriots fans booing their team off the field at the end of the first half need to a) go cheer for another team b) shut the hell up or c) never be allowed to cheer for the Patriots again and go to Gillette Stadium to see another Patriots game again. Yes, the Patriots are struggling offensively, but booing them off the field at half after they have won all of those Super Bowls for you? Talk about stupid. Speaking of stupid, the officiating in this game was just that. Stupid. The officials blew a play dead on a Travis Kelce fumble that could have resulted in a Patriots defensive touchdown, but they blew the play dead. Then they said that a Patriots wide receiver didn't score a touchdown, instead stepping out of bounds at the two or three yard line. Only problem is that that didn't happen and the Patriots could only get a field goal. The Kansas City Chiefs defense played well and they deserve to be praised, but the officials were awful in this one and the NFL refuses to do anything about it.
Steelers 23 Cardinals 17
You would have thought this game was in Pittsburgh with all of the Steelers fans and Terrible Towels that were being waved around. Devlin Duck Hodges did what he needed to do and the Steelers defense was once again strong. They also added a punt return for a touchdown. The Cardinals like to play in these close games, but just can't quite get the deal done. That has been the theme for this season, but they are close…I think.
Seahawks 12 Rams 28
Look out NFL. Sean McVay and the L.A. Rams are back. The offense torched and toyed with the Seattle Seahawks defense all night long. Jared Goff looked great. The defense got after Russell Wilson, constantly making him uncomfortable and sacking him multiple times. What a win for the Rams. They have a chance to still make the playoffs. A pretty good chance actually.
2-10 New York Giants @ 5-7 Philadelphia Eagles 8:15 PM ET ESPN MNF
Welcome back Eli Manning! Giants fans sound like they want Manning to do well, but still lose the game so that they can keep the number two overall pick. The Eagles shouldn't have any problems winning the game, but then again, they lost to the Dolphins last week so I guess anything is possible.
Prediction: Eagles 34 Giants 20
Coming up Tuesday: MNF reaction plus CFP reaction and an early TNF preview