"The Stack" 2-26-18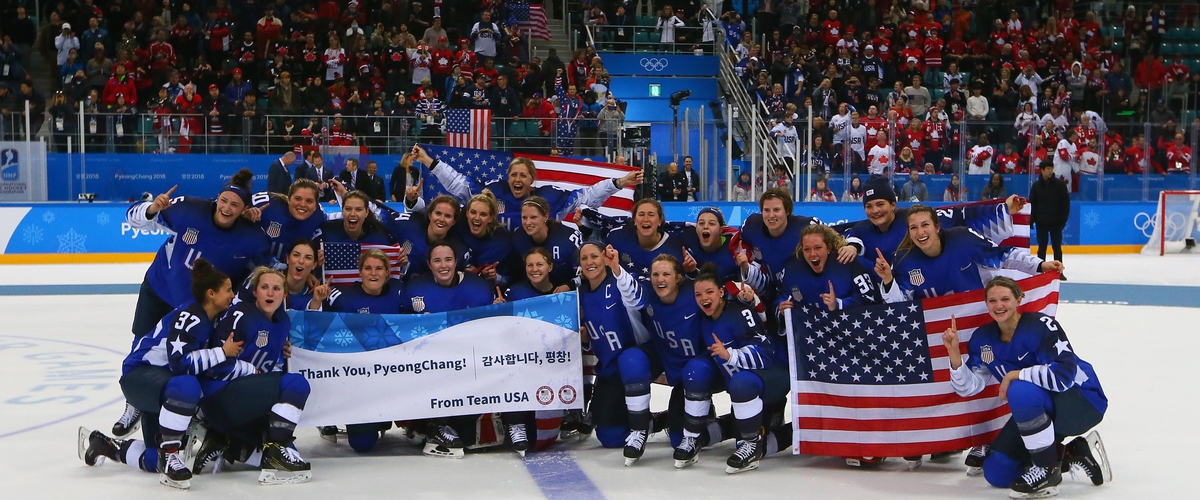 Team USA women's hockey winning the gold medal in a 3-2 shootout win over Canada is just one of the many storylines to come out of the Winter Olympics which ended Sunday. It was a wonderful two-and-a-half weeks in PyeongChang.
The 23rd Winter Olympiad (aka Winter Olympics) are complete and The Stack is back. Did you miss me? We hopefully will be churninig out a blog daily for the next month or so as conference tournaments tip off in college basketball to see who punches their ticket to the madness that is March. Of course it will have a different feel to the tournament this year what with the FBI investigation and the major programs and players who have been implicated. We'll have some reaction to that story plus a preview of the first conference tournament this year so let's get right to it and see what's in "the stack" for today, Monday, February 26th:
College basketball FBI probe thoughts
It was not a good week for college basketball. First Louisville gets their sanctions and penalties upheld and their 2013 national title was stripped. Then Arizona's Allonzo Trier was suspended for testing positive for a banned substance (as it would turn out that was only the second worst thing to happen to Arizona for the week). The biggest story though without question was Yahoo! Sports publishing documents from the FBI's investigation into college basketball and the corruption that has engulfed the sport. I won't go into too many details, but schools listed in the FBI probe for a variety of reasons include Duke, Kansas, Kentucky, Michigan State and North Carolina. There are some active players named in the probe include Collin Sexton (Alabama), Wendell Carter (Duke) and Mile Bridges (Michigan State).
This is not good for the sport of college basketball, but we shouldn't be shocked. This sort of thing where money is being exchanged and going to players and their families has been going on for a long time. It's not just college basketball. This has to be going on in college football as well, but right now college basketball is getting the look. It sucks. I love college basketball and to see all of the corruption going on in the sport is heartbreaking. At the same time, doesn't it seem like this is the lowest place that the sport can be? That almost certainly means college basketball will come back and rise again to be a sport that people watch and pay attention to before March. I hope that's the case anyway. The NCAA should have been doing something about this long before the FBI started investigating. They need to update the rules. Dr. Mark Emmert and the NCAA need to change things and quickly or college basketball and maybe even college sports as a whole will never be the same again and not in a good way.
Olympic thoughts and reaction
The games of the 23rd Winter Olympiad in PyeongChang, South Korea, have concluded and the games brought plenty of excitement, fantastic finishes (see cross country skiing and bobsled in particular), surprises and maybe a chance at tensions softening between the two Koreas that could bring more stability to the world.
Without question, as it pertains to the U.S. in my mind the two highest profile gold medals and two most significant medals were the USA women's hockey team taking down Canada 3-2 in a shootout to win their first gold medal since Nagano in 1998 and the USA men's curling team winning their first ever gold medal thanks to an impressive five point shot in the eighth end to put the U.S. up for good over Sweden in route to a 10-7 victory. Between that Chloe Kim and Shaun White shredding it in snowboard, Jessie Diggins winning gold in women's cross country and Chris Madzder winning silver in men's Luge, they provided a few of just the very many exciting moments in these games. The USA brought 242 athletes to the games and the overall medal count was very underwhelming with the USA finishing in fourth place, but that almost speaks more to just how even the rest of the world is getting with these sports.
The Dutch dominate speed skating. The USA must get better in that sport. Their performance was very underwhelming Norway won the medal count with 38 and dominated cross country per usual, but they were successful in the other sports as well.
Figure skating once again played a prominent part in primetime television and for the team event, Team USA did okay finishing with a bronze, but Nathan Chen wasn't great overall. He did have one outstanding skate, but the real stars with the Shibutani siblings of Maia and Alex. The husband-wife duo was pretty good too. No one could lay a finger though on the Moir-Virtue combo, especially when it came to the ice dancing and short program. The Canada duo will go down as the most decorated skaters that we have ever seen. The Olympic Athletes of Russia also had a strong showing in the women's program. It wasn't that the USA was underwhelming in this event unlike in speed skating and short track. It's more just that there are a lot of other very high quality skaters.
There were plenty of surprises with athletes winning gold medals you didn't think would happen. How about the lady who won gold in skiing and snowboarding? Outstanding. I'm going to miss the Winter Olympics. There were so many amazing moments and performances. To get to them all just would take too much time unfortunately.
One of the things that truly stuck out to me was seeing both North and South Korea march in together during the Opening Ceremonies and again during the Closing Ceremony under one flag. If both sides are looking to try to get along peacefully and open up some dialogue, hopefully the USA will work with them as well. Overall, it was an extremely fun Winter Olympics to watch even with the 15 hour time difference between South Korea time and central time. I'm sad to see them come to an end, but now we get to look forward to Beijing in 2022 with a stop in Tokyo for the Summer Olympics in 2020.
Atlantic Sun tournament preview
The Atlantic Sun is the first conference to tip off their men's college basketball conference tournament at the various campus sites today with the tournament concluding on Sunday, March 4th. Who will punch their ticket to the big dance? Florida Gulf Coast has been the class of the conference all year. Dunk City is going to get back to the dance I feel like, but watch out for a team like Lipscomb to disrupt things. In the end though I don't see it happening.
Predicted winner: FGCU
Coming up Tuesday: More conference tournament previews plus reaction to other top stories in sports
---