"The Stack" 3-10-20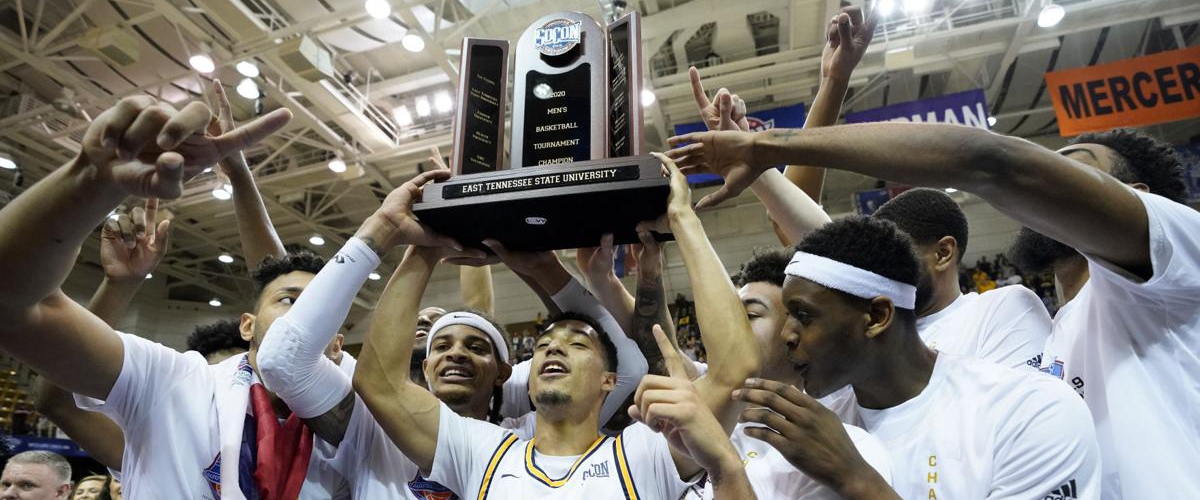 East Tennessee State won the SoCon Championship last night. Five more teams punch their tickets tonight. Who will be joining the Bucs in the Big Dance?
The Stack is back on this Tuesday and congratulations to East Tennessee State for securing their birth to the Big Dance last night. Five more bids are up for grabs today plus four tournaments start as well so let's get to it all in "the stack" for today, Tuesday, March 10th:
ACC tournament preview (Greensboro, NC, March 10th-14)
The ACC Tournament tips off at a familiar spot today, Greensboro, and it's going to be a wild tournament. How did Virginia get to be a #2 seed? How NC State a #5 seed? And North Carolina the worst seed in the tournament? What in the h-e-double hockey sticks is going on? I bet UNC wins at least two games. I don't want to take Florida State, but I think they win if they face Louisville or Virginia in the championship game. Can they take down Duke though? I'm going to say no. I think Duke gets by them, but will ultimately lose to a team that I think can go a long way in the NCAA Tournament.
Predicted winner: Louisville
MAAC tournament preview (Atlantic City, NJ, March 10th-14th)
These are new times when the MAAC tips off their tournament this week as opposed to over the weekend. They're in a new spot too. No longer Albany, but Atlantic City, NJ. This is going to be a wild tournament as any one of three or four teams could win it all. Playing close to home, I think it's going to be a New Jersey school. It's just a matter of which one.
Predicted winner: St. Peter's
MEAC tournament preview (Norfolk, VA, March 10th-14th)
The MEAC Tournament tips off today in Norfolk and the winner will almost certainly be playing in Dayton for the First Four next week. Will it be North Carolina Central, North Carolina A&T or Norfolk State? Someone else? It would be shocking if that were the case. Let's go with one of the North Carolina schools.
Predicted winner: North Carolina A&T
SWAC tournament preview (Birmingham, AL, March 10th, 13th-14th)
The SWAC Tournament tips off today and like the MEAC, they will almost certainly be playing in Dayton in the First Four. It seems dumb to pick against Texas Southern, but they don't appear to be as good this year. So I will go against my better judgement and take Southern, because why not?
Predicted winner: Southern
Horizon League Championship (Indianapolis, IN)
#4 Illinois-Chicago VS #2 Northern Kentucky 7 PM ET ESPN
That was an impressive win UIC had Monday night against the top seed, Wright State. Can they put together another performance like that against Northern Kentucky? I have my doubts. Northern Kentucky has been in the NCAA Tournament a lot the past few years and I don't see an upset bid happening to stop them from going again. Prove me wrong, UIC. Prove me wrong.
Pick: Northern Kentucky
Northeast Conference Championship (Moon Township, PA)
#2 St. Francis (PA) VS #1 Robert Morris 7 PM ET ESPN2
The top two teams in the NEC are duking it out tonight. It seems pretty even. In fact, last I
checked the road team is favored. Against my better judgement, I'll take the home team. Have fun playing in Dayton a week from tonight!
Pick: Robert Morris
Colonial Championship (Washington D.C.)
#6 Northeastern VS #1 Hofstra 7 PM ET CBSSN
As cool as it would be to see an upset in the CAA Championship tonight, I don't see Northeastern being able to pull this one off. Then again, both of their games with Hofstra have been close this year and it is always difficult to beat a team three times in a row. So maybe we shouldn't be surprised if an upset is pulled.
Pick: Hofstra
WCC Championship (Las Vegas, NV)
#3 St. Mary's VS #1 Gonzaga 9 PM ET ESPN
Gonzaga had to really fight to beat San Francisco in the semifinals while St. Mary's had to come back and beat BYU. If there has been one team that has been able to get the best of Gonzaga in the West Coast Conference and the championship game, it has been St. Mary's. Will it happen this year? Nope. This Gonzaga team is too strong.
Pick: Gonzaga
Summit League Championship (Sioux Falls, SD)
#6 North Dakota VS #1 North Dakota State 9 PM ET ESPN2
It's kind of weird that both D-I schools from North Dakota are playing for the championship in South Dakota. North Dakota has a stud, a star in Marlon Stewart, but North Dakota State has been in this situation a lot. North Dakota made the NCAA Tournament in the Big Sky a few years back, but it may take them a time or two in the Summit League Championship before they break through. I hope I am wrong on this one.
Pick: North Dakota State
Coming up Wednesday: Conference tournament previews
---