"The Stack" 3-14-18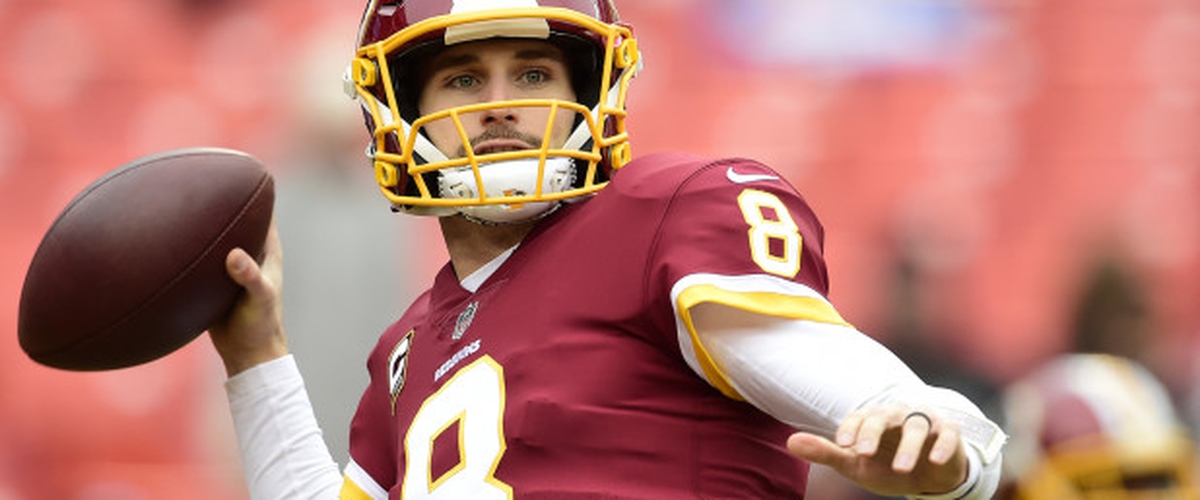 Kirk Cousins is getting paid. The free agent quarterback is reportedly signing a three-year $84 million deal with the Minnesota VIkings once free agency begins today at 3 PM ET.
The Stack is back on this Wednesday and two teams are already out of the NCAA Tournament. #16 seed Radford beat # 16 LIU-Brooklyn 71-61 and #11 St. Bonaventure beat #11 UCLA. We know Radford is not going to take down #1 seed Villanova barring a miracle (eventually a #16 seed will beat a #1 seed). St. Bonaventure meanwhile is going to present a huge test for #6 seed Florida on Thursday. Do not be surprised when they beat them. This is a very talented team. Two more teams are moving on tonight. We'll preview those games as well as talk many of the free agent moves that were reported yesterday even though free agency technically doesn't start until 3 PM ET today so let's get right to it and see what's in "the stack" for today, Wednesday, March 14th:
NFL free agency begins (though not really)
NFL teams have been able to talk with teams since Monday and though free agency doesn't technically begin until today at 3 PM ET, we know a number of deals will become official soon after.
Let's start with the quarterbacks. After all, that's the most important position in football. Case Keenum was the first one to get a deal done signing a new deal with the Denver Broncos. While we don't have terms of the deal yet, at least not that I have seen, the money appears to be $18 to $20 million guaranteed and it sounds like it is a deal that the Broncos can get out of fairly easily should they need or want to. Then reports started to emerge that Kirk Cousins and the Minnesota Vikings were on the verge of a contract that would pay Cousins rather handsomely. It ends up being a three-year, $84 million deal all of it guaranteed. I feel like Vikings fans are conflicted with what the team did. Is Cousins really the guy? That's a lot of money to throw at someone who hasn't won a playoff game. Plus the team may have set up a visit with Cousins which is a no-no prior to the official start of free agency. If this is true, the Vikings are incredibly stupid and the NFL could dock them a fairly high draft pick. They did it to the Kansas City Chiefs a few years ago when the Chiefs signed Jeremy Maclin and stripped the team of a third round draft pick. Hopefully that is not the case with the Vikings, but I won't be surprised if they did.
Anyway, back to the QB carousel. All three Vikings quarterbacks under contract last year all went their separate ways. Keenum, as already mentioned, signed with the Broncos. Sam Bradford is reportedly signing a one-year, $20 million deal with the Arizona Cardinals who didn't have a quarterback on their roster at the time (reports later surfaced that they plan on signing Mike Glennon to backup Bradford). Later on, the New York Jets signed quarterback Josh McCown to a one-year, $10 million deal and then also signed Teddy Bridgewater to a one-year deal worth reportedly $5 million. Why would Bridgewater sign with the Jets instead of re-signing with the Vikings to be a backup there? That's a great question. The Buffalo Bills still have not signed a quarterback (well besides Nathan Peterman). A.J. McCarron is still available. What this likely means is that the Bills are going to trade up for a quarterback in the NFL Draft. Oh and what about Drew Brees? Well very early in the day he re-signed with the New Orleans Saints for two-years and $50 million all guaranteed. Reportedly there was a mystery team that was willing to give him $60 million guaranteed and then another report that said that was not the case. Who's to say which is accurate, but the fact remains that Brees is staying in New Orleans.
How about some non-quarterback free agency news. Let's got to the wide receivers. Sammy Watkins is reportedly going to Kansas City where he will sign a three-year $30 million deal with the Chiefs. Former Jacksonville Jaguars wide receiver Allen Robinson is signing with the Chicago Bears on a three-year, $42 million contract. That is a lot of money for both of these teams to give wide receivers who have a history of injuries. The Bears also will be signing tight end Trey Burton from the Philadelphia Eagles. Speaking of wide receivers, the Green Bay Packers in a somewhat surprising move released Jordy Nelson. Aaron Rodgers called it a sad day. Nelson is one of the best Packers in recent years. The Packers are attempting to replace him by signing tight end Jimmy Graham. They also will be signing defensive lineman Mohammad Wilkerson from the New York Jets.
On the defensive side, defensive tackle Haloti Ngata is going to sign with the Philadelphia Eagles. That defensive line is going to be absolutely stellar with him, Fletcher Cox and Michael Bennett. Good luck running and throwing it on them. The best two cornerbacks are going to be off the market as well. Trumaine Johnson is signing with the New York Jets and Malcolm Butler appears to be signing with the Tennessee Titans. The Titans also agreed to a four-year deal with Dion Lewis worth about $20 million. Speaking of former Patriots, the Miami Dolphins plan on signing wide receiver Danny Amendola.
There of course are many other deals that are going down and will become official at the start of free agency today. Check sites like profootballtalk.com (the site I deem my football bible), nfl.com and espn.com. Free agency is here and it is wild.
#16 North Carolina Central vs. #16 Texas Southern 6:40 PM ET TruTV
MEAC meets SWAC and if you have been following this blog since the conference tournaments began, when we got to the SWAC you know how much respect I have for Mike Davis. He does a masterful job at Texas Southern. I think they will be too much for NC Central and will move on to face the #1 seed Xavier Friday.
Pick: Texas Southern
#11 Arizona State vs. #11 Syracuse 9:10 PM ET TruTV
I think it surprised many people that these two teams both made the tournament especially Arizona State who really struggled in Pac-12 conference play. While they are a talented team and I am not sold on Syracuse, I think Arizona State is going to have a hard time scoring against that Syracuse defense without having much time to prepare for it and I think the Orange find a way to get by with the win.
Pick: Syracuse
Check out this week's "The Sports Block" podcast here.
Coming up Thursday: Preview and predictions for the first full day of March Madness action